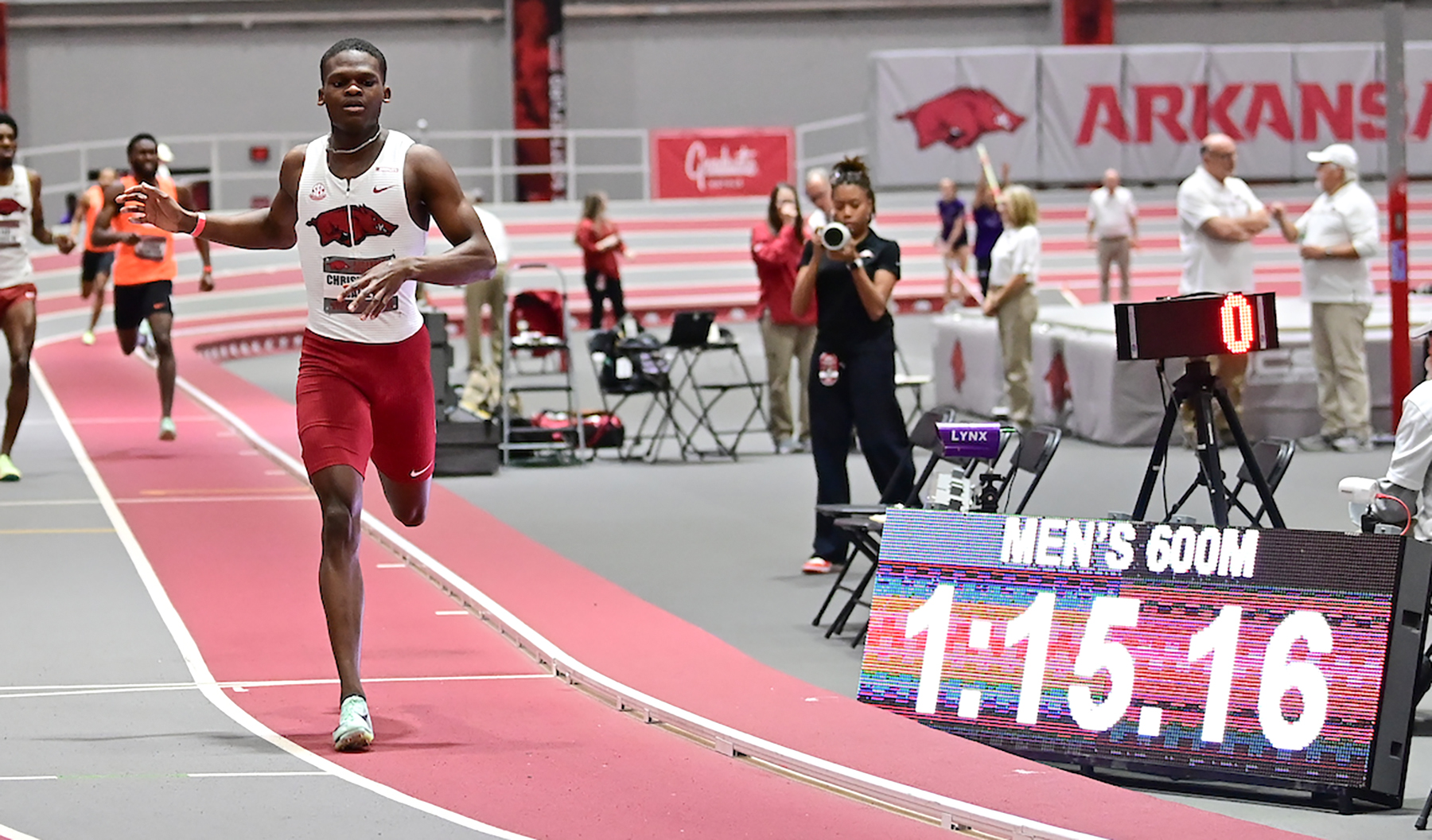 Razorbacks speed on display at Arkansas Invitational
FAYETTEVILLE – Speed was on display with new Razorbacks during the Arkansas Invitational as a trio of sprinters set all-time top five marks in the 300m and 600m. In the mile, a sub-4-minute time was the award for Lexington Hilton in register a victory.
Over 300m, the Razorback pair of James Benson II and Lance Lang produced the third and fourth fastest collegiate times. Benson won the race in 32.46 with Lang runner-up in 32.48. Connor Washington completed the Arkansas 1-2-3 finish in 32.93.
Chris Bailey won the 600m in an Arkansas record of 1:15.18, which is No. 6 on the collegiate all-time list as well as the No. 6 performer with the equal No. 9 performance on the U.S. all-time list. He is also No. 10 on the world all-time list.
Runner-up was teammate Leroy Russell III (1:17.28) with Ricardo Banks (1:17.94) and TJ Tomlyanovich (1:19.16) placing fourth and fifth.
Hilton won the mile in 3:58.50, becoming just the fourth Arkansan to run the distance under four minutes. He joins Brian Baker (1998), Daniel Lincoln (2004), and Cameron Fischer (2022).
Finishing behind Hilton was Michael Power of Tulsa in 3:58.76 as the pair became the first to post times under four minutes this season. Six other Razorbacks set career best times in the mile race.
A pair of Razorback newcomers in the shot put placed first and third among a large field. Jordan West broke the meet record with his opening toss of 64-11.25 (19.79) and promptly moved to No. 3 on the UA all-time list. Rojé Stona finished third with a toss of 59-1.5 (18.02) and is No. 6 on the UA all-time list.
West bettered the previous meet record of 59-4.25 (18.09) set in 2006 by Sheldon Battle of Kansas. His series included marks of 64-8 (19.71), 63-4.25 (19.31), foul, 62-10.75 (19.17), and 64-8.5 (19.72).
Oklahoma's Diego Trevino finished second at 60-10.5 (18.55) and Sooner throwers placed fourth and fifth as well.
Kason O'Riley cleared 6-11 (2.11) for third place in the high jump with Tomas Ferrari fourth at 6-9 (2.06).
Arkansas alum Erich Sullins set a meet record and established a career best of 77-2 (23.52) to win the weight throw. Sullins bettered his previous mark of 74-7.75 (22.75) from December of 2021.
Another alum, Marqueze Washington, claimed the 60m in 6.70, while Andrew Irwin placed third in the pole vault with a clearance of 17-2.75 (5.25). Multi-event athlete Yariel Soto Torrado finished seventh in the pole vault with a career best of 16-8.75 (5.10).