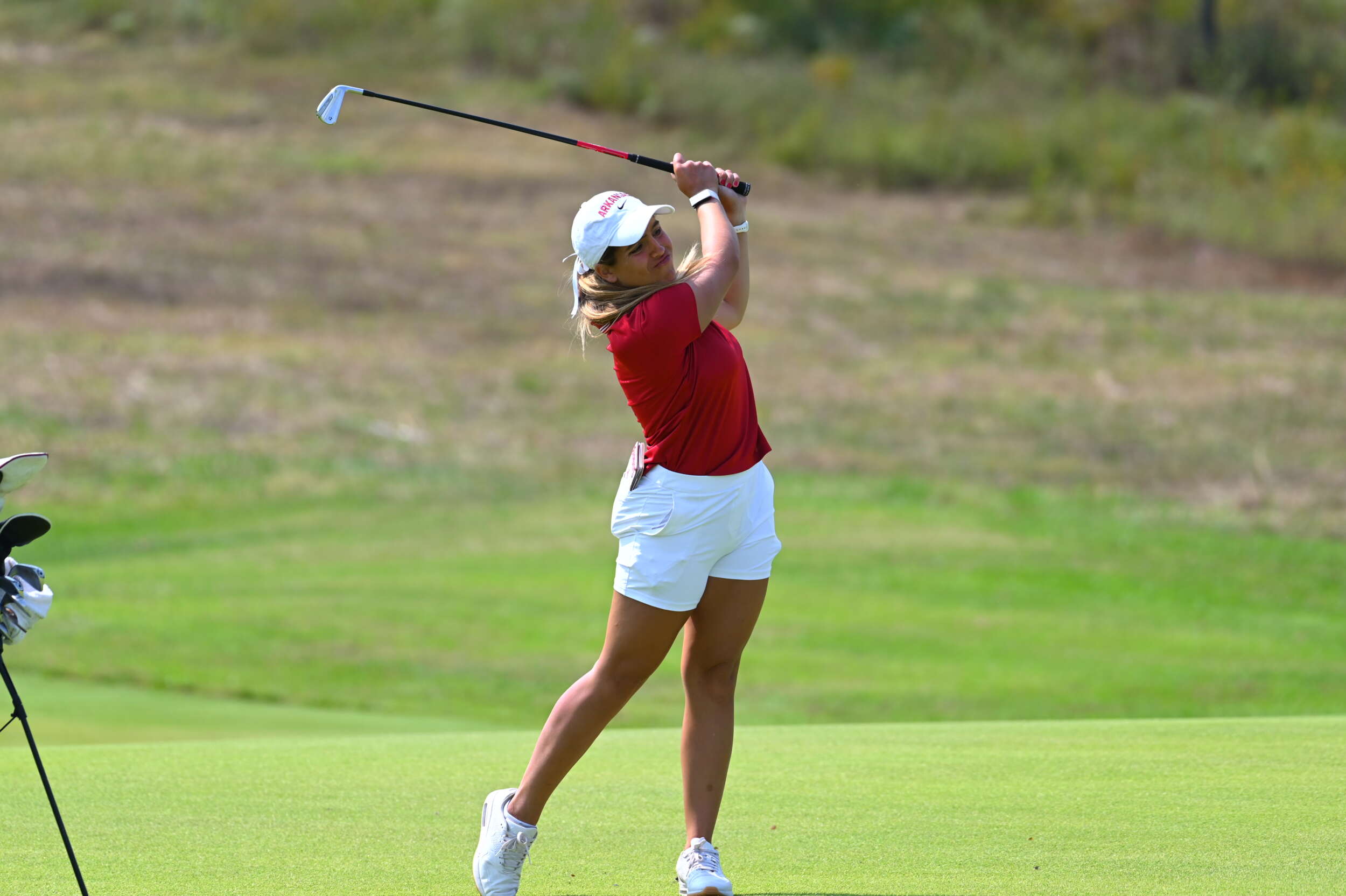 Razorbacks Surge On Back Nine, Remain in Second
ATHENS, Ga. – No. 14 Arkansas Women's Golf roared back on the back nine during the Liz Murphey Collegiate Classic, moving ahead of Ole Miss late in the round to retain their second-place standing. Head Coach Shauna Taylor's Hogs shot 295 (+7) on the day, and are nine-over for the tournament, just five strokes behind the leader, South Carolina. Ingrid Lindblad retained her lead on day two, but it shrunk, as she now only leads by two strokes.
Sophomore Ela Anacona will have a chance to challenge Lindblad for the individual medal on Sunday, as she is currently two-under for the event, just three strokes behind the defending SEC Player of the Year. After playing a 70 yesterday, Anacona followed it up with a 72 on day two. She was consistent through her whole round, playing a birdie and a bogey on each side of the course. Anacona entered the clubhouse alone in the third spot on the individual leaderboard.
Fellow sophomore Julia Gregg joins Anacona inside the top-10, as she is currently one-over for the tournament. Gregg matched Anacona in round one, firing a 70, but shot a 75 on day two to fall off Anacona's pace. That said, Gregg showed resilience today – after going three-over on the front nine, Gregg battled back, going even over the final nine holes of the round to secure a share of eighth place coming into round three.
Just outside the top 10 was Kajal Mistry, who is nipping at the heels of Gregg. Mistry shot even today, matching Anacona for the best Hog round of the day, but because of her 74 on day one, she remains one shot behind Greg (+2). Like Anacona, Mistry collected a birdie and a bogey on each side of the course for a clean 72. She enters day three tied for 11th place.
Freshman Cory Lopez is fourth in the Hog lineup, and will enter the final round tied for 37th place. Lopez was four over on the day, bringing her event total to eight-over.
Rounding out the traveling lineup was Brooke Matthews, who is tied for 43rd place (+9). Though she had a tough start, Matthews was simply superb on the back nine, collecting three birdies and an eagle in just six holes, bringing her 10-over first-nine score down to five-over.
More Information
Keep up with all of the latest news and information and get behind the scenes looks into our program on our social media accounts. Follow us on Twitter at @RazorbackWGolf and check out our Facebook page "Razorback Women's Golf." Stats, news and player information can be found at ArkansasRazorbacks.com.