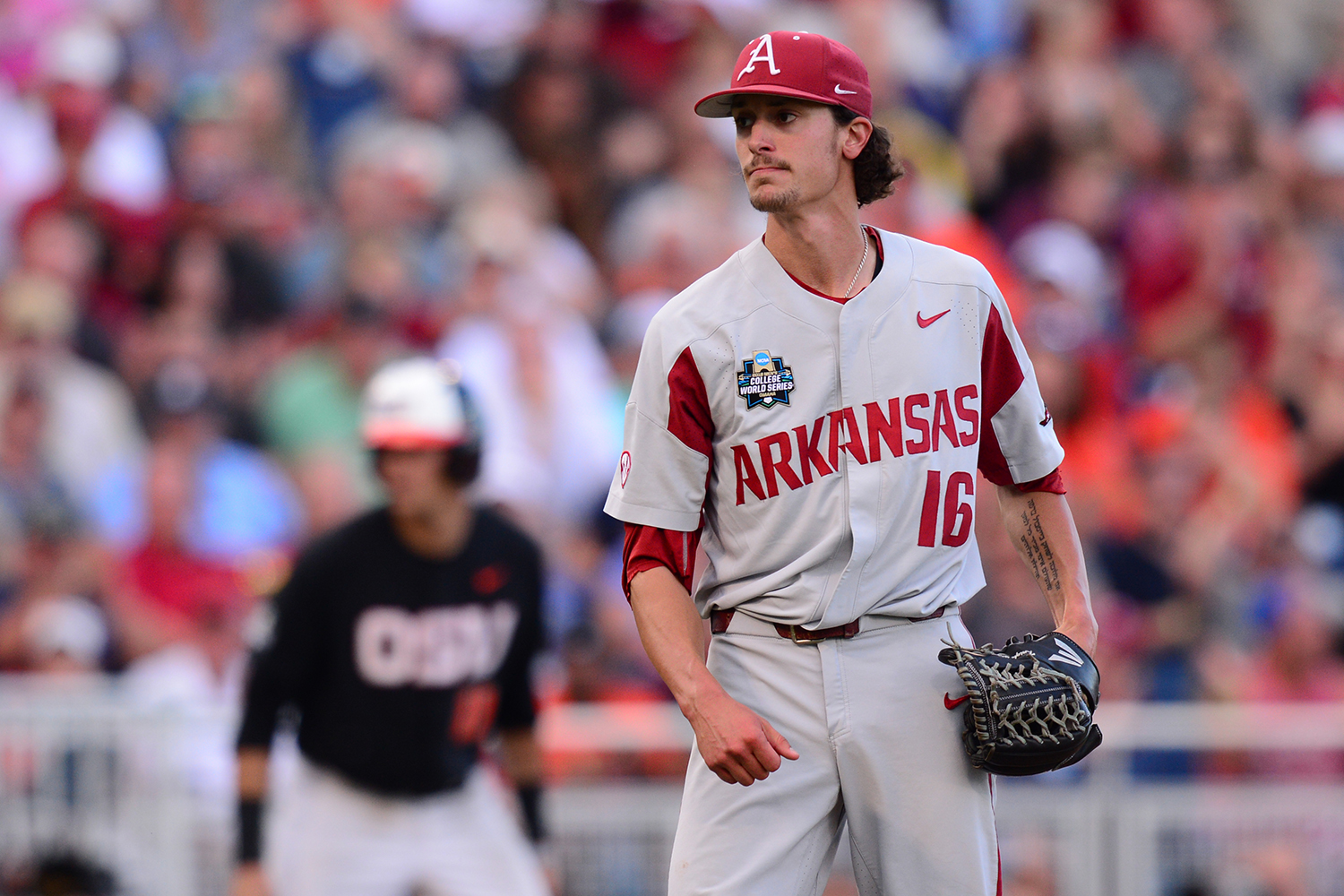 Razorbacks Take Game One Of CWS Finals
Box Score (PDF) | Post-Game Press Conference | Photo Gallery
OMAHA, Neb. – The fifth-seeded Arkansas Razorback baseball team is one win away from the program's first-ever NCAA title after Tuesday's 4-1 win over No. 3 Oregon State in the opening game of the 2018 College World Series finals.
Junior Blaine Knight collected the win to improve to 14-0, setting the program record for wins in a single season. Offensively, Grant Koch reached base three times including a two-hit effort with an RBI and run scored.
Game two of the College World Series finals is set for Wednesday at 6 p.m. (CT) on ESPN. Tuesday's championship series opener was played in front of 25,321 fans at TD Ameritrade Park.
The Big Inning
After being held scoreless with one hit through four innings, the Razorbacks batted around and plated four runs in the top of the fifth to take the lead. With runners on the corners and one out, Koch delivered an RBI single to left field to score Carson Shaddy from third and tie the ballgame. Arkansas' inning benefitted from two hits, two walks, two hit batters and an Oregon State error. On the way to knocking Beavers starter Luke Heimlich out of the game, Arkansas also picked up RBIs from Eric Cole, Casey Martin and Heston Kjerstad during the rally.
The Hitting
Koch had two of Arkansas' five hits with singles in the third and fifth innings, good for his 12th multi-hit game of the season. Tuesday's game is just the fifth time this season the Razorbacks were held to five or fewer hits, however, Arkansas is now 4-1 in those games
The Pitching
Knight finished the game with six strikeouts in six innings of work Tuesday, scattering seven hits and allowing just one run in the process. On the way to eclipsing the 100-strikeout mark for the season, he registered his 10th outing of the year with five or more strikeouts. With the victory, Knight breaks the program's single-season record of 13 he shared with Rich Erwin (1979) and Steven Krueger (1980).
The Razorbacks' bullpen duo of Barrett Loseke and Matt Cronin were rock solid over the final three innings. Loseke struck out three hitters and allowed just two hits in two-plus innings of work. The Tulsa, Oklahoma native now has 16 strikeouts in 12.0 innings during the Razorbacks' NCAA Tournament run.
Loseke gave way to Cronin who entered the game with a runner on first but retired the next three hitters with the help of two strikeouts on the way to his 14th save of the season. Cronin's save was also record-breaking as he broke Colby Suggs single-season save record of 13 set in 2012.
Game Note
Arkansas and Oregon State have met just three times prior to Tuesday's game, and not since the 1995 season. Two of the three matchups have postseason ties with the teams splitting a pair of games during the 1986 NCAA Midwest Regional in Stillwater, Oklahoma.
From The Head Coach
"It did. I actually made that comment earlier to someone that this is kind of how crazy it was back when we brought Nebraska here in 2001 for the first time. I just kept reminding our players to stay calm and save their energy because back in 2001 by the time the game started our team was tired, honest to goodness, just from what was all going on and up and down. And I thought our guys did a nice job of handling it, and I told them walk around, walk from the bullpen, just save it. Save it for the game. It was a great atmosphere. The fans were incredible." – Head coach Dave Van Horn on if the crowd size felt similar to the years he brought Nebraska to the College World Series
"Well, what I said to him, I just gave him a hug and he said thank you. It was pretty simple. He knew exactly what I meant. Having a guy like him that you can put out there every Friday or whatever, first game of the series, whether we started on Friday or Thursday, he just — he gave us innings, and he saved our bullpen. He got a couple no-decisions, got a lot of wins, and just a lot of stability. I appreciate him coming back this year. He felt like at the end of last year he was very tired. He had lost a lot of weight. He just felt like he needed another year. Obviously, I feel like it was a good decision, but just for him to go out into professional baseball, I feel like he'll have a lot better success now than he would have last year. But you know, it was kind of surreal knowing that that was the last time he's going to probably step on the mound for us. I mean, it is." – Head coach Dave Van Horn on Blaine Knight's outing
From The Players
"I mean, this year has gone to everything I've wanted so far. I mean, that's a credit to this team. This team has picked me up all year long and we've battled together, so without this team, I wouldn't be in the situation I'm in. All credit goes to them." – Blaine Knight on coming back for another year with the Razorbacks and finishing in the CWS finals
"Yeah, after the game, Coach's immediate message was we have a lot of work to do and there's a lot of unfinished business, and we've got to come out tomorrow with a sense of urgency for sure. That was the message, and I think we all — he didn't even really have to say it. We all know that our season could end at any point, could end in two days. We all know that. We're just fighting for one more day, one more game with our guys, so we're definitely going to come out with a sense of urgency tomorrow." – Grant Koch on what Coach Van Horn's message was to the team after the 4-1 win
College World Series Finals | CWS Bracket
Arkansas leads 1-0
Tuesday, June 26
Game 1: No. 5 Arkansas 4, No. 3 Oregon State 1 | Box Score
Wednesday, June 27
Game 2: No. 5 Arkansas vs No. 3 Oregon State – 6 p.m. [ESPN]
Thursday, June 28
Game 3 (if necessary): No. 5 Arkansas vs No. 3 Oregon State – 5:30 p.m. [ESPN]
For more information about Arkansas Baseball, follow @RazorbackBSB on Twitter.