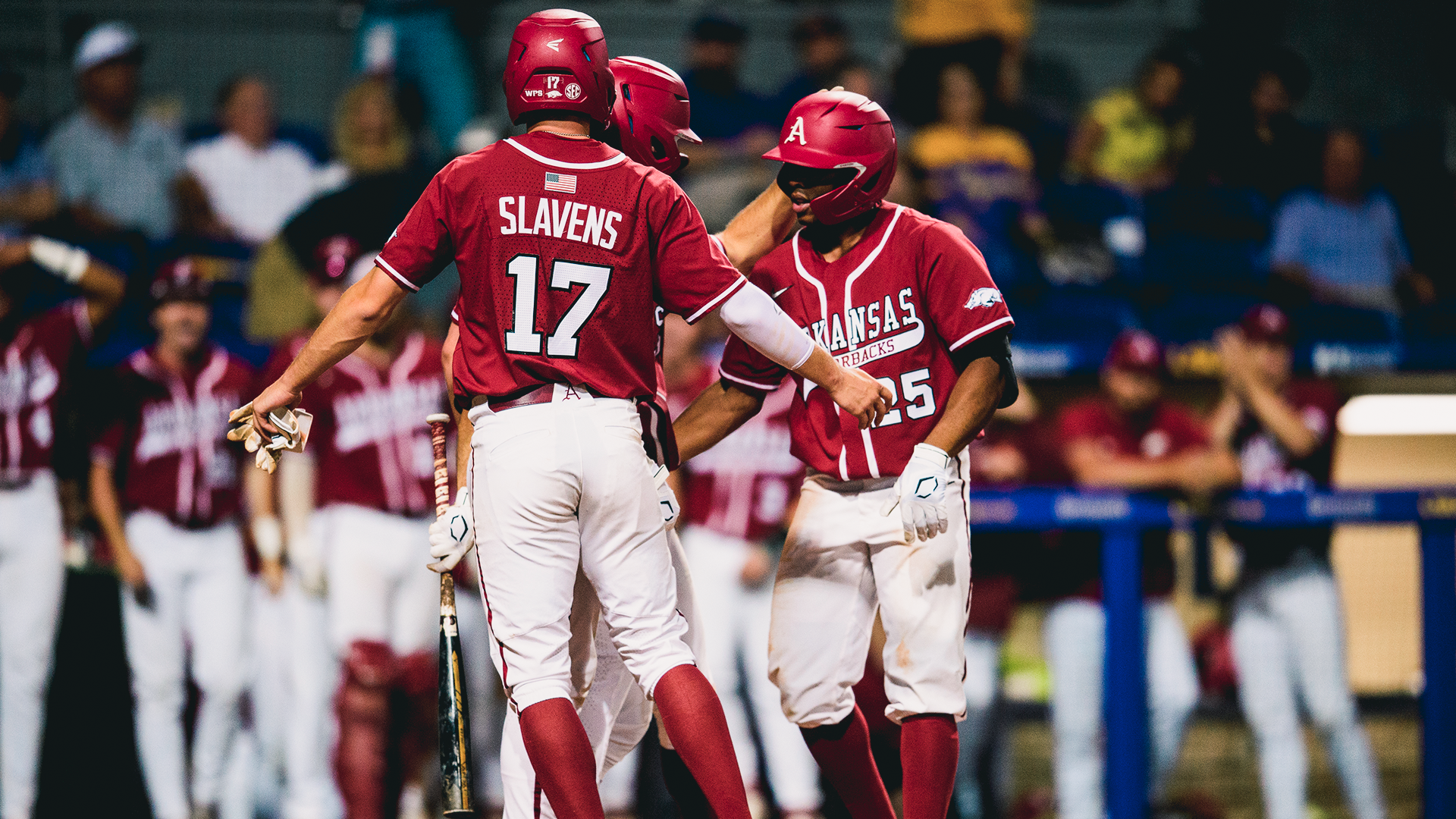 Razorbacks Tame Tigers in Series-Opening Shutout
BATON ROUGE, La. – Hold That Hog.
No. 1 Arkansas bashed LSU, 7-0, in the series opener on Friday night at Alex Box Stadium. The Razorbacks were no-hit for the first six innings of the ballgame before breaking out for two runs in the seventh and five more in the eighth to pull away.
The Hogs are now 33-7 overall, improving their SEC mark to 14-5 on the year with the victory. Arkansas, winners of its first six conference series of the season, will look to clinch a seventh consecutive SEC series win tomorrow and set a program record in the process.
Starter Patrick Wicklander went head-to-head with LSU's Landon Marceaux from the very start. The pair treated a full-capacity stadium in Baton Rouge to an old-fashioned pitchers' duel as the Razorbacks and Tigers exchanged zeroes through the first six innings of the night.
Arkansas, however, struck in the top of the seventh. Matt Goodheart broke up Marceaux's no-hitter with a leadoff single before Christian Franklin stepped up to the plate with two runners on.
The Razorback center fielder drove home both runners on base, singling to left center and scoring Goodheart and Brady Slavens to give the Hogs a 2-0 lead.
Wicklander recorded two outs in the bottom half of the frame before turning the ballgame over to Kevin Kopps, who came in and struck out the first batter he faced. The lefty went 6.2 innings on the night, striking out five while walking none and limiting the Tigers to three hits.
Arkansas broke the game open in the eighth with five runs, including three more off the bat of Franklin. After Slavens brought home two with a single to right, the consensus preseason All-American capped his five-RBI night with a three-run homer over the wall in left to put the Hogs ahead for good, 7-0.
Kopps locked down the final two innings, striking out the side in the bottom of the eighth before punching out one more in the ninth to secure his sixth save of the season. The right-hander struck out 11 consecutive batters dating back to his appearance at South Carolina (April 22, 2021), topping Jess Todd's school record of nine straight strikeouts against South Carolina (May 24, 2007).
The Razorbacks will play a doubleheader for the fourth consecutive weekend as Sunday's game has been moved up to Saturday, May 1, due to inclement weather. Game one of the twin bill gets underway at 2 p.m., while the nightcap will begin at 6:30 p.m. on SEC Network+.
For complete coverage of Arkansas baseball, follow us on Twitter (@RazorbackBSB), Instagram (@RazorbackBSB) and like us on Facebook (Arkansas Razorback Baseball).