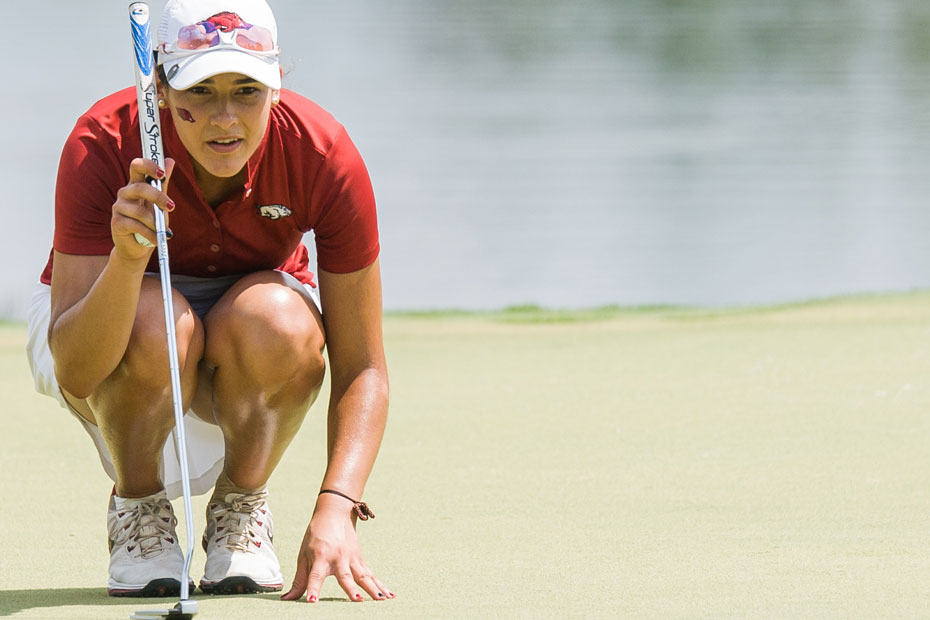 @RazorbackWGolf Goes One-Under; Moves Up
CHAPEL HILL, N.C. – The fourth-ranked University of Arkansas women's golf team posted the only below-par round of the day shooting a one-under 287 vaulting up the leaderboard in the second round of the Ruth's Chris Tar Heel Invitational in Chapel Hill, N.C., Saturday.
The Razorbacks struggled behind aggressive shot taking in the first round shooting 302 and where tied for 11th after round one. Today's 287 gives the Razorbacks a 589 moving Arkansas into a tie for second place with one round remaining.
Senior Regina Plasencia led the charge Saturday shooting two-under 70 on the UNC Finley Golf Course. The Guadalajara, Mexico, native is in the clubhouse with a 146 and is tied for 10th overall. Plasencia had five-birdies in the round and finished strong with two birdies in the final five holes.
Senior Gabriela Lopez shaved three strokes off her first round score shooting even par 72 in the second round. Lopez posted rounds of 75-72 for 147 and is tied for 15th overall. Junior Summar Roachell also counted a 72 and shot 148 for the two rounds. Roachell is tied for 17th overall.
Sophomore Alana Uriell was steady with rounds of 75-75=150 and is tied for 33rd and freshman Cara Gorlei rounds out the Razorbacks scoring shooting 78-73=151. Gorlei is tied for 39th overall.
From Shauna Estes-Taylor
Obviously I'm really proud of this team today. We had wind, we had rain and it was cold. It was awesome to see them learn from our short-comings yesterday and keeping in tune with our game plan on this golf course. They learned from their mistakes and that was huge for us today. They did a nice job today – all five of them in the tough conditions. I can't say enough about Regenia's two-under par. Just solid golf out of her. Even par out of Summar and Gaby and two other great rounds of golf by Alana and Cara was impressive. We have to go out tomorrow and continue to learn from our mistakes and attack the leaderboard.
@RazorbackWGolf
| | | |
| --- | --- | --- |
| T2 | Arkansas | 302-287=589 |
| T10 | Regina Plasencia (2) | 79-70=146 |
| T15 | Gaby Lopez (1) | 75-72=147 |
| T17 | Summar Roachell (3) | 76-72=148 |
| T33 | Alana Uriell (5) | 75-75=150 |
| T39 | Cara Gorlei (4) | 78-73=151 |
The Field
| | | | |
| --- | --- | --- | --- |
| 1. | Duke | 285-293=578 | +2 |
| T2. | ARKANSAS | 302-287=589 | +13 |
| T2. | Louisville | 292-297=589 | +13 |
| T4. | North Carolina State | 292-300=592 | +16 |
| T4. | Michigan State | 293-299=592 | +16 |
| 6. | Alabama | 289-304=593 | +17 |
| 7. | Tennessee | 299-295=594 | +18 |
| 8. | North Carolina | 295-303=598 | +22 |
| 9. | Auburn | 298-304=602 | +26 |
| 10. | Virginia | 297-306=603 | +27 |
| 11. | LSU | 304-303=605 | +29 |
| 12. | Oregon | 302-306=608 | +32 |
| 13. | South Carolina | 299-310=609 | +33 |
| 14. | Wake Forest | 305-307=612 | +36 |
| 15. | Rollins College | 307-311=618 | +42 |
| 16. | Baylor | 306-314=620 | +44 |
| 17. | UNC Wilmington | 305-320=625 | +49 |
| 18. | Kentucky | 308-319=627 | +51 |