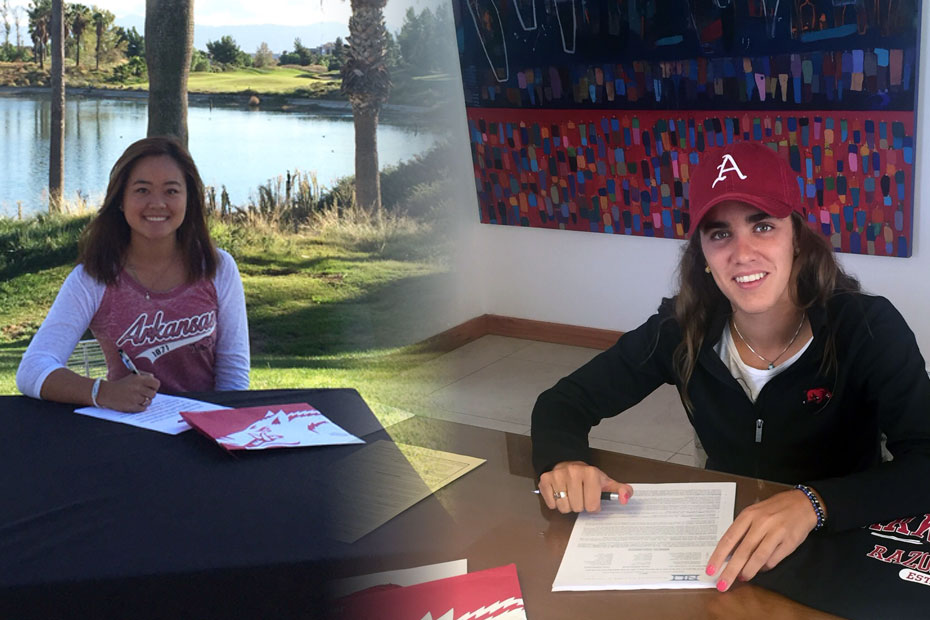 @RazorbackWGolf Welcomes Fassi and Then
FAYETTEVILLE, Ark. – University of Arkansas head women's golf coach Shauna Estes-Taylor welcomed the addition of Angella Then and Maria Fassi as National Signing Day opened Wednesday.
"Angella and Maria will come in and have an immediate impact our women's golf program," Estes-Taylor said. "They both have the goal of playing golf at the next level and will be motivated to train for that goal after college. I feel blessed to have both of these young ladies as Razorbacks."
Then is a Rancho Cucamonga, California, native who earned her first trip to the U.S. Women's Open in 2015. She played in seven amateur events in 2015 picking up a runner-up finish at the Sunriver Junior Open and five top-15 finishes. Then shot 72-69-69=210 in SunRiver.
As a sophomore, Then was runner-up at the UnderArmour/Scott Stalling Championship counting a 219 and has has12 top-15 finishes in the last three seasons.
Born Aug. 8, 1988, Then is the daughter of Andre Then and Maya Dewi. She played at Los Osos High School and has an older sister, Gabriella, who plays golf at the University of Southern California.
"I have had Angella on our radar screen for a very long time," Estes-Taylor said. "She comes from a very golf-rich family background and I couldn't be more excited to have her officially become a Razorback. She will immediately add some great depth to our team. Angella comes in very fundamentally sound and I'm excited about what she will bring to our team in all areas. I know that Mike (Adams, assistant coach) and I can continue to give her more tools to grow her game and I know Angella has everything she needs to help us continue to build on our past successes. Angella is a great competitor and I feel lucky to have snagged her away from the west coast."
Fassi becomes the third star from Mexico to join the Razorbacks. Following on the heels of the recent success of seniors Gabriela Lopez and Regina Plasenica, Fassi also advanced through qualifying to play in the U.S. Women's Open this season. She finished as a runner-up in the South American Women's Amateur and was the top-ranked female amateur in Mexico, according to the Mexican Golf Federation. Fassi won the Mexican Amateur in 2015 and
Fassi hails from Pacuca, Hidalgo, Mexico and was born March 25, 1988. She is the daughter of Andres Fassi and Maria Alvarez and attended UFD High School.
"Convincing Maria to become a Razorback would not have been possible with the help of Gaby Lopez," Estes-Taylor said. "They have been friends for quite some time and the great experience Gaby had as a student-athlete at The University of Arkansas definitely proved helpful in the recruiting process with Maria. I have watched Maria compete and play over the past few years and she possesses many of the intangibles that you just can't teach. She has had many great competitive experiences across the world and when you couple that with her great length you have a recipe for success. Maria is a special athlete and I know she will leave her mark on program moving forward."
The Razorbacks on idle from collegiate competition but several current players will attend amateur events over the winter break. Check ArkansasRazorbacks.com or follow us on Twitter at @RazorbackWGolf for all of the latest information and scores.