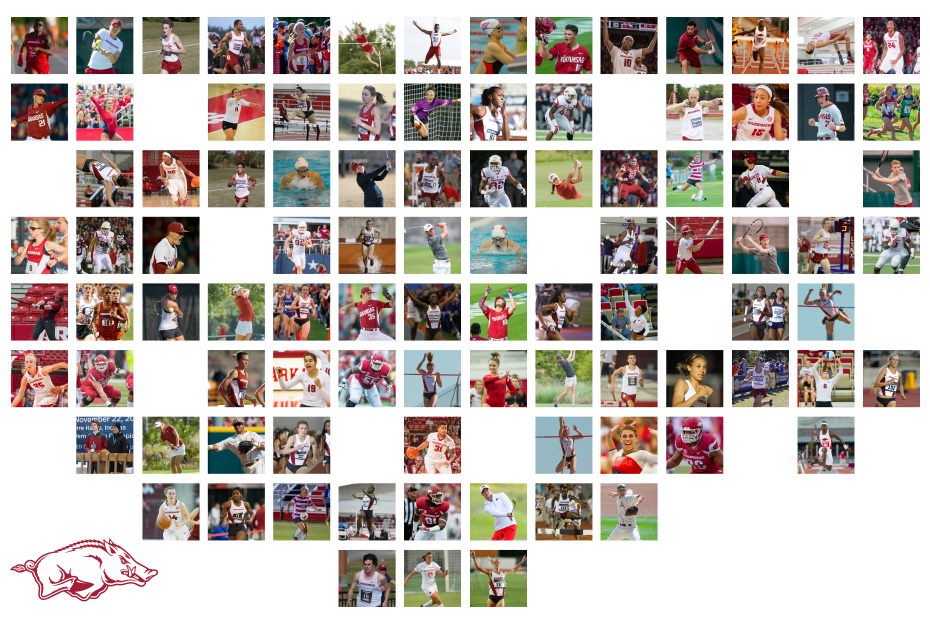 Record-Breaking Year
Simply put, 2014-15 was the most successful year in the history of Razorback Athletics, both on and off the field. And before Razorback fans turn their attention to a promising 2015-16, this week ArkansasRazorbacks.com takes a look back at the record setting achievements and highlights of the past academic year.
From a program- best student-athlete GPA of 3.24 to a record 16th-place finish in the Learfield Sports Directors Cup, 2014-15 was filled with special milestones including the first national championship in any women's sport at the University of Arkansas (women's indoor track and field) and four Southeastern conference championships.
As part of the unprecedented year of intercollegiate athletics' success at the University of Arkansas, a total of 95 Razorback student-athletes earned national, regional and Southeastern Conference awards. In honor of their extraordinary individual achievements, photos of each of the award winners and one of their many honors is featured on the covers of the 2014-2015 Razorback Athletics Annual Report.
Included in the cover photo collage is Golden Spikes Award and Dick Howser Trophy winner Andrew Benintendi, who became the first Razorback baseball student-athlete to win national player of the year honors. Benintendi won the Roy Kramer SEC Male Athlete of the Year while track student-athlete Nathanael Franks became the first male Razorback student-athlete to win the H. Boyd McWhorter Award (SEC Male Student-Athlete of the Year).
Bobby Portis was the first Razorback to win SEC Player of the Year honors in men's basketball since Corliss Williamson. Dominique Scott was the SEC Runner of the Year in cross country, indoor and outdoor track and field. Omar McLeod and Sandi Morris joined Scott in capturing individual event NCAA championships while women's golfer Gabriela Lopez earned national runner-up honors at the NCAA Women's Golf Championship.
From record setting performances to memorable moments, the Razorback Athletics annual report allows us to share our progress and success as we continue to focus on fulfilling our mission of developing our student-athletes academically, athletically and socially. So be sure to watch the website every day this week as we celebrate the most successful year in Razorback Athletics history!
Record-Breaking Year Series Schedule
Monday – Academic Achievement
Tuesday – Athletics Success
Wednesday – Student-Athlete Development
Thursday – Events and Economic Impact
Friday – Record Support and Investment