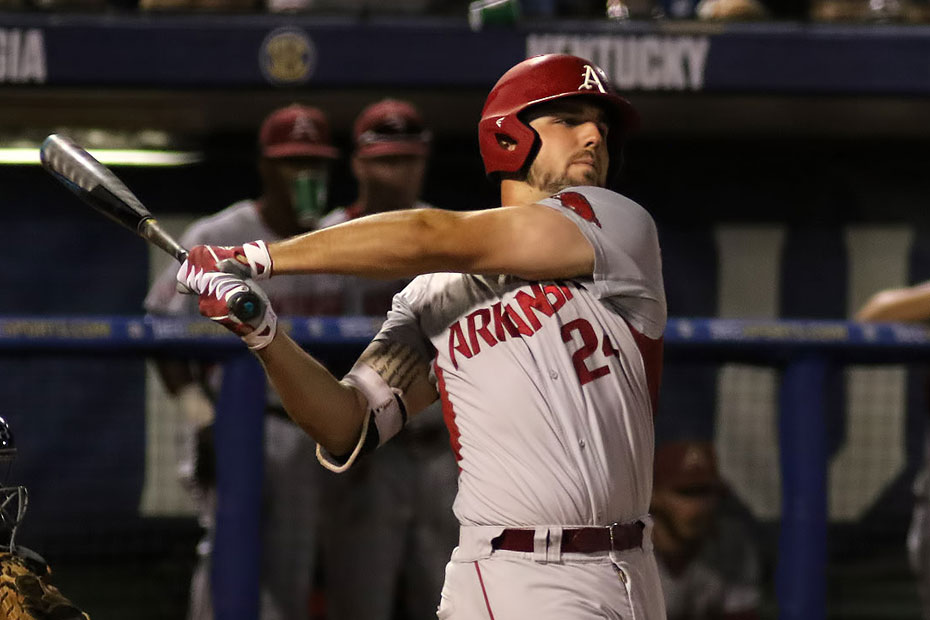 Record-Setting Night Extends Hogs' Tournament Run
Box Score (PDF) | SEC Tournament Bracket
HOOVER, Ala. — The fourth-seeded Razorback baseball team staved off elimination from the SEC Tournament in a fashionable way Thursday night against eighth-seeded Auburn. Junior Chad Spanberger hit three home runs and the Razorback pitching staff combined for a seven-inning no-hitter to defeat the Tigers, 12-0, at Hoover Metropolitan Stadium.
With the win, Arkansas moves on to play the loser between top-seed Florida and five-seed Mississippi State on Friday at approximately 6:30 p.m.
Spanberger's three home run day was only one in a number of school and tournament records that were either tied or broken in the game. The combined no-hitter was the first no-hitter of any kind in SEC Tournament history and Spanberger's three homers was the first of its kind for the tournament as well.
The junior finished 3-for-4 with seven RBIs including a grand slam. All three of his home runs came in his first three at-bats and helped jumpstart the Hogs to a 7-0 lead before the end of the fourth inning. He's the second Razorback to hit a grand slam this season as Grant Koch did it on March 4 against Nebraska in the Frisco Classic.
As a team, Arkansas plated 12 runs on 14 hits, its biggest run production in an SEC Tournament game in school history. Spanberger drove in the first three of Arkansas' runs over the first three innings and then four of the six runs in the fourth to break the game open.
The seven RBIs were a tournament record too and easily a career-high for Spanberger. Going back to the final regular-season series at Texas A&M, Spanberger's base hits have been all home runs. In his last 12 at-bats, all five of his hits have been of the home run variety, giving him 17 long balls on the year to go with 61 RBIs.
Along with being the first player to ever hit three home runs in an SEC Tournament game, he was also the 10th Razorback ever to hit three homers in a game and the first since Brett Eibner did it in the 2010 Fayetteville Regional against Grambling State.
As for the pitching, the combination of Dominic Taccolini, Matt Cronin and Josh Alberius did not give up a single hit over their seven innings of work, even while allowing five walks. Because Arkansas was up by 10 or more runs by the end of the seventh frame, the SEC Tournament mercy-rule went into effect.
Nonetheless, it became Arkansas' 13th no-hitter in school history and first since 2006 when Nick Schmidt, Brian McLelland, and Devin Collis combined for a 3-0 no-hit victory over Oklahoma State (Feb. 11, 2006). It's also the first no-hitter for the Razorbacks against an SEC opponent since 1994 when Todd Abbott went a full nine innings for a 6-0 win over Vanderbilt.
Taccolini was the starter and only went two innings, while giving up four walks. He gave way to Cronin at the start of the third with the Hogs already up 3-0 after two of the Spanberger homers.
Cronin was the game-changer in the field as he worked three strong innings in the middle half of the game, recording a season-high six strikeouts to only three walks. He ended up with the victory, his third of the year.
When Cronin entered the game in the middle of the third, Taccolini had already put two men on via walks, but the freshman was able to strike out the Jonah Todd, Daniel Robert, and Dylan Ingram, the top of Auburn's batting order. It was the best scoring threat the Tigers had for the rest of the night as they never got a runner into scoring position with less than two outs over the final three innings.
Lost in the excitement that was the Spanberger show, sophomore Jax Biggers went 2-for-3 with two triples and two runs scored, tying the tournament and school record for triples in a game. Biggers now has three triples on the year and 20 multi-hit games this season to join Luke Bonfield as the only Razorbacks with 20 or more multi-hit games this year.
Jake Arledge and Eric Cole were the only other Razorbacks to record multi-hit games.  Arledge finished 3-for-4 with two runs and an RBI while Cole went 2-for-5. In total, seven Razorbacks recorded hits and scored runs in the game as Arkansas scored its most runs since April 18 against Memphis.
Razorback Quotables
"A great job by our team. We have been hanging in there and it has been a long day. The first game got away from us, unlike this ballgame where we seemed to take charge early. Mostly because Chad (Spanberger) hit a solo homer in the first, a two-run homer in the third and with that we were off and running. (Chad Spanberger's) grand slam in the fourth put us in pretty good shape, giving us the opportunity to save some pitching and relax a little bit." – Head coach Dave Van Horn on the win over Auburn 
"This team is very tough minded. I think a little bit of that is how we finished last year. You can think back on the way it went last May, anything that could go wrong went wrong. If we needed a hit, we didn't get it. If we needed a pitch, we didn't make it. So, we kind of got left behind. This year, about seven days after school started, we started fall practice. We all had the same mindset. Baseball is a game of short memory." – Head coach Dave Van Horn on the difference in this year's team
"It's great. It puts great confidence in this team. But it wasn't just me, it was great pitching that also helped us play great today." – Chad Spanberger on his three home run day
Up Next
Four-seed Arkansas continues on in the SEC Tournament and will play the loser of the matchup between top-seed Florida and five-seed Mississippi State. Game time will be roughly 6:30 p.m. at Hoover Metropolitan Stadium and will be televised on the SEC Network.
For more information on Razorback Baseball, follow @RazorbackBSB on Twitter.