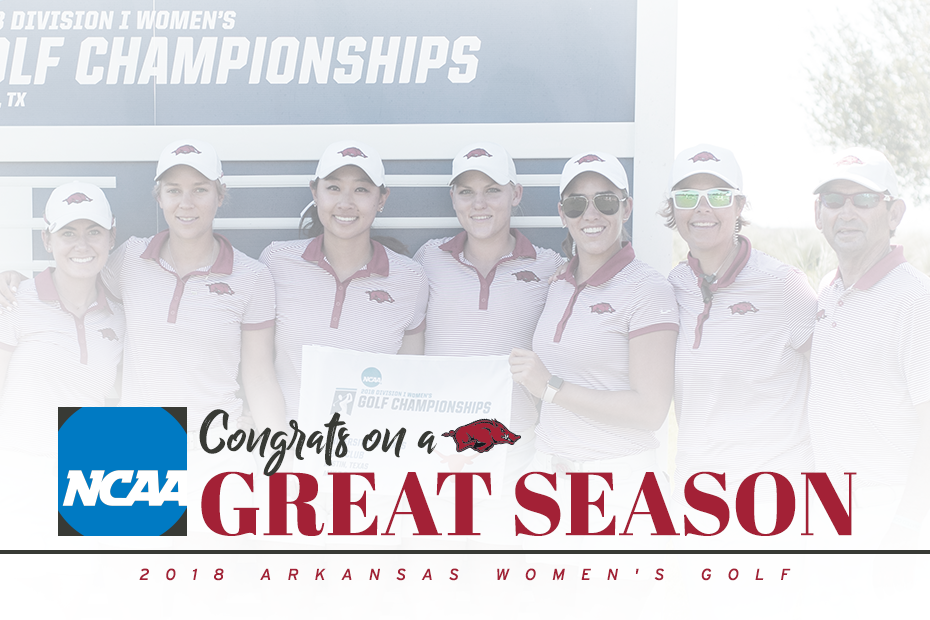 Record-Setting Season Comes To A Close
Results
STILLWATER, Okla. – A valiant effort in the final two rounds of stroke play was not enough for the University of Arkansas women's golf team to advance to match play at the 2018 NCAA Championship in Stillwater, Oklahoma, on Monday.
The second-ranked Razorbacks made the first cut to 15 teams and played to a 1-over 289 in Monday's round. That was the second-best score of the day, but Arkansas fell one shot shy of moving on.
Arkansas came off the golf course one shot back of the No. 8 spot trailing Baylor who picked up some much-needed birdies in the final four holes. The Razorbacks still had a chance to advance with several teams out on the course including Kent State who was two shots above the cut. Kent State hung on to the advantage eliminating Arkansas.
From Shauna Taylor
"It definitely stings. You hit 1,100-plus shots and it comes down to one. I talk a lot about the power of one in our sport and it all matters. Unfortunately, we fell on the wrong side of one this week. We dug ourselves a deep ditch on day one but played amazing golf the last two days.
You have to remember the good stuff. We had a school record seven wins and fought hard all year. We talk about leaving a legacy and this group definitely left their mark on Arkansas golf. This team has left their mark on our program and on my life and I'm proud to have coached them."
When the dust settled, the Razorbacks finished one shot back of Baylor and Arizona State who had to play extra golf to break the tie for the eighth spot. Arkansas shot 308–300–289–289—1186. The day three and four rounds of 289 are a program record at the NCAA Championship for the Razorbacks and, despite the slow start, Arkansas' 1,186 total is the team's second–best score at the event.
Arkansas had three players shoot under par in the final round paced by junior Kaylee Benton who counted the low round of the day with a 2–under 70 on Monday. Benton had four birdies and two bogeys in her round and finished tied for 36th overall with a 295 (77–76–72–70).
Junior Dylan Kim was solid all week and was the Razorbacks' best finisher with a tie for 21st overall. Kim counted all four rounds toward the team total scoring a 292 (72–73–75–72) in four days. Senior Alana Uriell is one of two players to graduate for the Razorbacks this season. Uriell finished tied for 33rd and helped Arkansas reach the NCAA Championship in three of her four seasons. She ended her career shooting 294 (78–74–69–73) in her final event.
Junior Maria Fassi wrapped up the tournament 66th overall with a 307 (81–78–73–75) and Cara Gorlei was 81st shooting 318 (86–77–81–74).
The Lineup

| PLACE | PLAYER | SCORE | TO PAR |
| --- | --- | --- | --- |
| T21 | Dylan Kim (2) | 72–73–75–72—292 | +4 |
| T33 | Alana Uriell (3) | 78–74–69–73—294 | +6 |
| T36 | Kaylee Benton (4) | 77–76–72–70—295 | +7 |
| 66 | Maria Fassi (1) | 81–78–73–75—307 | +19 |
| 81 | Cara Gorlei (5) | 86–77–81–74—318 | +30 |
Season Notes
• School record 7 team titles
• Program's first-ever SEC Championship
• Program's first-ever NCAA Regional title
• NCAA record-tying 41-under par shooting 823 in win at the Mason Rudolph Championship
• Arkansas played the four fall tournaments 92-under par
• Nine of Arkansas' 34 rounds rank in the program's top-10 lowest scores
• NCAA Regional second round score of 271 is second lowest round in program history
• Arkansas' 17-under 271 in the second round of the NCAA Regional is the second-best round versus par in program history
• Six of Arkansas' team tournament totals rank in the top-10 in program history
• Arkansas' 823 at the Mason Rudolph Championship is the lowest score in program history
• Ranked as high as No. 1 in the fall. Entered the NCAA Championship as the No. 2 team
More Information
Keep up with all of the latest news and information and get behind the scenes looks into our program on our social media accounts. Follow us on Twitter at @RazorbackWGolf and check out our Facebook page "Razorback Women's Golf." Stats, news and player information can be found at ArkansasRazorbacks.com.