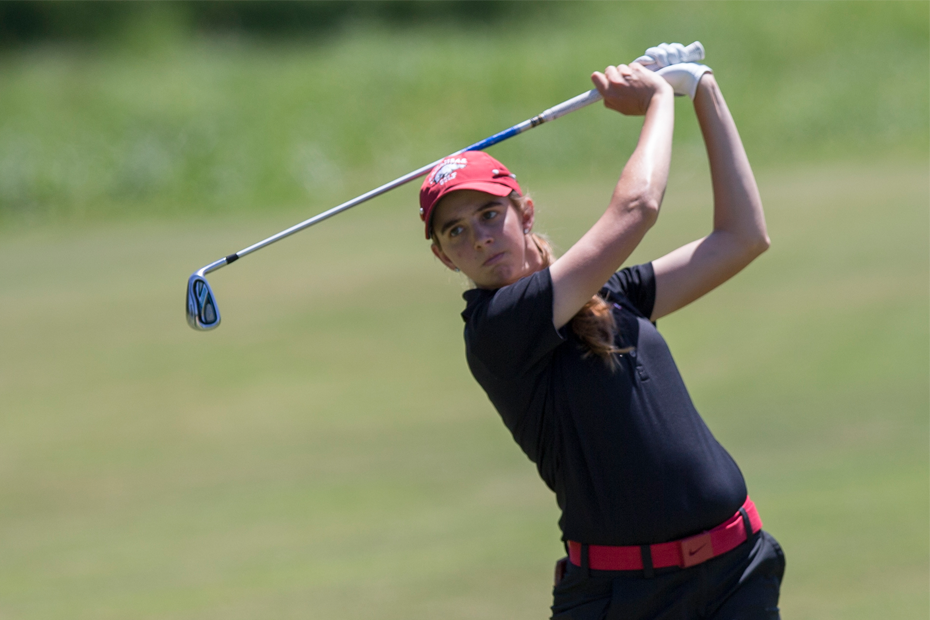 Roachell Earns SEC Community Service Honor
FAYETTEVILLE, Ark. – University of Arkansas sophomore Summar Roachell was selected to the Southeastern Conference Women's Golf Community Service team, the league office announced today.
Roachell has taken part in many different community service events in her two seasons with the Razorback women's golf team. This year, some of her activities included visiting local elementary schools as part of the Sweat Hogs Program, working with Special Olympics, the Book Hogs Read To Win Program, volunteering at the Oklahoma Kid's Cancer Center, serving meals at the Potter's House, taking part in the Jingle Bell 5K run for Arthritis, volunteering at the Ronald McDonald House, taking part in shopping with the Razorbacks and serving lunch at Homestyle assisted Living Center.
Roachell is the 12th Razorback women's golfer selected to the SEC Community Service Team since the award began in 2003-04.
Roachell and the eighth-ranked Razorbacks travel to St. George, Utah, for NCAA Regional action next week.
The Razorbacks will play at Entrada At Snow Canyon Country Club, May 7-9. Arkansas head coach Shauna Estes-Taylor has coached on the course as an assistant for the Razorbacks in the spring of 2005, where the Razorbacks played to a runner-up finish at the BYU Dixie Classic.
The Razorbacks are making their 14th NCAA Regional appearance and their 13th consecutive trip in program history. Arkansas has been selected to a Regional in each of Shauna Estes-Taylor's seasons as both an assistant and head coach for the Razorbacks.
This year, women's golf faces a new challenge in the postseason with a change in the format. NCAA Regional Championships have expanded from three sites in which the top eight teams advance to the NCAA Championship to four sites with only six teams moving on.
The Razorbacks have advanced to six NCAA Championships, most recently in 2013, with the program's best finish, a tie for fifth, coming in 2011.
Making the trip to NCAA Regionals this year will be a cast of familiar characters for Arkansas. Juniors Regina Plasencia and Gabriela Lopez are taking part for the third time in their collegiate careers, while sophomore Summar Roachell is making her second appearance. Transfer sophomore Samantha Marks and freshman Alana Uriell are making their first postseason appearances but have traveled most of the 2014-15 season for Arkansas.
The field will challenge Arkansas as the Razorbacks take on seven Golfstat.com top-25 programs including top-ranked Southern California. The rest of the field includes No. 9 Virginia, No. 16 Stanford, No. 17 Vanderbilt, No. 22 UNLV and No. 25 San Diego State among others.
For more information on Arkansas women's golf, follow @RazorbackWGolf on Twitter.