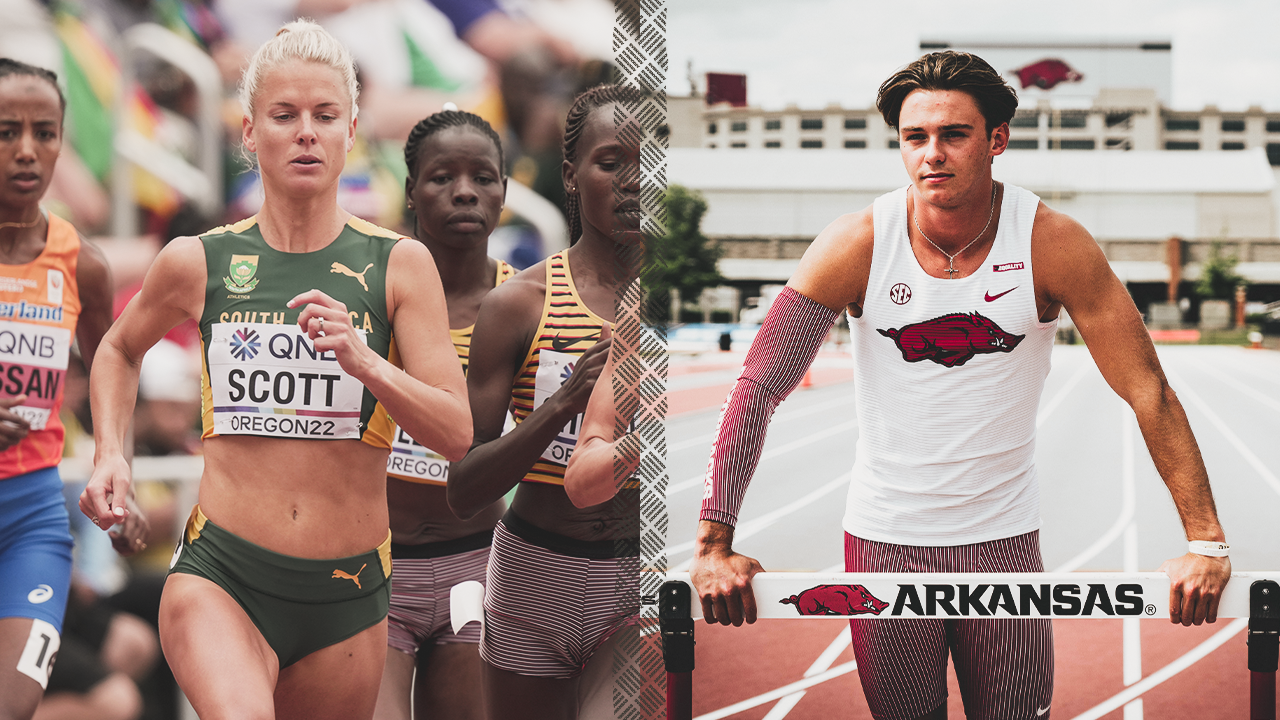 Scott 7th in Commonwealth 10k, Williams advances in World U20 400m hurdles
BIRMINGHAM, England – Making her debut at the Commonwealth Games, Arkansas alum Dominique Scott finished seventh in the 10,000m final with a time of 31 minutes, 25.18 seconds at Alexander Stadium on Wednesday.
At the World U20 Championships in Cali, Colombia, incoming Razorback freshman Grant Williams of Celina, Texas, raced in the first round of the 400m hurdles and advanced to the semifinal.
Scott was stationed in sixth place halfway through the race with a 5,000m split of 15:39.4. Her splits leading up to the halfway stage included 3:18.7, 3:06.4 [6:25.1], 3:03.8 [9:29.0], 3:04.9 [12:33.9], and 3:05.5.
Over the latter half of the race Scott's splits included 3:05.2 [18:44.6], 3:09.8 [21:54.5], 3:09.6 [25.04.1], 3:11.5 [28.15.6], and 3:09.4. During the 2022 World Championships in Eugene, Scott posted a time of 31:40.73 in placing 17th.
Scott will race again in the 5,000m final on Sunday, August 7.
Scotland's Eilish McColgan won the 10,000m title in a Games record of 30:48.60, bettering the previous mark of 31:27.83 set in 2002 by Selina Kosgei of Kenya. McColgan's mother, Liz, won Commonwealth 10k gold in 1986 (Edinburgh) and 1990 (Auckland). The winning time of 31:41.42 in 1986 remained the Games record until 2002.
Silver and bronze medals were claimed by the Kenyan duo of Irine Cheptai (30:49.52) and Shelia Kiprotich (31:09.46).
Williams posted a time of 51.12 seconds in the opening round of the 400m hurdles. The runner-up finisher in the second of seven heats, Williams automatically qualified for the semifinal round, which will be held on Thursday at 4:40 p.m. (CT).
The time by Williams ranked sixth among the field of 49 with 24 advancing to the semifinal. The top three times in the prelims were 50.66 for Yan Vazquez of Puerto Rico, 50.68 for Slovenia's Matic Gucek, and 50.71 for Jamaica's Roshawn Clarke, who won the heat Williams raced in.
Williams will race in the second of three semifinal heats, occupying lane 5. The top two of each heat, plus the next two fastest times qualify to the final.
Also competing on Thursday in Cali is Jamaican Jaydon Hibbert in group B of the triple jump, which starts at 12:15 p.m. (CT). Hibbert is an Arkansas incoming freshman from Kings College high school in Kingston, Jamaica.
A mark of 51-10 (15.80) auto qualifies for the final as the qualification round of 20 jumpers gets trimmed to 12.
Finals at the Commonwealth Games on Thursday include Arkansas alum LaQuan Nairn in the long jump and incoming transfer Rojé Stona in the discus.
World U20 Championships | Cali, Colombia | Schedule (CT)
Thursday | August 4
| | | |
| --- | --- | --- |
| 12:15 pm | Triple Jump qualification | Jaydon Hibbert |
| 4:40 pm | 400m Hurdles semifinal | Grant Williams |
Friday | August 5
| | | |
| --- | --- | --- |
| 4:45 pm | 400m Hurdles FINAL | (Grant Williams) |
| 4:55 pm | Triple Jump FINAL | (Jaydon Hibbert) |
Saturday | August 6
| | | |
| --- | --- | --- |
| 4:25 pm | 5,000m FINAL | Heidi Nielson |
Commonwealth Games | Birmingham, England | Schedule (CT)
Thursday | August 4
| | | |
| --- | --- | --- |
| 1:42 pm | Long Jump FINAL | LaQuan Nairn |
| 2:35 pm | Discus FINAL | Rojé Stone |
Friday | August 5
| | | |
| --- | --- | --- |
| 4:28 am | 100m Hurdles prelim | Cindy Sember |
| 1:05 pm | Tripel Jump qualification | Jah-Nhai Perinchief |
Sunday | August 7
| | | |
| --- | --- | --- |
| 4:15 am | Triple Jump FINAL | (Jah-Nhai Perinchief) |
| 4:25 am | 100m Hurdles FINAL | (Cindy Sember) |
| 1:45 pm | 5,000m FINAL | Dominique Scott |