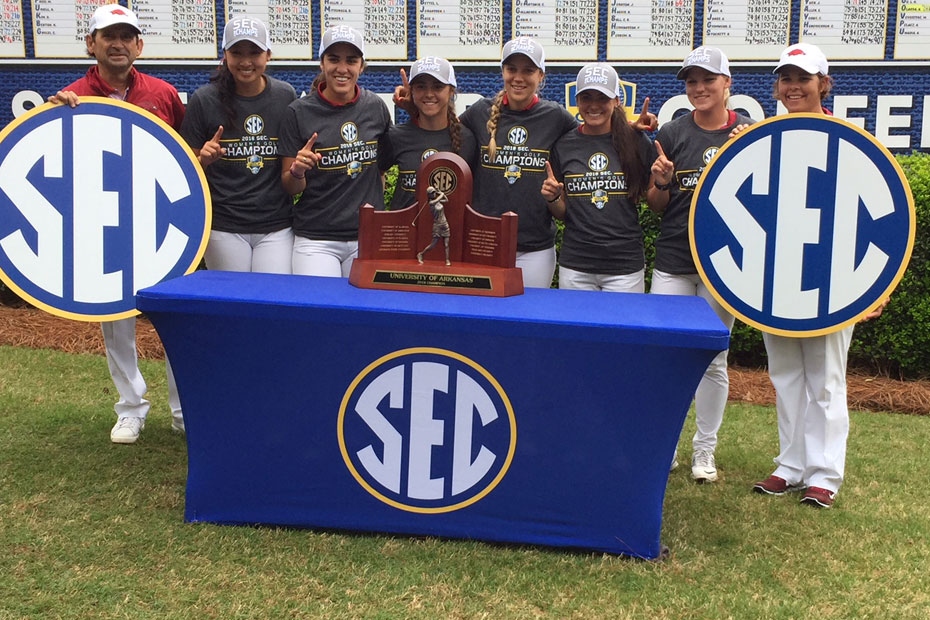 SEC Champions!
Results | Click here to listen to Coach Taylor | Photo Gallery
HOOVER, Ala. – University of Arkansas junior Kaylee Benton stood on the 18th green in front of a gallery of people and television cameras and calmly two-putted to win the first Southeastern Conference women's golf title in program history.
The third-ranked Razorbacks defeated No.10 South Carolina 3-2 in the inaugural season of match play on the Legacy Course at Greystone Golf and Country Club on Sunday. The Razorbacks clinched the title when Benton, who won all three of her matches this weekend, hit her second shot to 30 feet. Her opponent was on the fringe of the green and two-putted. Benton rolled her first attempt close and her opponent conceded the match for the 1-up victory.
From Kaylee Benton
"Yah, ya know it was a tough match all day long. I started out 2-down through two and she (her opponent) was just not messing up – throwing some darts. I stayed in it. I stayed patient and kept giving myself some looks, and I got it to 2-up. I lost a hole on 15 and was 1-up with three to go. I made a really good six-footer on 16 and carried that momentum forward on 17. I had another good two-putt before we went to 18.
"I kept telling myself to take a couple of deep breathes and I couldn't lose it on that hole and I knew that. I knew if I could give myself a look at a birdie I would have it in the bag, and I did. I was pretty nervous, and it was pretty nice."
Head coach Shauna Taylor became the first in conference history to win the SEC title as both a player and as a head coach. The title is the 127th SEC crown for the Razorbacks.
From Shauna Taylor
"It's everything for this program. These young ladies worked so hard and they put in the time and effort in the gym, in the classroom and on the course. To finally get a championship for our women's golf program at Arkansas, it's been a long time coming and gosh, I'm just so proud of our student-athletes.
Maria (Fassi) has been a rock, an anchor. She has gotten the points when we needed her. She's such a great leader and I couldn't say enough about her. It's 16 years for me at Arkansas. Everyday I wake up trying to think of ways to make these young ladies better – better people and better golfers – and to have a day like this and to experience it with this group is just tremendous."
Fassi went out first and was the first player finished with a 2 & 1 victory. She won the first hole and led by as much as three on the front nine. Her opponent cut into the lead, winning the seventh hole but Fassi would remain 2-up for the rest of the match.
Carolina made it interesting winning at the number two and three spots, but Arkansas had the advantage in the final two matches as regulation play wound down. Junior Dylan Kim picked up a big win on hole 15 to move to 2-up with three to play. She confidently approached No. 17 and halved the hole to get the 2 & 1 win.
Knotted at 2-2, the championship came down to Benton. She trailed most of the match falling behind two holes and remained down until the sixth hole. Benton won the No. 7 and squared the match winning No. 9. The players remained tied until Benton drained a 25-foot putt on No. 13 taking the lead.
Results
Maria Fassi (Ark.) def. Anita Uwadia (SC) 2 & 1
Marion Veysseyre (SC) def. Cara Gorlei (Ark.) 2-up
Ana Pelaez (SC) def. Alana Uriell (Ark.) 19 holes
Kaylee Benton (Ark.) def. Ainhoa Olarra (SC) 1-up
Dylan Kim (Ark.) def. Lois Kaye Go (SC) 2 & 1
Notes
• Arkansas has finished second or tied for second three times in program history
• This is the first-ever SEC Championship to play match play
• Shauna Taylor is the first person to win an SEC Women's Golf title as both a player and head coach
• Maria Fassi and Kaylee Benton won all three matches this weekend
Up Next
The Razorbacks await word of an NCAA Regional selection. The selection show is scheduled to air on the Golf Channel on Wednesday, April 25, at 4:30 p.m. CT. This year's regional sites include Stanford Golf Course (San Francisco, Calif.), University of Texas Golf Club (Austin, Texas), University Ridge Golf Course (Madison, Wis.) and Southwood Golf Course (Tallahassee, Fla.).
More Information
Keep up with all of the latest news and information and get behind the scenes looks into our program on our social media accounts. Follow us on Twitter at @RazorbackWGolf and check out our Facebook page "Razorback Women's Golf." Stats, news and player information can be found at ArkansasRazorbacks.com.