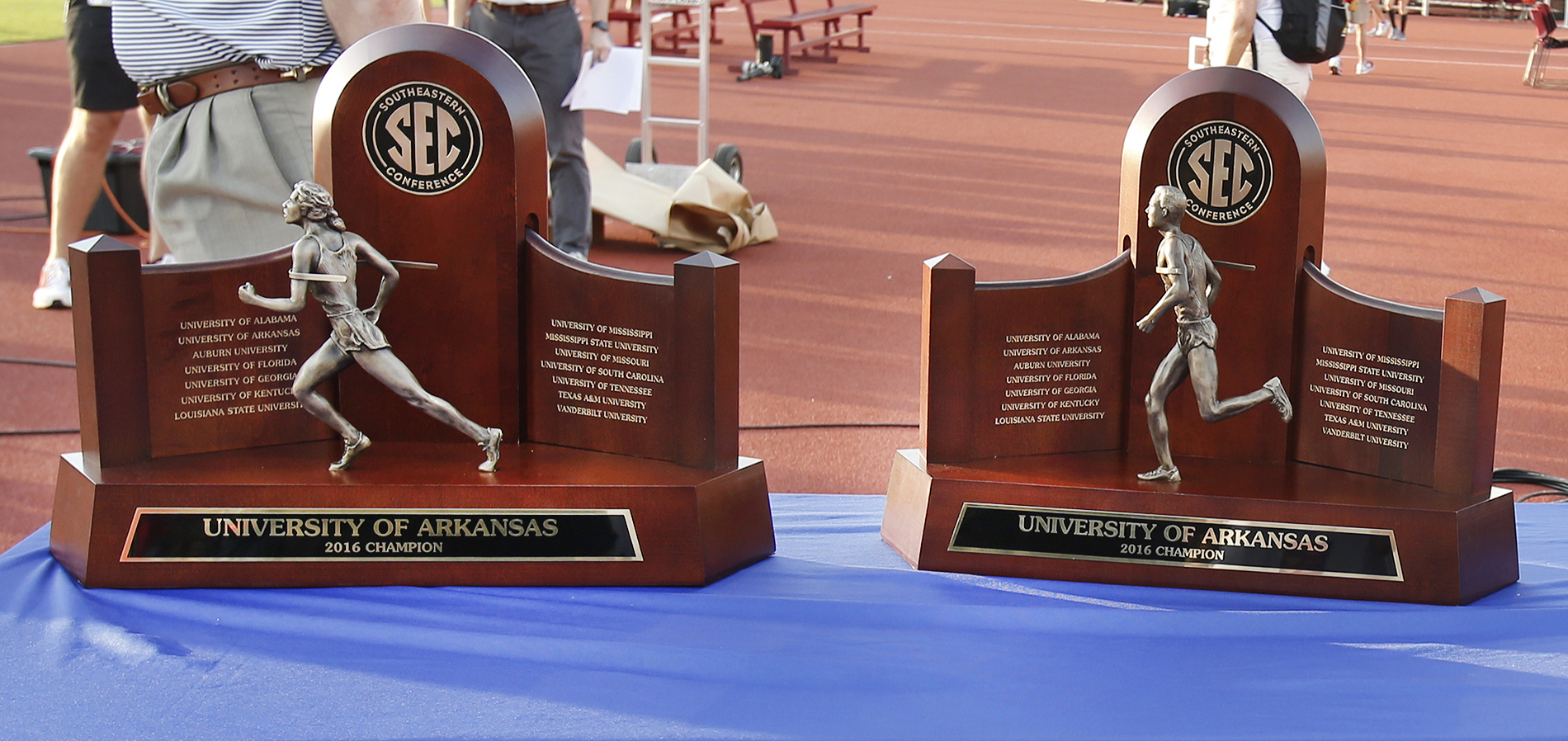 SEC Championships Supply Elite Test, Stage for Development
After sweeping the indoor conference titles in February, the Razorback men and women were prime contenders to be the first program to claim SEC outdoor team titles in College Station this weekend as Texas A&M was scheduled to host its first SEC Outdoor Championships since joining the conference in 2012-13.
Arkansas, since arriving in the league for the 1991-92 season, has feasted on SEC championships.
The Razorback men have collected 19 outdoor team titles amid their total count of 67 SEC titles when including cross country (25) and indoor track (23). The overall total of league titles is currently at 110 for the men's program, including 43 Southwest conference championships (23 cross country, 12 indoor, 8 outdoor).
The Arkansas women have achieved eight outdoor team titles among their total count of 38 SEC titles accumulated when including cross country (20) and indoor track (10).
"I realize times have changed a little bit, it hasn't for us," said Razorback men's head coach Chris Bucknam. "We feel obligated to carry the tradition of winning the most prized conference in the country and that's the SEC. It was important for Arkansas teams in the past, whether it was the Southwest Conference or the SEC.
"The role it plays overall for our program is a critical importance. We feel like we can compete for conference championships and we can compete for national championships. We feel like we're a unique school that can do that. It's in our DNA and the conference meet has historically been the first line of defense for our championship season, winning either the SWC or SEC title."
In the SEC Outdoor Championships, the Razorback men have garnered 125 individual and relay titles, with nearly half of them (61) coming from distance events – 18 in the 5,000m followed by 15 each in the 1,500m and 10,000m along with 14 in the 3,000m steeplechase. In addition, Arkansas has 12 titles in the long jump and 11 in the triple jump.
On the women's side, the Razorbacks have totaled 85 titles, with 47 attained in distance events – 12 in the 5,000m, 10 in the 3,000m steeplechase, nine each from the 1,500m and 10,000m and seven from the 3,000m, which was contested through the 2000 season. The second highest event total for the women is 11 titles in the pole vault, followed by seven from the heptathlon and six in the 400m.
"Within the SEC, with every university that is a member, winning a conference title in any sport is a prized possession," noted Arkansas women's head coach Lance Harter. "Knowing full well we are the number one conference in the nation, especially in track and field, we are so dominant. To be able to get kids ready it works as a great springboard for us to prepare for the national championships.
"There are events in the SEC meet where you can run a NCAA qualifying mark in the prelims and not advance to the final. That's how keen the competition is across the board. It's just amazing the accumulation of talent that those 14 schools bring year in, year out to the conference championships."
In the development and progression of a collegiate track and field athlete, the SEC Championship meet offers a stern challenge and the ability to sharpen competitive tactics amid very talented and international fields of competitors.
"It's a national championship meet in many events," Bucknam stated. "It's unbelievably competitive and deep. To me, it's the best track and field meet there is. You have so many traditionally great programs competing in the SEC. You put all of that into one venue and it turns into a war. It's a meat grinder kind of meet.
"It's just a special track meet, because it's so tradition-rich with so many great programs. It's just an incredible competitive environment."
The lofty status of SEC track and field comes from the caliber and overall quality in so many event areas. As an example of the recent talent level in the conference 17 track and field medalists were from SEC schools during the 2016 Olympics Games. Then, at the two World Championships held since the Rio Olympics, the medal totals for SEC alums were 19 in 2017 and 29 in 2019.
"You're basically competing at the world stage within a conference championship, because you're witnessing the most elite athletes in their respective events at the SEC meet," Harter said. "It's amazing how talented the athletes are in this conference."
In the current configuration of schools comprising the SEC since 2013, 10 different men's programs have placed among the top 10 in the NCAA Outdoor Championships the past seven years, totaling 40 appearances in that time frame. In 2017, eight SEC schools placed among the top 10.
Over that span, the conference has produced five national champions and six runners-up while accumulating 19 top four finishes. Among the national titles claimed, another SEC school also finished second that same season and the conference produced a 1-2-3 national finish on three occasions. This includes the 2013 season when Florida and Texas A&M tied for the NCAA team title with Arkansas placing third, separated by just six and a half points.
However, none of the men's programs who captured a national outdoor title in that span of seven years won the league title in the same season. Four schools have earned SEC Outdoor titles since 2013 and the first six years followed a sequence of Arkansas, Texas A&M and Florida winning a pair of team titles each while LSU stopped that run in 2019.
"We're geared to try to win national titles, but we also feel like we can compile a team that can challenge and win an SEC championship, whether it's in cross country or indoor and outdoor track and field," Bucknam said. "Our goal is to win the SEC meet and the NCAA meet. The NCAA meet is more of an all-star meet, and you need more stars. We try to recruit as many stars as we can. We also feel like you can build from the other side too.
"You can build from the conference end as well. That's finding athletes who can develop into conference scorers and that's usually a stepping-stone for them scoring at nationals. We have a lot of guys who weren't NCAA All-American material right off the bat. Because of the way we develop kids here at Arkansas, and the fact that we are in it to win it at an SEC meet, we feel like we get more out of those two or three-star guys. They have success, they score and they're part of a winning program. We feel that can catapult them into a NCAA scorer."
On the women's side eight different SEC programs have placed among top 10 in the NCAA Outdoor Championships over the seven-year span, totaling 34 appearances while claiming three national titles with four runners-up and 16 top four finishes. Over the past seven seasons, a SEC women's team has placed either first or second in the NCAA Championships.
Arkansas women have claimed five of the seven SEC Outdoor titles contested since 2013 and went on to capture the NCAA title in the same season during the 2016 and 2019 campaigns. The only other two programs to claim the SEC women's outdoor title in that time frame were Texas A&M (2013) and Florida (2018).
"For Arkansas, conference championships are very important," stated Razorback women's assistant coach Chris Johnson, "and we take a lot of great pride in putting ourselves in position to win that year in, and year out.
"To make an SEC final will really prepare you to make an NCAA final. To be able to experience the final is just fantastic. Especially in the sprints, hurdles and jumps, to make a final you're putting yourself in an elite category."
As athletes in the conference face one another during the season, they build up to key showdowns that await in the conference and national championships.
"If you see the same people over and over again, you're familiar with them," Johnson said. "So, you're a little more comfortable and a little more confident. Especially if you beat those people, you understand how to beat them and what it's going to take to beat them. It continues to sharpen you, just as iron sharpens iron, not just in the conference meet but in the national meet and beyond."
The SEC Championships, which showcases the quality and depth of a team, can serve multiple roles in the development of an elite athlete as well as those who are able to progress to a final and score vital team points.
"The SEC is so competitive that you just can't take a novice athlete and compete at that level successfully, but you can get their feet wet," noted Harter. "There are times where we nurture a youngster that's probably not ready to compete at the elite level above the SEC, but we want to make sure they get exposed to that level of competition.
"They need to look at the prelim round as their final. If they're successful, and upon occasion they're able to advance to the final, that's a huge vote of confidence in their resume. It's basically a journey of development for the younger athletes who are not quite ready for post-conference competition. The SEC meet serves as their summit event of the year."