SEC Indoor honors for Jaydon Hibbert, Chris Bucknam
BIRMINGHAM – A pair of SEC Indoor honors were awarded to Razorback freshman Jaydon Hibbert and Arkansas men's head coach Chris Bucknam on Wednesday. In voting by the conference coaches, Hibbert was selected as the SEC Indoor Freshman Field Athlete of the Year and Bucknam was named SEC Indoor Coach of the Year.
Hibbert won the triple jump at the SEC Indoor Championships and was the lone freshman to claim a field event victory. His winning leap of 56-1.75 (17.10) is the current collegiate leader for the 2023 season and ranks 14th on the all-time collegiate list.
No. 1 Arkansas claimed its 26th SEC Indoor title and 74th SEC championship overall with a victory two weeks ago with a total of 100.25 points. Florida finished as runner-up with 74 points while Alabama placed third with 63 as the Razorbacks completed a fourth consecutive indoor title.
During his 15 seasons with the Razorbacks, Bucknam has collected 29 SEC Coach of the Year honors (10 cross country, 12 indoor, and seven outdoor) and he has 28 SEC titles in that span (10 cross country, 11 indoor, and seven outdoor).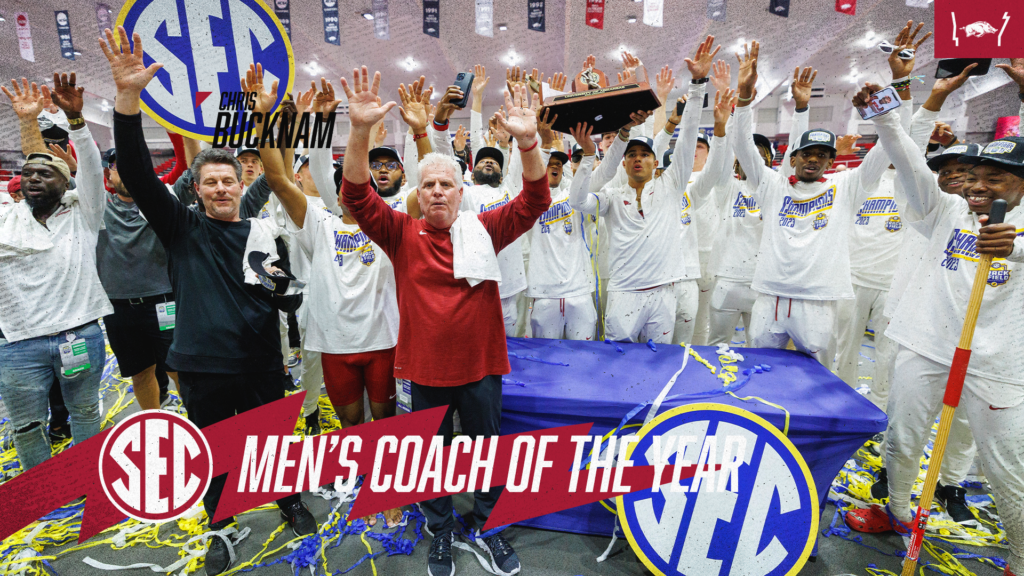 Heading into the NCAA Indoor Championships this weekend, Hibbert is the top seed and the lone entrant to have surpassed 56 feet this season.
Hibbert becomes the third Razorback to receive the accolade indoors, joining Nkosinza Balumbu (2006) and Andrew Irwin (2012), since the award was first presented in 2004. Arkansas has also had three individuals receive SEC Freshman Runner of the Year – Chris Bilbrew (2008), Patrick Rono (2012), and Omar McLeod (2014).
The 2022 World U20 Champion in the triple jump last summer as a 17-year-old with a championship record of 56-8 (17.27), Hibbert recently became the youngest athlete to surpass 17 meters (55-9.25) indoors as an 18-year-old and moved to No. 3 on the World U20 all-time list while improving his Jamaican indoor national U20 record.