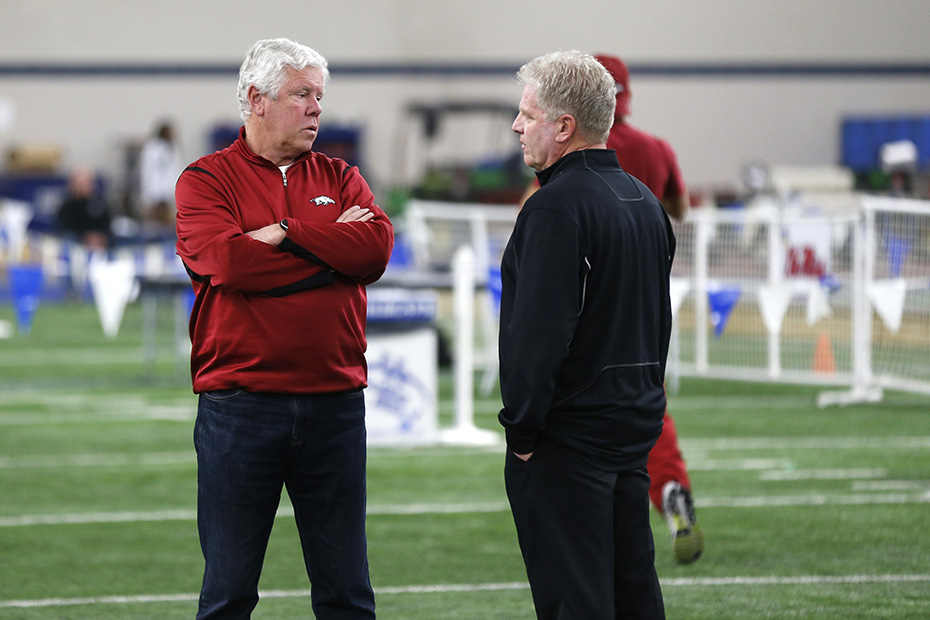 SEC Success Leads to Regional Recognition
NEW ORLEANS – Arkansas men's and women's track and field head coaches Chris Bucknam and Lance Harter swept the NCAA South Central Region Coach of the Year awards announced earlier today by the USTFCCCA. Freshman vaulter Lexi Weeks also received recognition as the South Central Region Field Athlete of the Year.
Bucknam and Harter were honored following their teams' dominant victories at the 2016 SEC Indoor Track and Field Championship. Weeks played a major role in helping the women's program secure its conference title with her first place finish in the pole vault.
Mid way through his eighth season at Arkansas Bucknam has more than delivered on his commitment to maintaining the Razorbacks' tradition of excellence. A product of Beverly, Mass. Bucknam has led Arkansas to 16 SEC crowns since his arrival in  2008. With his team beginning the season at No. 10 Bucknam elected to let the performances of his student-athletes silence the masses – which is exactly what they did. The Razorbacks have since improved from a great program to an elite national contender as they lead the country with 12 NCAA qualifiers heading into the 2016 NCAA Indoor Championship.
Since taking over the women's program in 1991 Harter has guided the Razorbacks to 27 Southeastern Conference titles six of which were picked up over the years during the indoor track and field season. A USTFCCCA Hall of Fame inductee Harter continues to ensure his team remains a perennial national power. Arkansas women's track and field has been a top five indoor team all season dating back to the preseason poll announcement in early Jan.
An all-around athlete Weeks made a bold statement in her first appearance as a Razorback with a clearance of 4.50m/14-9 to take national lead in the pole vault. The Cabot, Ark. native continued to improve her technique throughout the season which led to a new PR of 4.60m/15-1 at the Tyson Invitational. With competition still ahead of her Weeks has already etched her name in NCAA indoor history as one of five vaulters to post a 15 foot clearance and the only freshman to do so.
Arkansas travels to Birmingham, Ala. next week as the only program in the SEC with double digit NCAA qualifiers on both the men's and women's teams. The 2016 NCAA Indoor Track and Field Championships will be held on March 11-12 at the Birmingham Crossplex.
For more information on Arkansas track and field including in-meet updates, follow @RazorbackTF on Twitter.