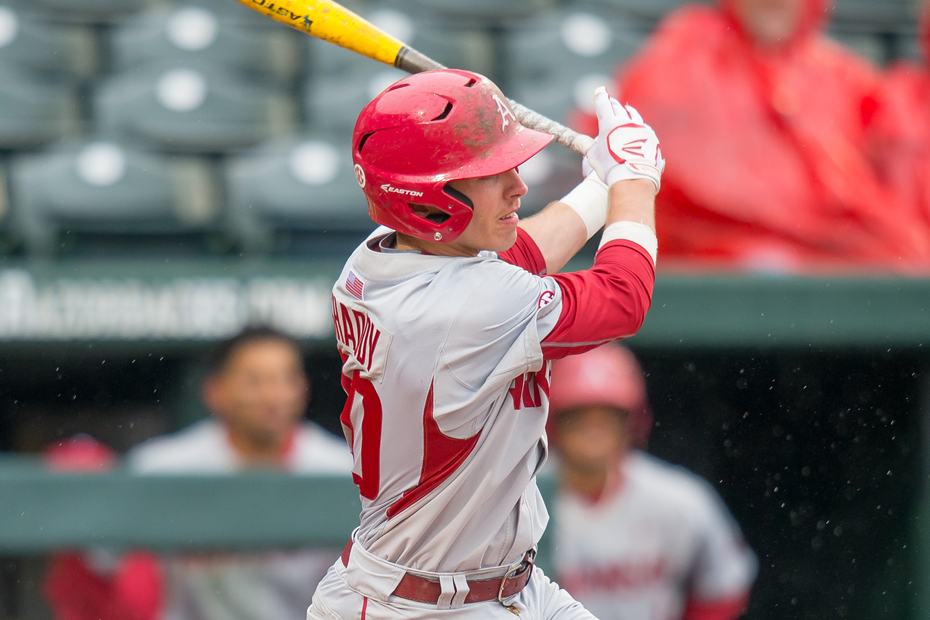 Shaddy's Hot Bat Not Enough For Hogs
BATON ROUGE, La. – Sophomore Carson Shaddy doubled twice Friday night, part of a 2 for 4 game, but it wasn't enough to help the Razorback baseball team (26-20, 7-15) as it fell to No. 13 LSU (29-16, 12-10) 5-4 at Alex Box Stadium in the series opener between the two teams.
Shaddy, who was batting a team-leading .357 coming into Friday night's game tallied his third-straight multiple hit game, giving him 62 hits on the year with 12 doubles. The two hits extended Shaddy's hitting streak to 10 games, the longest active streak on the team.
The Razorbacks managed 4 runs on 8 hits in the game, getting to Tiger starter Alex Lange early in the ballgame. But, LSU capitalized on pitching mistakes made by the Razorbacks in the middle innings, breaking a 2-2 tie in the 6th inning with three runs on just two hits.
Junior starting pitcher Dominic Taccolini (5-3) matched Lange through the first five innings, but then gave up two singles, walked a batter and threw a wild pitch to load the bases in the sixth before getting pulled. All three of those baserunners ended up scoring as the Hog bullpen couldn't corral the LSU bats, giving the Tigers a lead they didn't relinquish.
Taccolini gave up 4 earned runs on 5 hits over 5 innings, while walking three to get his third loss of the year. Lange took the victory to improve to 6-3 and LSU relief pitcher Hunter Newman earned his third save of the year.
Junior Clark Eagan tried to will his team back into the game with a solo home run in the eighth inning, but the Hogs only managed five baserunners over the final 4 innings. Eagan's homer was his fourth of the year and capped a 2 for 3 night as he also singled earlier in the game.
The Razorbacks almost made a comeback in the ninth inning when Jake Arledge and pinch hitter Alex Gosser both walked. Arledge later scored on a wild pitch to give the Hogs their fourth run, but the tying run was left stranded on third as Eagan flied out to end the game.
RAZORBACK QUOTABLES
"We gave it to them. In that inning when they scored three runs on a couple of hits. We hit some batters, had some wild pitches. They (LSU) scored one run in an inning where they didn't even get a hit; that's kind of rare. It was a different game that was for sure." – Dave Van Horn on the game overall against LSU
"I think both teams just really want to win and we did everything we could to stay in the game. We didn't particularly do anything well. The inning where we tied it up at 2-2 and had the bases loaded with no outs, I had my best hitter at the plate. Sometimes the game isn't very kind. It's unfortunate for us because sometimes when things go bad, they go bad. We kept fighting. We hung in there and gave ourselves a shot in the ninth." – Dave Van Horn on how the LSU-Arkansas series always seems to be competitive
UP NEXT
The Razorbacks and Tigers will play game 2 of their series Saturday with first pitch set for 6:30 p.m. CDT. The game will be broadcast on ESPNU and can also be heard on the radio on the Razorback Sports Network from IMG.
For more information on Razorback Baseball, follow @RazorbackBSB on Twitter.