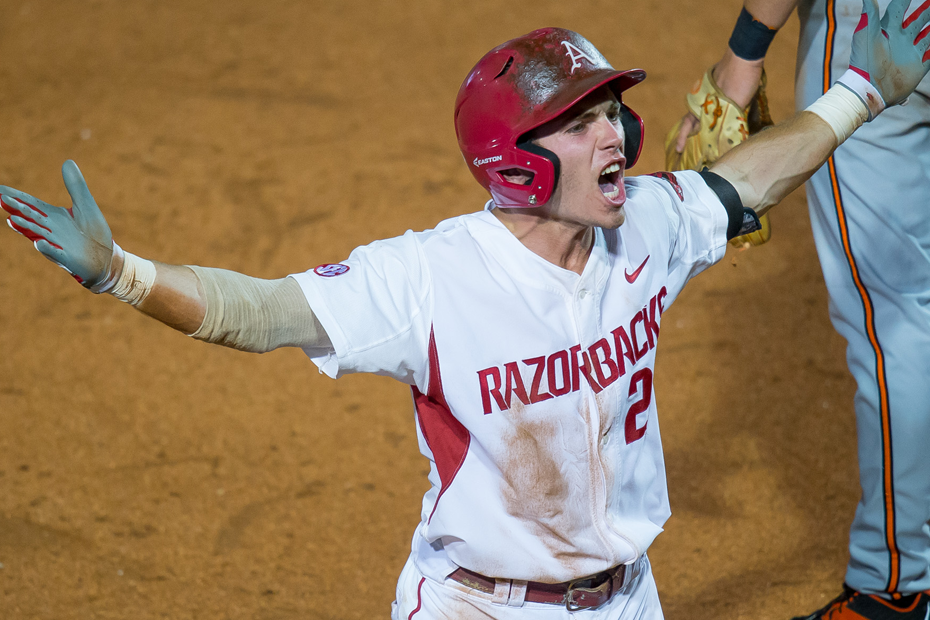 Shaddy Triple Finishes Arkansas Comeback
Box Score (PDF) | DVH Postgame | Photo Gallery 
FAYETTEVILLE, Ark. – Carson Shaddy's go-ahead triple in the eighth inning finished off a 3-run comeback for the Razorback baseball team Tuesday night as it defeated No. 18 Oklahoma State 7-6 at Baum Stadium. Arkansas (25-16) has won four of its last five games heading into its series with No. 2 Texas A&M this weekend.
The Razorbacks were down 5-2 after the top of the sixth inning, but the Hogs started chipping away with 2 runs in the sixth and then the tying run in the seventh. Shaddy's triple – his first of the season – finished off a 3 for 5 night for the Fayetteville-native.
James Teague picked up the win — his third of the year — after throwing 1 1/3 innings, giving up just 1 earned run on 2 hits with 3 strikeouts. Teague tried to finish out the ninth inning by getting two quick outs, but he gave up a double and an RBI single that allowed the Cowboys (25-15) to pull within a run.
Blaine Knight got the final out in the ninth, getting Colin Simpson to foul out, earning his first save of the season.
KEY MOMENTS
Luke Bonfield hit a 2-run home run in the bottom of the first inning to give Arkansas its first lead of the night. Bonfield now has 7 home runs on the season, just one shy of team leader Michael Bernal.
The Razorbacks scored three-straight runs during the 6th and 7th innings to pull even with Oklahoma State at 5-5. Senior Rick Nomura finished off the rally with an RBI single to left field, scoring Luke Bonfield. Nomura now has 22 RBIs for the year and his hitting streak stands at four games.
RAZORBACK QUOTABLES
"It was an awesome win. That's a really good team. We lost a tough one to them earlier in the year. Everyone had a job to do today and everyone did their job really, really well and that's what ultimately got us the win."– Luke Bonfield on the win
"It was a pressure situation. I wasn't overly nervous. I was more excited about it than anything. being able to get the opportunity to come in and know that they have the confidence in me to get that last out for us to win the game." – Blaine Knight on the save situation
"Coming off a great series win on the road at Kentucky, we came in here and you could almost feel it that these guys [teammates] were going to come out and play. These guys [Oklahoma State] are really good. We played them pretty well the first time. We came out and felt like from the first pitch that we were going to win this ballgame." – Carson Shaddy on game
"We just kept putting pressure on them. We did a nice job offensively of advancing runners, whether it was a sacrifice bunt or just a sacrifice fly, ground ball up the middle. Just kept putting pressure on and scoring runs." – Dave Van Horn beating Oklahoma State
"He looked like he had kind of taken some notes from watching Dominic pitch this past weekend. He was under control and let it work. It's what's more natural." – Dave Van Horn on James Teague's performance 
ARKANSAS NOTABLES
-With its 7-6 win Tuesday night, Arkansas has won two of the last three meetings with Oklahoma State.
-The Razorbacks improve to 20-1 when they out-hit opponents this season.
-After taking the two-run lead in the eighth inning, Arkansas is now 20-0 when leading after eight innings this year.
-With Luke Bonfield's first inning home run, Arkansas now has 40 HR on the season, which is tied for the lead in the SEC.
-Four different Razorbacks have collected saves on the season after Blaine Knight earned the one out save Tuesday against Oklahoma State.
-The Razorbacks added their 18th double-digit hit performance on the season, totaling 11 on the Cowboys.
-Bonfield put up his seventh multiple RBI game of the season with his two-run home run in the first inning.
-Michael Bernal added his 13th multiple hit performance and 35th of his career after going 2-for-3 in the game.
-Carson Shaddy now has 52 hits on the season, edging out Clark Eagan for most hits among all Razorback players
-Shaddy tied a career high mark with three hits on the night and posted his 15th multi-hit performance
UP NEXT
The Razorbacks stay at home this weekend as they welcome the 2nd-ranked Aggies to Baum Stadium for a three-game series starting on Friday. First pitch is set for 6:35 p.m. CDT and will be broadcast on SEC Network+.
For more information on Razorback Baseball, follow @RazorbackBSB on Twitter.