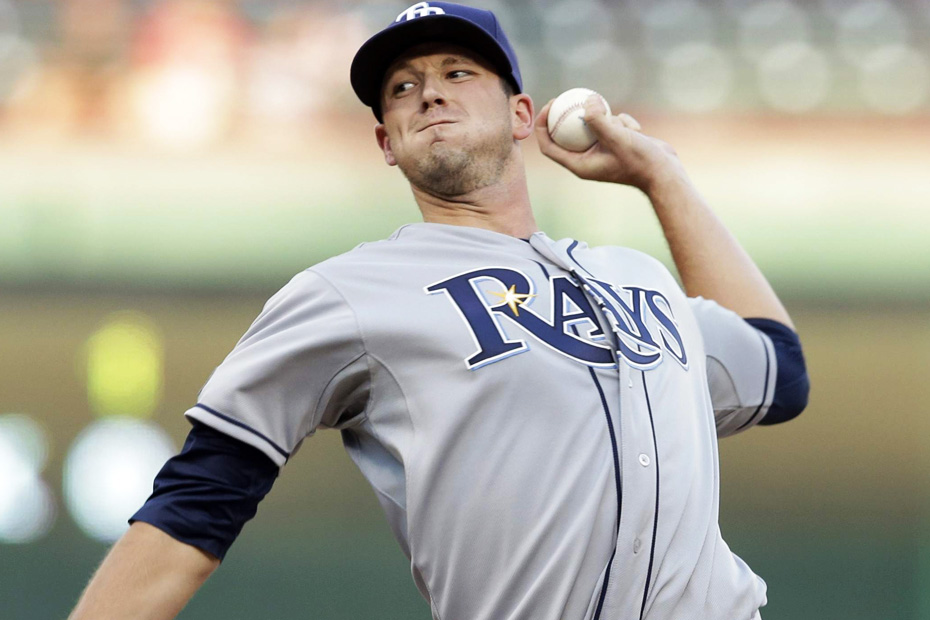 Six Former Razorbacks On MLB Opening Day Rosters
FAYETTEVILLE, Ark. – Six former Razorback baseball players are on Major League Baseball opening day rosters as the 2016 season gets underway this week. Logan Forsythe (Tampa Bay Rays), Craig Gentry (Los Angeles Angels of Anaheim), James McCann (Detroit Tigers), Mike Bolsinger (Los Angeles Dodgers), Dallas Keuchel (Houston Astros) and Drew Smyly (Tampa Bay Rays) will open the season on the 25-man roster for their respective clubs.
Forsythe has become one of the Ray's everyday infielders as he begins his sixth season in the big leagues this year, third with Tampa Bay. Logging over 490 games in his career, Forsythe saw the most playing time in his career last season, hitting .281 in 153 games with 33 doubles, 17 home runs and 68 RBI. For his career, Forsythe bats .251 with 35 homers, 151 RBI and 28 stolen bases.
Gentry is set to embark on his eighth year in the majors as 2016 will mark his first season with his new club, the Los Angeles Angels of Anaheim. Coming off two seasons with the Oakland A's after spending five years with the Texas Rangers, Gentry was signed by the Angels as a free agent outfielder back in December. Gentry is a .265 lifetime hitter entering 2016 with four home runs and 80 RBI, but is coming off a less than productive year with the A's where he saw action in just 26 games, notching six hits, two being triples and three RBI.
McCann will most likely be the starting catcher for the Detroit Tigers for 2016 and is set to catch former AL MVP and AL Cy Young Award winner Justin Verlander on Tuesday when the Tigers open their season. McCann enters just his third year in the major leagues, all with the Tigers and is fresh off his best year where he saw 114 games, batting .264 with 31 extra-base hits, seven home runs and 41 RBI. His RBI total was good for seventh-best on the squad.
As for Cy Young Award winners, the most recent AL Cy Young Award winner, Dallas Keuchel begins his fifth pro year with the Houston Astros in 2016. Keuchel was scheduled to be the Opening Day starter Monday against the New York Yankees, but due to rain the game got pushed back to Tuesday.  Keuchel became the award's 48th recipient last season after posting a 2.48 ERA with 20 wins and 216 strikeouts to help carry the Astros to their first playoff appearance since 2005. Keuchel was one of just two pitchers in the majors last season to win 20 or more games and had the fifth-lowest ERA.
Bolsinger starts his third major league season in 2016 with the Dodgers, his second year with the club after spending all of 2014 with the Arizona Diamondbacks. Bolsinger started 21 games last year for Los Angeles, winning six and posting a 3.62 ERA, the ninth-lowest on the team. Bolsinger pitcher over 100 innings last year, striking out 98 and holding opponents to a .251 batting average. The McKinney, Texas-native was scheduled to see action in the first week of the season, but was placed on the 15-day disabled list during the final week of spring training.
Finally, Drew Smyly is set to begin his fourth full year in the major leagues, second full year with the Tampa Bay Rays. Smyly has earned his way into the starting rotation and will be on the hill Monday night when the Rays take on the Toronto Blue Jays opposite R.A. Dickey. Smyly only pitched in 12 games last year after injuries kept him on the disabled list for an extended amount of time. Now Smyly is fully healthy and looking to help Tampa Bay make a run in the stacked American League. Smyly has 24 wins as pitcher in his career with a 3.24 career ERA, holding opponents to a .235 average at the plate.
In addition to the six former Hogs on active roster, two former Diamond Hogs will start the season on the 40-man roster for their respective teams. Andy Wilkins (Milwaukee Brewers) and Brett Eibner (Kansas City Royals) will begin 2016 in Triple-A.
As for this year's Razorbacks, the team is 19-9 on the year and set to head to Memphis, Tenn., for a single midweek game on Wednesday against the Memphis Tigers. The game is set to be played at AutoZone Park, the St. Louis Cardinals Triple-A affiliate home of the Memphis Redbirds.
For more information on the Razorback baseball team, follow @RazorbackBSB on twitter.