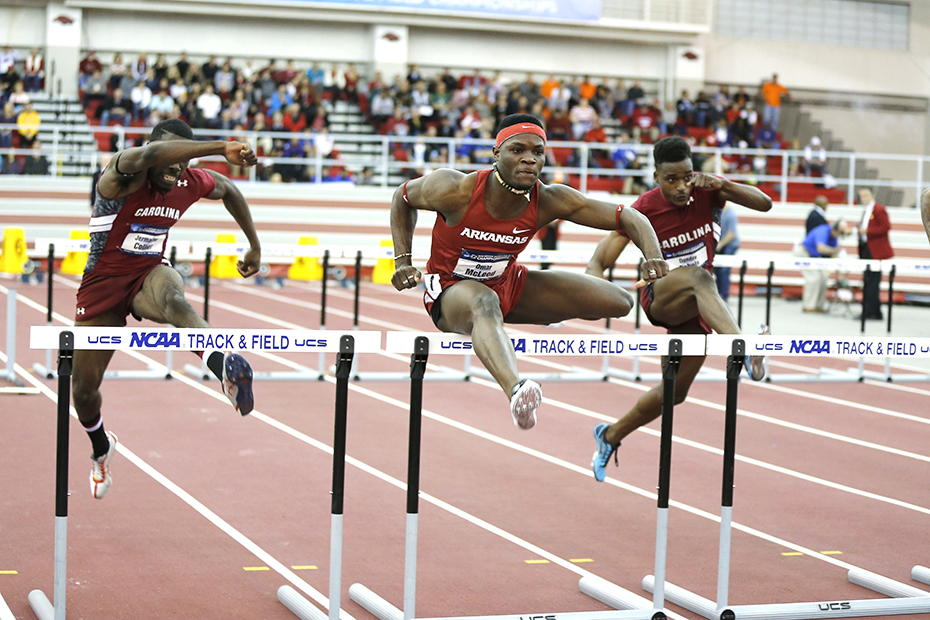 Six ProHogs Prepare for Action at Worlds
PORTLAND, Ore. – Fayetteville, Arkansas is known for producing some of the best track and field athletes in the world. This is no exception when it comes to the six former Razorbacks competing in the 2016 IAAF World Indoor Track and Field Championships in Portland Oregon. The Pro Hogs group of Makeba Alcide, Kemoy Campbell, Regina George, Omar McLeod, Sandi Morris and Marek Niit hail from five different countries including Estonia, Jamaica, Nigeria, Saint Lucia and the United States. Each of the six World Championship entrants look to bring pride to each of their nations with strong performances at the impressive competition.
Former NCAA pentathlon record holder Alcide is one of only two delegates of Saint Lucia competing at Worlds. A naturally talented high jumper (1.89m/6-2.25) Alcide has continued training in an attempt to master the other four pentathlon events since her departure from Arkansas. This year Alcide has set two personal records improving her time in the 60-meter hurdles (8.31) and distance in the shot put (13.20m/43-3.25) which will help her in the upcoming competition. The three-time pentathlon All-American and two-time SEC indoor champion credits assistant women's track and field coach Bryan Compton for her strong ethic and base training.
"My time at Arkansas has taught me to persevere through the trials of life because nothing comes easy," said Alcide. "Sometimes you surprise yourself and surpass your expectations. Because of the track and field program at the U of A I am still involved in the sport that I love. I never through I was ever good enough to even get a scholarship to college, let alone a well ranked university. Now I am still doing what I love, years later on a wider scale. I am thankful for all the coaches at Arkansas especially coach Compton he made me mentally strong."
Not the only Caribbean Razorback in Portland this weekend Alcide will be joined by Campbell and McLeod both of whom will race for Jamaica.
A three season All-American during his time at Arkansas Campbell has successfully proven that Jamaica is more than just a sprint nation. In 2015 under the tutelage of distance guru, Razorback men's track and field head coach Chris Bucknam, Campbell earned three Southeastern Conference titles in his final campaign for Arkansas departing as one of the most dominant distance runners in the league. Already the Jamaican national record-holder in outdoor 5K from his 13:20.39 performance at the 2015 Payton Jordan Invitational (second in program history) Campbell collected an indoor record this season with a top 10 finish in the 3K at New York Road Runners Millrose Games. Campbell improved his former personal best by six seconds clocking 7:40.79 to claim the Jamaican 3K record and make his way up the 2016 leaderboards.
The fastest 400 meter runner to ever compete for the women's track and field program, George will look to help the Nigerian 4×400-meter relay team win gold. A 2013 Arkansas graduate George led the Razorback 4×400-meter relay to a national runner-up finish indoors and national champion finish outdoors in her final campaign. The nine-time SEC champion also holds Arkansas's indoor and outdoor 400 meter records with 51.05 and 50.99 respectively.
Widely considered the best high hurdler in the history of the NCAA McLeod will go head-to-head with the World's best 60 meter hurdlers at the Oregon Convention Center. A four-time NCAA champion in only two years with Arkansas McLeod has seen instant success since his June 2015 debut on the professional circuit. Following his sixth-place finish in the 110-meter hurdles at last year's World Outdoor Championship the Kingston, Jamaica native returned to Fayetteville to resume his training under renowned sprints and hurdles specialist, Razorback assistant coach Doug Case. Earning an invitation to revered Millrose Games McLeod gave Armory audience a show claiming the sprint hurdle title in 7.46 seconds. Displaying a similar trajectory to that of his national record-breaking season, McLeod is on his way to picking up a new personal best this weekend.
Inching closer and closer to a national record of her own, USATF indoor pole vault champion Morris heads into the upcoming championship as the third best indoor performer in the world. Another product of assistant coach Compton, Morris has transitioned effortlessly from collegiate vaulting to professional completion. In her most recent performance Morris improved upon her previous personal best by almost half a foot with a clearance at 4.95m/16-2.75 to become No. 2 in the world for 2016. Prior to her success at the professional level Morris was a steady contributor for Arkansas. She completed her collegiate eligibility with two program records, one national record and one national title.
Former NCAA indoor 4×400-meter record holder Niit will be in action in the 400-meter dash. Niit, who holds a personal best indoors of 45.99 was one of the most dynamic sprinters to don cardinal red and white, specializing in short sprints but strong enough to perform well in the quarter mile. The Estonian Olympian earned at least two All-American accolades in every season he competed as a Razorback.
The 2016 IAAF World Indoor Championship will take place in Portland, Oregon at the Oregon Convention Center on March 17-20. NBC Sports Network will broadcast the event primarily via live stream with the final sections of events getting air time on March 19-20. A complete broadcast schedule is available below.
Razorback fans can also along through the IAAF World Championships Live Results page.
#ProHog Competition Schedule
Thursday, March 17
9:05 p.m. – Sandi Morri, pole vault
Friday, March 18
1:15 p.m. – Makeba Alcide, pentathlon (60mH)
1:45 p.m. – Marek Niit, 400 meters (heats)
2:15 p.m. – Makeba Alcide, pentathlon (high jump)
4:25 p.m. – Makeba Alcide, pentathlon (shot put)
7:15 p.m. – Makeba Alcide, pentathlon (long jump)
9:45 p.m. – Marek Niit, 400 meters (semis)*
10:10 p.m. – Makeba Alcide, pentathlon (800m)
Saturday, March 19
7:05 p.m. – Omar McLeod, 60-meter hurdles (heats)
9:05 p.m. – Marek Niit, 400 meters (finals)*
Sunday, March 20
2:40 p.m. – Omar McLeod, 60-meter hurdles (semis)*
3:10 p.m. – Kemoy Campbell, 3,000 meters
4:20 p.m. – Regina George, 4×400-meter relay (finals)
4:40 p.m. – Omar McLeod, 60-meter hurdles (finals)*
*participation requires qualification
2016 IAAF World Indoor Championship Broadcast Schedule (Central time)
Thursday, March 17
9:00 p.m.–11:30 p.m. live stream
Friday, March 18
12:30 p.m.–5:00 p.m. live stream
11:30 p.m.–1 a.m. NBCSN (delayed)
Saturday, March 19
7:00 p.m.–10:00 p.m. live stream
8:30 p.m.–10 p.m. NBCSN (live)
Sunday, March 20
2:30 p.m.–5:30 p.m. live stream
3:00 p.m.–5:00 p.m. NBCSN (live)
For more information on Arkansas track and field including in-meet updates, follow @RazorbackTF on Twitter.