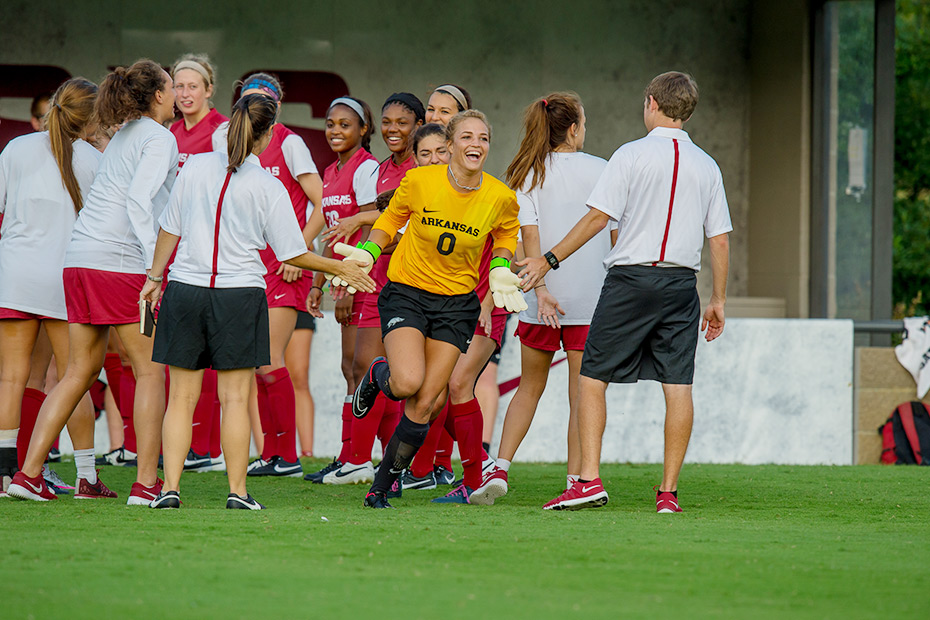 Soccer Midweek Report: Oct. 7
FAYETTEVILLE, Ark. — Each Wednesday during the season, the Midweek Report will serve as a recap of the previous week of action for Arkansas soccer, while previewing the week ahead and keeping up with national rankings and individual accolades.
TWEET OF THE WEEK
@RazorbackSoccer Mad-skills on the side throw in … #WPS #TeachMeHow pic.twitter.com/VM4DLhJTWG

— Razorbacks Coach Boo (@CoachDeOliveira) October 3, 2015
In their lone game last week, Arkansas soccer tied No. 10 South Carolina 2-2 in a double overtime thriller at Razorback Field. The announced attendance of 1,619 was the fourth largest home crowd in team history, and Hogs fans present witnessed the first result Razorback soccer has had against a top-10 team since 2007 when Arkansas tied Tennessee 1-1.
UP NEXT
The Razorbacks split their game slate this week, hosting the 8-3-2 Ole Miss Rebels Friday night at 7 p.m. on Razorback Field before hitting the road to face the 5-5-3 Vanderbilt Commodores in Nashville, Tenn. Sunday afternoon at 1 p.m.
WHAT'S AT STAKE?
The Razorbacks are 2-8 when facing the Rebels at home, with Ole Miss holding the series advantage 14-4-2. Arkansas tied Ole Miss 1-1 in Oxford, Miss. during their match last year on Sept. 25, 2014. Alexandra "Sparky" Fischer scored the Razorbacks' lone goal in the match during the 14th minute, a deflection in the box by the Rebel keeper.
Arkansas has had Vanderbilt's number since soccer head coach Colby Hale took over the program in 2012. In their past three contests, the Razorbacks are 2-0-1 against the Commodores. Arkansas shut out Vanderbilt 1-0 at home last year.
PROMOTIONS
The double-overtime thriller against South Carolina played out in front of the fourth largest home crowd in Razorback history, and the team has an exciting set of promotions to make sure the Rebels know that Razorback Field is Hog territory.
Special promotions include:
• Elementary and Rec Night: Elementary and Rec families from Northwest Arkansas are welcomed to Razorback Field. Present your Elementary and Rec Night voucher for TWO (2) $1 tickets for family members.
• Junior Razorback Night: Junior Razorback Club members will receive TWO (2) vouchers for complimentary admission for family members.
• Razorback Foundation Appreciation Night: Razorback Foundation members plus ONE (1) family member will get in free presenting RFI ID card. The first 50 members in attendance will receive a Razorback soccer scarf.
Tickets can be purchased at the Razorback Field box office, which opens one hour before kickoff on game days. Adult tickets are $5. Youth and UA students receive complimentary admission.
HOW TO WATCH
If you can't watch the game in person at Razorback Field Friday night at 7 p.m., you can catch the game streamed live on SEC Network +.
ARKANSAS QUICK KICKS
• Junior midfielder Claire Kelley scored her team-leading sixth goal of the season in the fourth minute against South Carolina, with an assist from freshman defender Carly Hoke. Kelley also leads the team in points, with 14.
• Freshman defender Rachel VanFossen scored her first career goal against South Carolina, a header from a Fischer corner kick on the right side of the field.
• Arkansas is now 5-2-0 this season when they score first, and 4-0-1 when leading at the half.
• Home support for Razorback soccer remains strong; through seven home matches, Arkansas is averaging an attendance of 1,329 fans at Razorback Field, the fifth best average in the SEC.
2010-15 Average Attendance
• 2010: 766
• 2011: 904
• 2012: 841
• 2013: 981
• 2014: 1,359
• 2015: 1,329
For more information about Arkansas soccer during the season, follow Razorback Soccer on Twitter, Facebook, and Instagram.