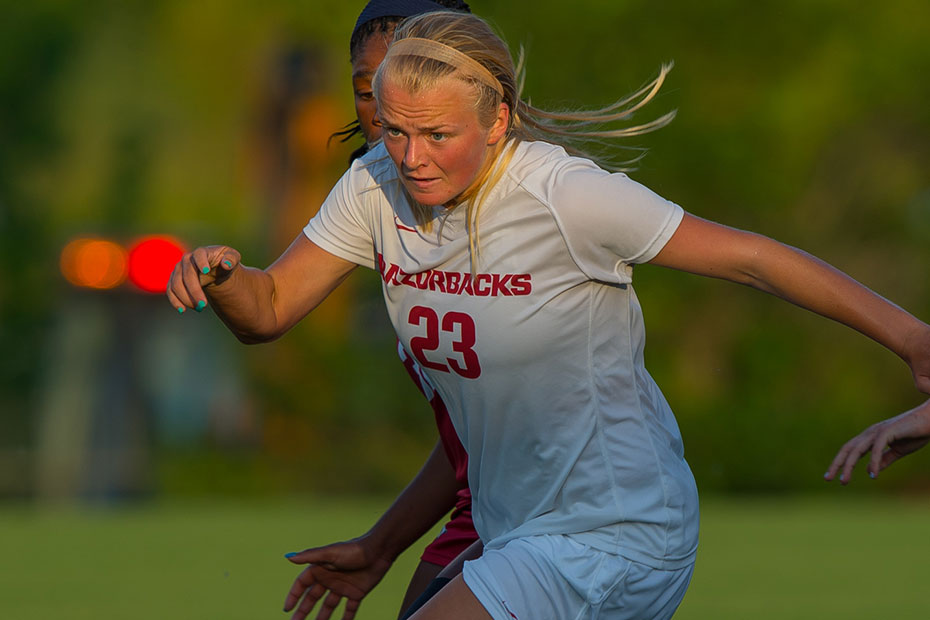 Soccer Opens Fall with Red/White Scrimmage
FAYETTEVILLE, Ark. — Two goals by Ashleigh Ellenwood propelled the White team to a 3-0 victory over the Red team in Arkansas soccer's intrasquad scrimmage Thursday night. After fall training officially started on Wednesday, the Razorbacks split the squads and hit Razorback Field for two 25-minute halves followed by 15 minutes of extra time.
It was a scoreless first half due in large part to Red goalkeeper Jordan Harris, who turned aside two point-blank shots in the box; the first from Ellenwood and the second from Alexandra Fischer.
Coming out of halftime, the Razorback offense picked up the pace and began lighting the lamp. Only 37 seconds after the second half kickoff, Ellenwood took it herself down the left side of the field and unleashed a 20-yard strike from the corner of the box that curled under the bar.
Eight minutes later, the Red team committed a foul that led to a penalty opportunity for Claire Kelley against goalkeeper Cameron Carter. Kelley took a right-footed shot and struck the ball into the bottom-left corner of the goal to give the White team a 2-0 advantage.
In extra time, Ellenwood added another marker when Sarah Price threaded a pass that left the senior forward one-on-one with Harris. In a familiar position, Ellenwood knocked a ground ball just past the fingertips of the diving keeper for her second goal of the match.
After leading the team with 24 points last season, Ellenwood picked up right where she left off. A threat in the offensive zone all night, she led all players with seven shots – five of which were on goal. The two keepers, Carter and Harris, combined to make five saves in the match.
Arkansas is back in action in seven days when the team travels to Tulsa, Okla., for an exhibition match at Oral Roberts on Aug. 13. The Razorbacks follow that up two days later with an exhibition match against SEC rival Missouri.
For more information on Razorback Soccer during the preseason follow @RazorbackSoccer on Twitter.