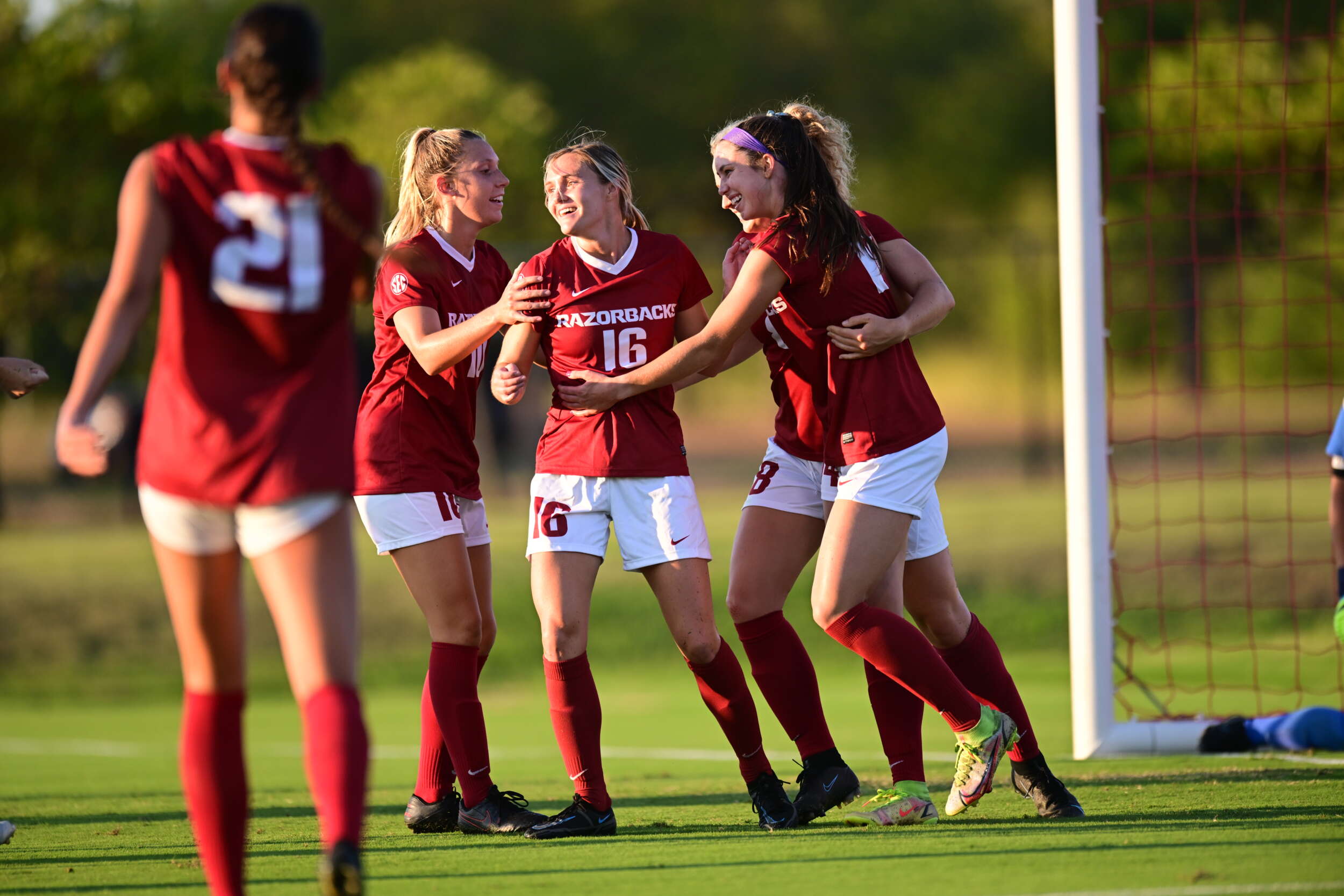 Soccer Scores Six on Sooners
NORMAN, Okla. – The Razorbacks picked up their first win of the season after four Hogs scored their first collegiate goals and defeated Oklahoma, 6-1.
How it Happened
Senior forward Jessica De Filippo kicked things off in the 10th minute, scoring her first goal since returning from an injury last season. She found the ball at the top of the 6-yard box after a relay around the penalty box from forwards Anna Podojil and Ava Tankersley. De Filippo's shot found the lower left corner of the goal.
Five minutes later, freshman Makenzie Malham netted her first collegiate goal off another assist from Tankersley. Tankersley served the ball across from the near side, connecting with Malham for a quick tap-in past Oklahoma keeper Makinzie Short.
The Hogs' third score came off an own goal by the Sooners. Originally credited to Razorback senior McKenna Saul, a ball served from Tankersley at the near corner ricocheted off the legs of OU's Makala Thomas and into the lower left corner of the goal.
Eleven minutes later, Saul found the net with her own foot. Erzen brought the ball into the 18-yard box and linked with Saul just beyond the penalty spot. Saul fired off her left foot and brought the Sooner goalie out to the top of the 6-yard box to notch her first collegiate goal.
Arkansas went into the locker room leading in shots, 11-10.
Three minutes into the second half, Junior Ellie Podojil connected with another assist from Tankersley. Tankersley headed the ball back into the penalty box where it bounced beyond an OU defender and into the right foot of E. Podojil for a powerful shot into the lower left corner of the goal.
Oklahoma got on the board in the 55th minute by way of forward Chelsea Wagner.
The fifth and final goal for the Razorbacks came in the 63rd minute. A booming kick from Hog goalie Grace Barbara landed far beyond the halfway line and later found Erzen. Erzen used her speed to beat the Sooner defender down the field and blasted an off-balance shot past the diving goalkeeper for her first collegiate goal.
Tankersley is the first Razorback to notch 3 assists in match since Kayla McKeon did so against Ole Miss in the 2018 SEC Tournament.
Arkansas finished the match outshooting the Sooners, 21-14.
Hear it From Coach Hale
"I'm proud of the fight in the players. It's been an eventful couple of weeks and the team's character showed through today.  There were certainly some lessons we will take from today as we continue to move forward and grow. We will get back, rest up and get ready for a good Arkansas State team on Sunday."
The Hogs will make their home debut for an in-state match-up with Arkansas State on Sunday, Aug. 28 at 1 p.m.
For more information on Arkansas Soccer, follow @RazorbackSoccer on Twitter.