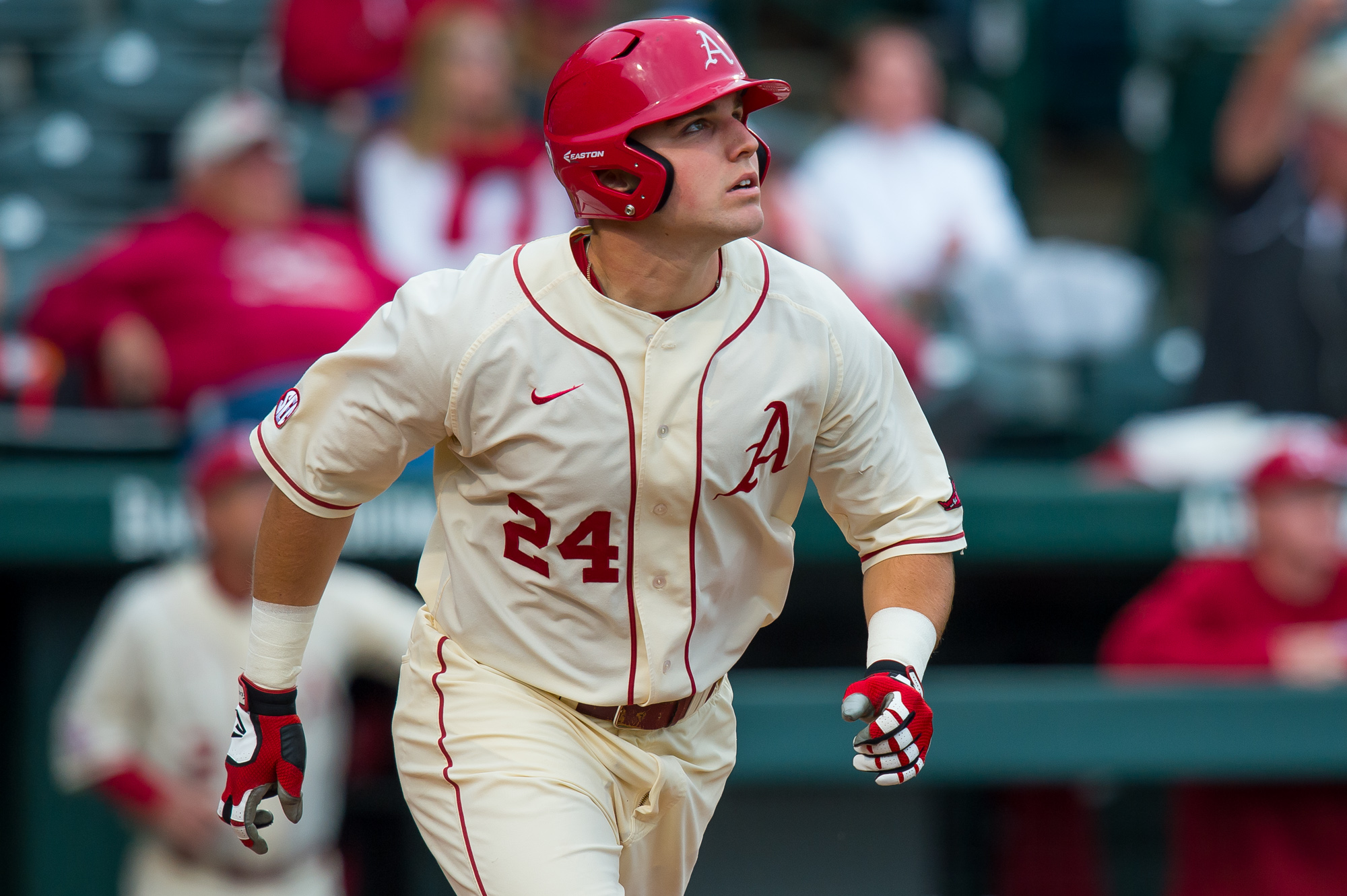 Spanberger Leads Charge For Hog Baseball
Box Score (PDF) | Photo Gallery | DVH Postgame
FAYETTEVILLE, Ark. – Sophomore Chad Spanberger fell just a triple short of the cycle Tuesday night as his three hits helped lead the offensive charge for the Razorback baseball team, beating Creighton 6-2 at Baum Stadium.
The win snaps a three-game losing streak for Arkansas (22-15) and is the team's third-straight midweek win after defeating Memphis and ULM during the last two weeks.
Spanberger hit a home run in his first at-bat to give the Hogs an early 2-0 lead. He later hit an RBI single in the fourth as part of a three-run inning, helping the Razorbacks to a commanding 5-0 lead. His double in the sixth would score the final run of the night for the Hogs. Spanberger's 4 RBIs in the game tied a career-high performance.
Freshman Isaiah Campbell, making his fourth midweek start of the year, put up a strong showing over three innings to pick up his third win of the year. Campbell gave up just two hits, facing the minimum number of batters, while getting two strikeouts.
Along with Spanberger's three-hit night, three other Hogs recorded multiple hits during the game as Clark Eagan, Luke Bonfield and Michael Bernal each brought in two hits Tuesday night.
KEY MOMENTS
Freshman catcher Grant Koch threw out three would-be base stealers in the game, all during the early innings to stifle Creighton rallies and preserving the Hogs' 2-0 lead. Koch joins senior Tucker Pennell as the two Arkansas catchers with three caught stolen bases in a single game this year.
Campbell's three innings of work off the mound continues a recent run for the Kansas-native, where he has only given up two earned runs over his last 9 2/3 innings, while striking out eight.
RAZORBACK QUOTABLES
"I thought Isaiah Campbell came out and did a really good job for us. It's nice to get that two-run homer from (Chad) Spanberger. It's the first lead we've had since the middle of last week. They lined up six left-handed hitters in the top of the lineup, a little different than they've done in the past. Doug (Willey) threw extremely well at the end, the best he's played in a while. It's good to get a win here. It's been a while. Now we get packed up and head to Kentucky." – Dave Van Horn on getting the win
"It was a great night for him. First at-bat, we get a runner on first and second, and two down. He did a good job. He gets a fastball and he hits it over the fence. You try to get a hitters count and that's what he got. It was just a good job, he hit another ball in the 4-3 hole, he had four RBIs today. For him to drive in runs is big down in the order." – Dave Van Horn on Chad Spanberger's performance
"Tonight, we had 19 games left. We wiped the slate clean. We're 1-0 now. We have 15 conference games left, let's win as many as we can, starting with Thursday. Don't try and look too far down the road. We're just trying to go forward." – Dave Van Horn on the second half of SEC play
"I guess I just saw the ball a lot better than usual today. I went back to my old bat so I think that helped a lot. The first pitch wasn't very close, then the second one was borderline up so I just let it go because I had been struggling on the high pitch; I have been chasing it. I finally got a good pitch to hit on 2-0." – Chad Spanberger on his performance at the plate and his home run
"I think we have been a pretty confident group, things just haven't been going our way all year, at least this last stretch we have been going through. If you get a win, it's nice and hopefully we can just carry that over. Sometimes once you start winning, good things start happening and they just keep rolling off." – Clark Eagan on confidence and the win
"I spotted my fastball really well today on both sides of the plate and down. That's one thing Coach (Dave) Jorn has been harping on a lot, spotting fastballs. I had really good command of my curve ball today which kept them off the fastball then I just let my defense do the work. Just threw strikes, got ground balls and the defense did the work for me. – Isaiah Campbell on his outing
ARKANSAS NOTABLES
-The Razorbacks improved to 12-0 when holding opponents to two runs or less.
-Arkansas continues to lead the SEC with 30 runners caught stealing after three were caught by freshman Grant Koch Tuesday night.
-The Razorbacks hit their 37th home run on the season in the second inning when Chad Spanberger sent one deep to right field off the Baum Stadium scoreboard. That 37 home run total ranks second in the SEC.
-Arkansas registered its 17th double-digit hit performance on the season after totaling 11 against Creighton.
-Clark Eagan collected his 15th multi-hit game for the year and 44th in a Razorback uniform.
-Michael Bernal produced his 12th multihit game on the season and 34th of his career.
-Isaiah Campbell faced the minimum through three innings of work, giving up just 2 hits with 2 strikeouts and no runs.
UP NEXT
The Razorbacks continue with their conference schedule starting Thursday in Lexington, Kentucky, against the 12th-ranked Kentucky Wildcats. The three-game series will have game 1 broadcast on the SEC Network with first pitch slated for 6 p.m. CDT. Game 2 can be seen on ESPNU on Friday starting at 6:30 p.m., then game 3 will be on SEC Network+ with first pitch set for 12 p.m.
For more information on Razorback Baseball, follow @RazorbackBSB on Twitter.