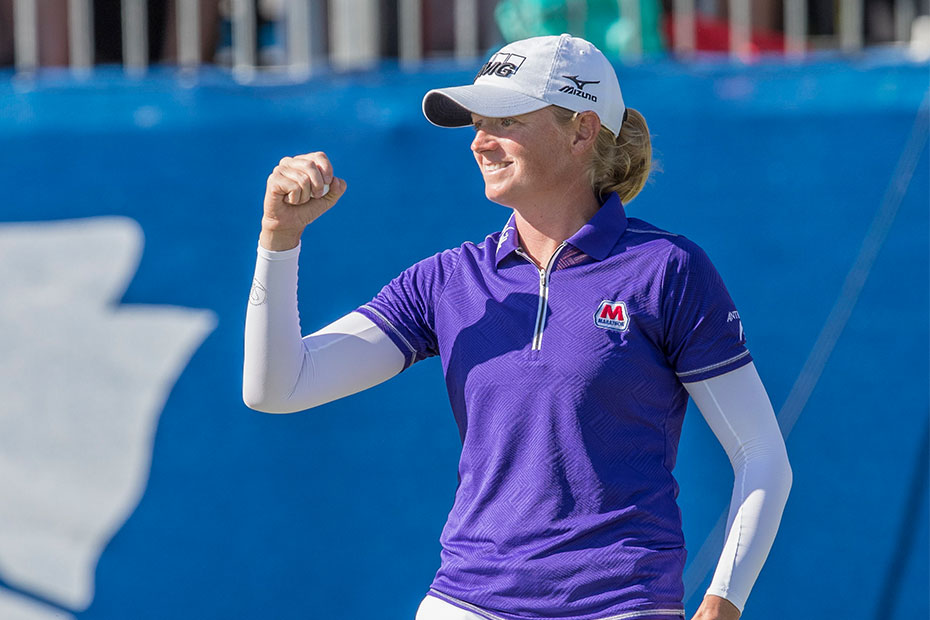 Stacy Lewis Named Arkansas State Golf Association Hall of Famer
FAYETTEVILLE, Ark. – Stacy Lewis will be an Arkansas State Golf Association Hall of Famer, the Association announced yesterday. Lewis will be officially inducted this October at the Chenal Country Club in Little Rock.
The former Hog's star continues to shine as a pro, as Lewis has 12 LPGA Tournament wins throughout her decorated professional career,  including two majors: the 2011 Kraft Nabisco Championship and the 2013 British Open. Lewis really hit her stride in the middle of the decade as a pro, as the former Razorback was named the Rolex Player of the Year in both 2012 and 2014, while also taking home the Vare Trophy in both 2013 and 2014. Lewis also nabbed the ESPY for best Female Golfer in 2013. Lewis has also been prevalent on the international golf scene, taking part in four Solheim Cups and in the first Olympic Golf Competition since 1904 in 2016.
While at school at Arkansas, Lewis left the program as the greatest in its history. During her time on the Hill, Lewis won 12 collegiate events and was a four-time All-American. She was the 2005 SEC Freshman of the Year, the 2007 NCAA Division I National Champion and the 2008 SEC Championship Individual Medalist and Player of the Year. Away from collegiate competition, she won the 2006 Harder Hall Invitational, the 2006 Western Amateur and was a semi-finalist at the 2006 U.S. Women's Amateur. She was the 2007 Southern Amateur Champion and the 2007 Dinah Shore Trophy Award recipient. Lewis was also a member of the victorious U.S. Team at the 2007 at Copa de las Americas and on the victorious 2008 U.S. Curtis Cup team, becoming the first player to go 5-0 in Curtis Cup history. Lewis is a two-time Golfweek and Golf Digest Women's Amateur Player of the Year (2006-07) and was the top ranked amateur in the Golfweek/Titleist Women's Amateur Rankings in 2008.
More Information
Keep up with all of the latest news and information and get behind the scenes looks into our program on our social media accounts. Follow us on Twitter at @RazorbackWGolf and check out our Facebook page "Razorback Women's Golf." Stats, news and player information can be found at ArkansasRazorbacks.com.