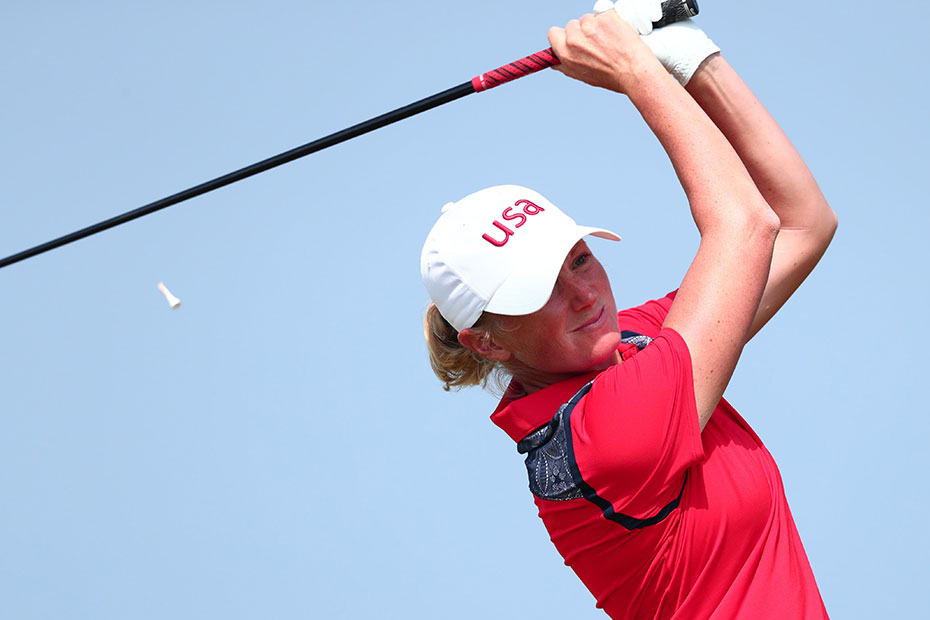 Stacy's Gift Airs Aug. 26
Watch the trailer
FAYETTEVILLE, Ark. – Former University of Arkansas women's golf All-American Stacy Lewis will be featured on an upcoming episode of SEC Storied scheduled to air Sunday, Aug. 26, at 8 p.m. central the network recently announced.
Lewis, a four-time All-American for the Razorbacks, made headlines last year when she pledged to donate her tournament winnings from the Cambia Portland Classic in Portland, Oregon, to the victims of Hurricane Harvey, which devastated parts of Houston, Texas, near Lewis' hometown.
The story of Lewis' donation became even more interesting as she climbed the leaderboard and found herself in contention for the win – something she had not done since June 2014. The eventual victory was Lewis' 12th Tour win and ended a stretch that included 12 runner-up finishes.
Lewis was steady in the final round finishing with 11 consecutive par holes. Her closet opponent, Gee Chun, cut the lead to one stroke with birdie on the par-3 16th. Lewis seemed to be in trouble on the 17th hole after she hit her approach over the green, but she saved par by chipping to seven feet of the hole.
Lewis picked up a $195,000 check for the victory which was immediately matched by her sponsor KPMG. Marathon Oil, another of Lewis' biggest sponsors, added $1 million to the total.
About Stacy's Gift (from ESPN)
She was a promising young golfer from Texas, when at age 11, Stacy Lewis was diagnosed with scoliosis. For the next seven years, she wore a brace 18 hours a day. The only time she could take it off would be to play golf – yet to be told as she finished high school that she'd need surgery that would likely end her career. Lewis fought through it all to go to the University of Arkansas on the scholarship that was honored even after the surgery. She arrived at school only able to swing a putter. But two years later, she was SEC champion, and the next year, NCAA champion.
As a pro in 2008, Lewis became the first American woman in 18 years to earn the world's top ranking. In 2017, the weekend after Hurricane Harvey devastated her hometown, she broke a long tournament drought, and donated the entire winner's check to storm relief, spearheading a million-dollar wave of donations.
This is the story of an athlete and a competitor who's never let anything hold her back.
Lewis is currently on maternity leave from the Tour as she and husband Gerrod Chadwell are expecting their first child.
More Information
Keep up with all of the latest news and information and get behind the scenes looks into our program on our social media accounts. Follow us on Twitter at @RazorbackWGolf and check out our Facebook page "Razorback Women's Golf." Stats, news and player information can be found at ArkansasRazorbacks.com.