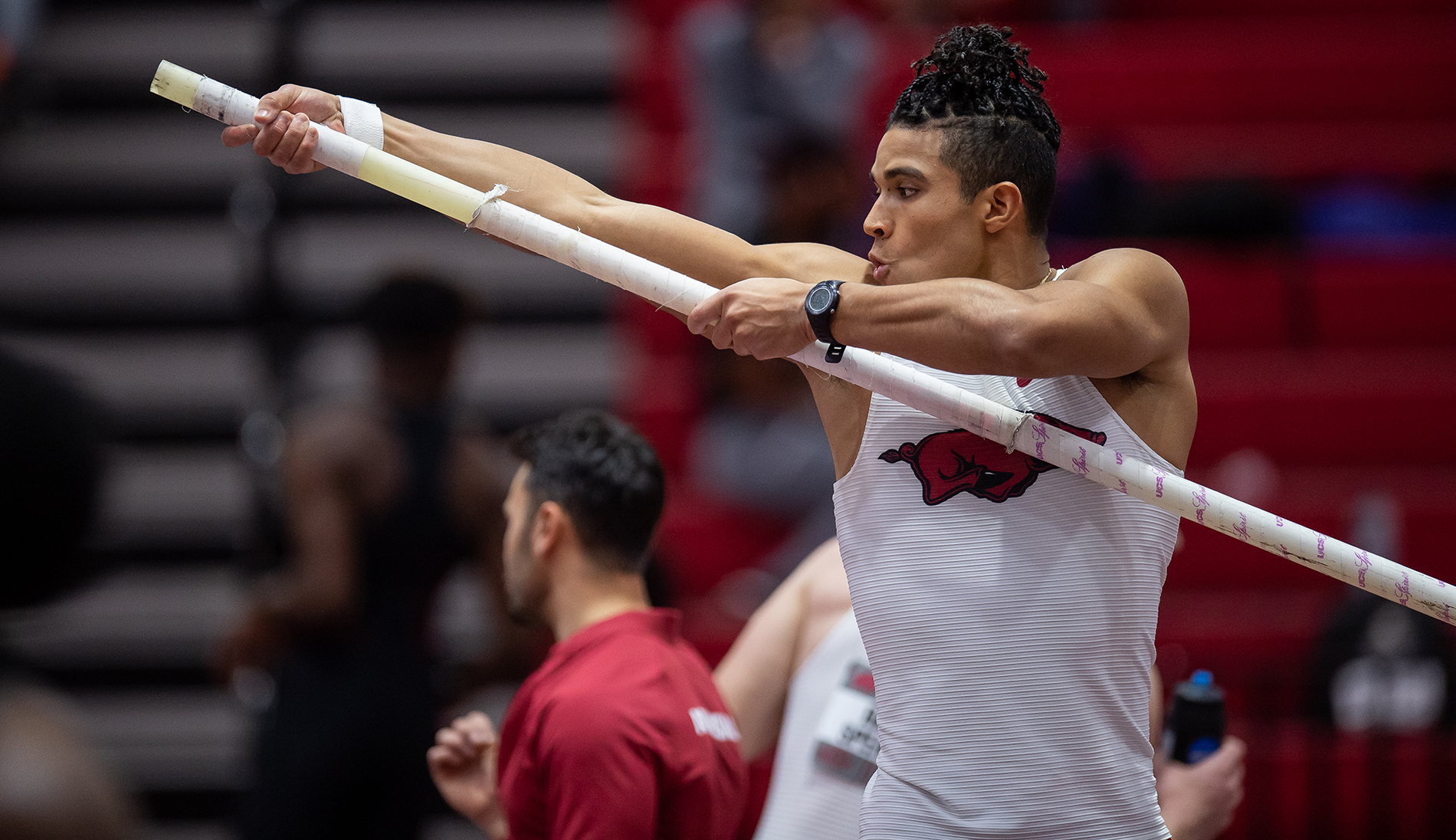 Stellar field of talent assembled for Razorback Invitational
FAYETTEVILLE – Arkansas hosts another star-studded Razorback Invitational this Friday and Saturday with a stellar field of 12 teams that includes schools from each of the Power 5 conferences inside the Randal Tyson Track Center.
Three programs currently among the top 25 in the early season national merit rating index include No. 9 Iowa, No. 11 Georgia, and No. 22 Iowa State. Joining them are LSU, the 2021 NCAA Outdoor champions, Mississippi State, Missouri, Oklahoma State, Oregon, Pittsburgh, Stanford, and USC.
"I'm thrilled with the teams we are hosting this weekend," said Arkansas men's head coach Chris Bucknam. "This is just a great field to put together this time of the year. We have a destination facility, and teams know we run it right with our great officials. We should have a great event this weekend in Fayetteville with some great athletes."
Live Stream links:
Friday, 5:50 p.m. CT: https://www.espn.com/watch/player/_/id/0ca5b5d3-9677-4158-8268-b6949007223c
Saturday, 12:30 p.m. CT: https://www.espn.com/watch/player/_/id/cc0be983-e9d4-4a99-88f9-f1def671baa2
Live Events & Schedule: https://flashresults.com/2022_Meets/Indoor/01-28_Razorback/index.htm
Featured events for the Razorbacks this weekend includes the heptathlon, 60m hurdles and 3,000m. The heptathlon will start at 11:45 a.m. on Friday and continue at 10:15 a.m. on Saturday. Friday's field events start at 2 p.m. while running events begin at 5:50 p.m. On Saturday, running events start at 11 a.m. while field events begin at 1 p.m.
"I have every event circled this weekend," noted Bucknam. "I'm talking everything from the 60m hurdles to the heptathlon where we have some special talents competing. The one event we won't be competing in on Friday evening is the distance medley relay, which will we do down the road."
Razorback newcomer Ayden Owens, who placed third in the 2021 NCAA heptathlon with a career best of 5,995 points and finished second in the 2021 NCAA decathlon while at Michigan, will lead an Arkansas crew that includes Etamar Bhastekar and Daniel Spejcher.
Bhastekar established an Israeli national record in this meet a year ago in scoring 5,680 points and finished fifth in the SEC heptathlon. Spejcher produced a career best of 5,654 last season in placing fourth at the SEC Indoor and then finished ninth in the NCAA Indoor.
Also scheduled to compete in the heptathlon are Georgia's Kyle Garland, NCAA heptathlon runner-up in 2021 with a PR score of 6,200 points, Felix Wolter of Pittsburgh, and Oregon's Max Vollmer. Owens (Wexford) and Garland (Philadelphia) both competed in Pennsylvania during high school.
Wolter scored a career best of 5,907 to place fourth in the NCAA heptathlon last season while Vollmer placed sixth with a tally of 5,726.
The 60m hurdles includes Razorbacks Phillip Lemonious, who set a career best of 7.54 in placing fourth at the 2021 NCAA Indoor meet, as well as teammate Tre'Bien Gilbert, who posted a best of 7.70 in placing third at the SEC Indoor in 2021. Included in the field are a pair of SEC foes in LSU's Eric Edwards and Mississippi State's Jesse Henderson, who placed fifth and seventh in the NCAA final a year ago.
In the 3,000m a crew of Razorbacks includes Emmanuel Cheboson, Amon Kemboi, Patrick Kiprop, Carter Persyn, Myles Richter, Ben Shearer and Josh Shearer.
Kieran Taylor, who posted a 1:16.86 in the 600m back in December, races in the 800m for the first time this season and will be joined by teammates Ricardo Banks, Jadon Bartholomew, Ethan Carney, and Leroy Russell.
Racing in the final section with Taylor are Iowa State's duo of Alexander Lomong and Jason Gomez, as well as Stanford's John Lester and Iowa's Antonio Abrego.
Brandon Battle, currently fourth in the nation and the top freshman, leads an Arkansas crew in the 400m, which will also have Phillip Anderson, James Benson II, Jeremy Farr, Ryan Gordon, Boaz Madeus, James Milholen, Blanchard Montgomery IV, and Rhayko Schwartz racing. Arkansas alums in the field include Kemar Mowatt and Marqueze Washington.
Razorbacks Andrew Kibet and Elias Schreml will square off in the final section of the mile with LSU's David Bove, Iowa State's Chad Johnson, and Stanford's Devin Hart. Professionals in that section include Charlie Grice and Paul Ryan.
Ryan Brown and John Baker will long jump for the first time this season and the field includes Georgia's Matthew Boling, who has surpassed 27 feet this indoor season with a mark of 27-1 (8.25). A field of professional jumpers will include Razorback alum Laquan Narin.
The sprints feature some of the fastest talent this season, led by Oregon's Micah Williams with a 6.48 in the 60m, followed by a USC crew which includes Kasaun James and Brendon Stewart. In addition to long jumping, Boling will race in the 200m where he is the current world leader at 20.49. Arkansas will have Roman Turner in the 60m along with Connor Washington in the 200m.