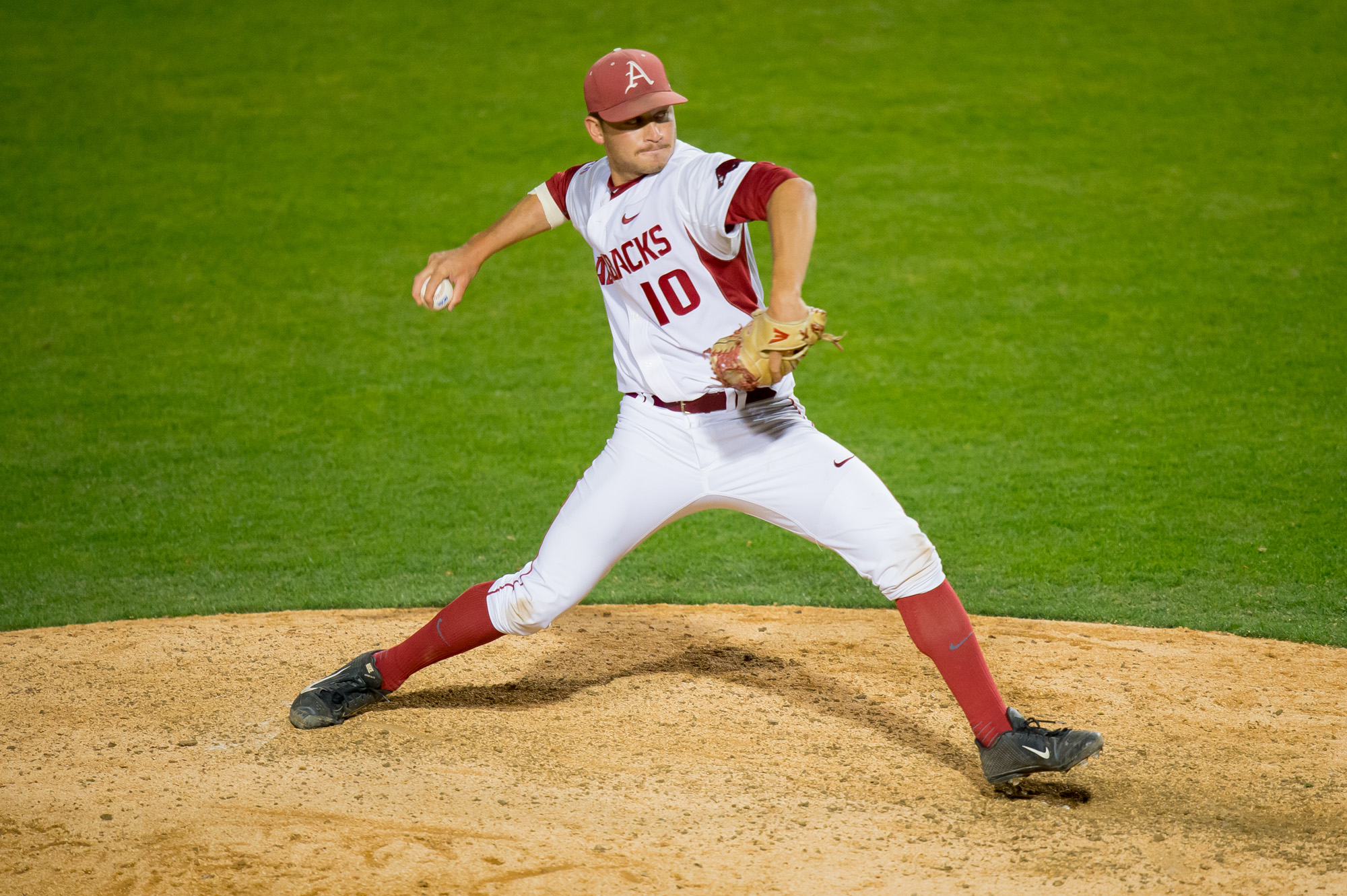 Strong Pitching Leads Razorbacks Over ULM
NORTH LITTLE ROCK, Ark. – In front 7,327 fans at Dickey-Stephens Park in North Little Rock, the Hogs won their annual game at their second home 3-1 over ULM (13-20) to move to 21-12 on the year.
Some late hits in the seventh and eighth innings pushed the Razorbacks into the lead for good after what had turned into a pitcher's duel early on. Freshman Blaine Knight threw three strong innings in his fifth start of the year, allowing just one hit with three strikeouts.
Junior Josh Alberius picked up his third win of the year after pitching the seventh and eighth innings without giving up a run and totaling four strikeouts.
Clark Eagan and Luke Bonfield both finished the game with two hits each. It was Bonfield's double in the fifth that scored the first runs of the game for either team. The two-bagger was Bonfield's eighth of the year.
Arkansas scored the much needed insurance run in the eighth inning after pinch-hitter Darien Simms singled to right field scoring Michael Bernal. It was Simms' second hit of the year out of a pinch hit situation and gave the Hogs the two-run cushion needed to stay ahead of the Warhawks.
MOMENTS THAT MATTERED
The Razorbacks got a strong start from pitcher Blaine Knight, who has looked good in his previous two starts out of the bullpen. Including Tuesday night against ULM, Knight's last three appearances have only yielded one earned run complemented by 11 strikeouts.
A lead-off double to start the bottom of the seventh inning by Carson Shaddy put the Hogs back in scoring position after ULM had tied the game in the sixth. That double was followed by a Bonfield groundout that moved Shaddy to third and he later scored on a Cullen Gassaway sacrifice fly to re-take the lead for Arkansas. It was Shaddy's seventh double of the year.
Arkansas threw six pitchers in the game Tuesday against ULM. The combination of Knight, Cannon Chadwick, Barrett Loseke, James Teague, Alberius and Doug Willey combined to give up only four hits, with just one run allowed and only one batter walked.
RAZORBACK QUOTABLES
"We love coming to play here in North Little Rock. The games here in the last few years have been really tight and the fans are incredible. They were loud and called the Hogs in the seventh, which was great to listen to. That's what got us going there late. It fired our guys up. I like coming down here and I think our players do as well." Head coach Dave Van Horn on playing in North Little Rock at Dickey-Stephens Park
"We just approach every game like it's another day. We show up, we do our work and come into the game with an attitude and compete. No matter if it's Florida or Louisiana-Monroe, we're going to come in and want to win the game." – Josh Alberius on the state of the pitching staff after a good performance Tuesday night
"We have a great pitching staff. It gave us a chance to throw some guys who were rusty and shake some of that rust off and get ready for the weekend. It acts like a midweek bullpen for them." – Josh Alberius on using six pitchers in the game against ULM
UP NEXT
The Razorbacks host No. 2 Florida for a three-game series starting Thursday at Baum Stadium. This weekend's series will be Arkansas' first top-five opponent of the season as the Gators are coming off a midweek win at Florida State (8-2). First pitch for Thursday is set for 8 p.m. CDT on ESPNU. Friday's game two will be at 6:35 p.m. and then Saturday's finale will be at 2:05 p.m. Both Friday and Saturday's games will be on SEC Network+.
For more information on Razorback Baseball, follow @RazorbackBSB on Twitter.