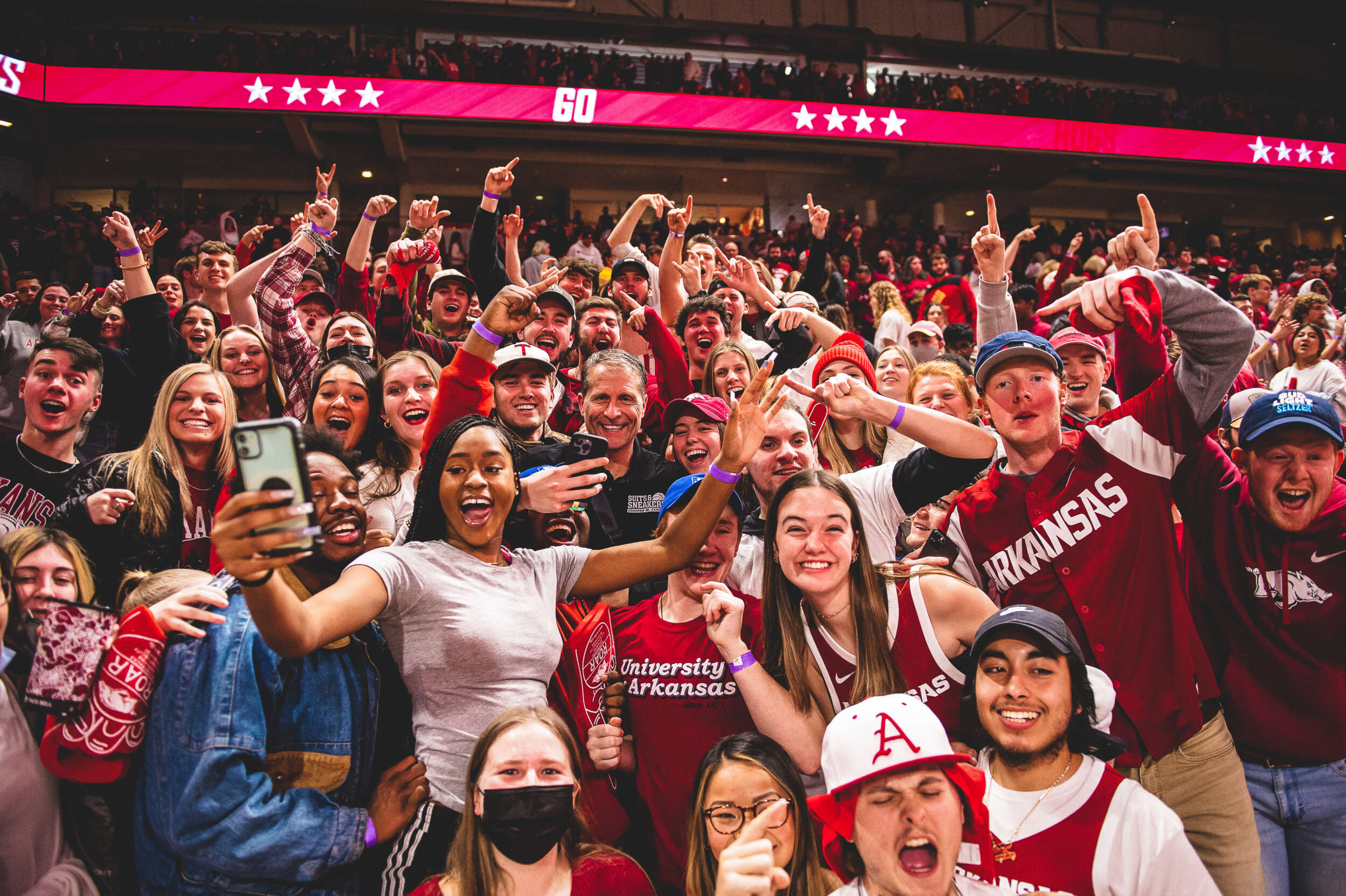 Student Loyalty Program Announced
FAYETTEVILLE, Ark. — With the start of the basketball season right around the corner, Razorback Athletics is launching a new loyalty program for Access Pass Holders, where points can be earned for attending various sporting events.
What is the point? To reward students who consistently attend Razorback events by prioritizing them for lower level seating for SEC men's basketball games, bowl game tickets, NCAA Men's and Women's Basketball Tournament tickets…and more!
Requesting/Claiming TicketsEvery Sunday, students will be sent an email with a link that allows them to request/claim tickets for upcoming events. This can also be accessed by logging onto their ticketing account. Students must request/claim a ticket for any game (all sports) they wish to attend, beginning with the upcoming men's basketball season.
The deadline to request tickets for men's basketball games will be announced via email the week before each game.

Students can request/claim tickets for next week's men's basketball games starting now. Click here to submit your request.

There is no deadline to request tickets for any other sport at this time. Students can log on to their online ticketing account and claim a ticket at any point prior to the game.
Entry to all games is still first-come, first-served until student capacity has been reached. 
Please note this does not apply to the remaining football games or volleyball matches this season.
How does the earning of points work?
As we launch this new loyalty program, students can earn points at each men's basketball game, each baseball game, and at select women's basketball games, select gymnastics meets, and select softball games. Next year, football, volleyball and soccer point systems will be established.
Students who attend and scan their mobile ticket will have points automatically added to their student ticketing account. (Point totals are subject to change but standard point totals are below.)

Standard men's basketball games = 100 points
Select women's basketball games = 100 points
Select gymnastics meets = 100 points
Points for other sports will be announced at a later date

Collegiate Members will automatically start with 500 points

If you are not a Collegiate Member, you can still become one and receive the 500 points for only $15 by calling the Razorback Foundation at 479-443-9000.
What are points used for?
Points will be used to determine ticket allocation and priority seating (lower bowl) for SEC men's basketball games.
Points will also be used to determine priority access to postseason event tickets, including:

NCAA Men's & Women's Basketball
NCAA Baseball
NCAA Softball
Football Bowl Games

Top points earners will be eligible for additional experiences and prizes.
Men's Basketball SEC Games
For men's basketball SEC games, students who submit a ticket request and are among the top point earners will receive a lower bowl ticket which will allow them priority access to the lower bowl provided they arrive before tip-off. All other students who requested tickets will receive a general student ticket and admission will be on a first-come, first-serve basis.
New Ticket Scanners & New Mobile TicketsIn addition to the new loyalty program, new ticket scanners will be implemented at athletics events (beginning with football vs. Liberty on Nov. 5) to provide more accurate data and improve the student entrance process.
How do the new mobile tickets and scanners work? The new scanners will use a tap-and-go system rather than a QR code. Screenshots of tickets will no longer work because tickets are required to be scanned directly from the mobile wallet. (This function is similar to how Apple Pay works.)
When will this go into effect?
The first opportunity to earn points will be at the men's basketball season opener against North Dakota State on Monday, November 7 at 7:00pm.
Questions? Students can email us at mktghogs@uark.edu