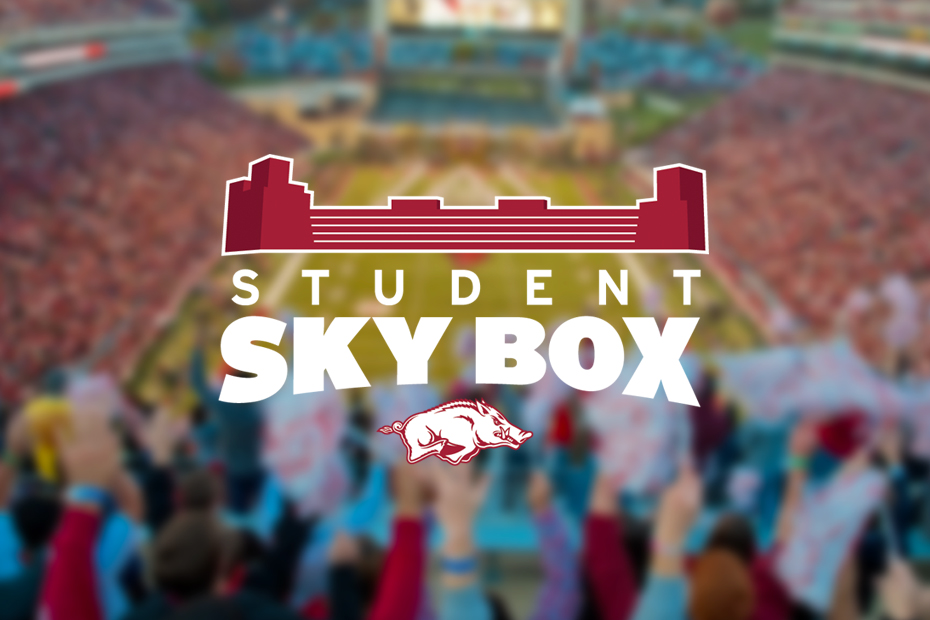 Student Skyboxes Available for Razorback Football
FAYETTEVILLE, Ark. – Based upon student feedback, the University of Arkansas Athletics Department has changed the layout and format of the Razorback Rooftop (upper South End Zone) area at the Donald W. Reynold Razorback Stadium. During the 2015 season, student groups will be able to reserve the space within the new named Student Skyboxes for each home game.
Beginning this football season, student groups may reserve one of four available student skyboxes located atop the south end zone of Donald W. Reynolds Razorback Stadium. Each skybox will include a reserved area with a tent, carpeted flooring, lounge furniture, two big screen TVs and full sports oriented cable package. In addition, a section of bench seating will be reserved exclusively for Skybox holders.
"After last football season, ASG President Tanner Bone came to the Athletic Department with a problem and solution," said Chris Freet, Senior Associate AD for External Relations. "Student groups wanted a defined areas to congregate together, especially during Homecoming and Family Weekend when they are hosting alums and parents. Based on his recommendation, we have moved the existing tents forward so they are flush against the seating area and we've created an intimate environment that can be reserved on a game-by-game basis for less than $5 per person."
Each skybox will accommodate up to 150 students. The Student Skyboxes will only be available for rental by officially registered University of Arkansas student organizations. An online registration system will allow student organization contacts to request the game(s) of their choice.
"Many universities across the country allow student groups to reserve blocks of seats together at athletic events, but none quite like this," said Tanner Bone, Associated Student Government (ASG) President. "Along with Athletics, ASG is excited to offer students the opportunity to take advantage of these Student Skyboxes as they continue to enjoy Razorback Football."
Arkansas hosts six games at Donald W. Reynolds Razorback Stadium this season, including UTEP (Sept. 5), Texas Tech (Sept. 19), Auburn (Oct. 24), UT Martin (Oct. 31), Mississippi State (Nov. 21) and Missouri (Nov. 27).
For more information on Student Skyboxes for the 2015 season, contact the Razorback Marketing Office at (479) 575-6055.