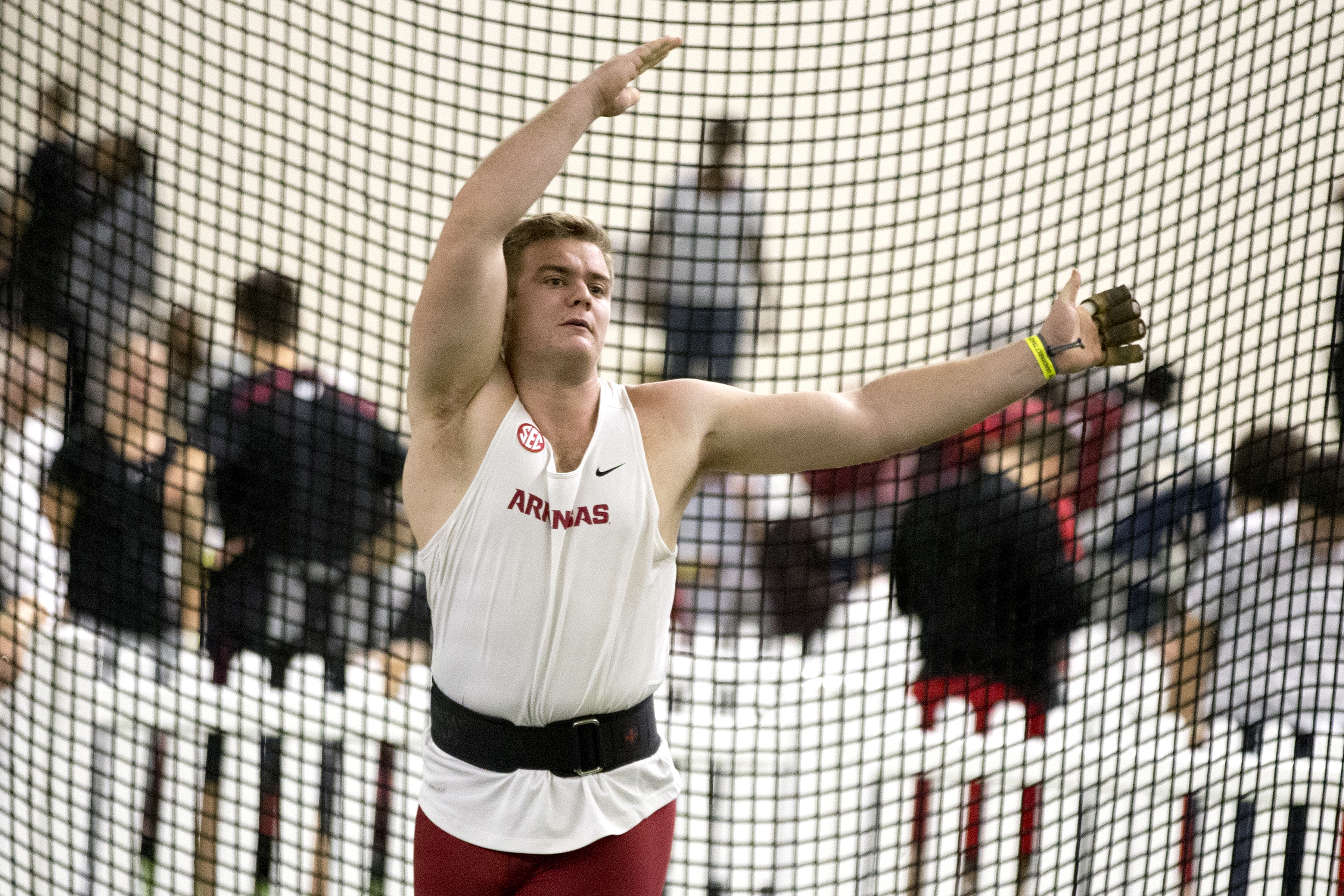 Sullins Finishes Third As Outdoor Season Begins
Results
FAYETTEVILLE, Ark. – University of Arkansas junior Erich Sullins officially opened the 2018 men's track and field outdoor season with a third-place finish in the hammer throw at the Arkansas Spring Invitational at John McDonnell Field on Friday.
Sullins, the program and meet record-holder, improved with each attempt in the second flight and finished with a throw of 58.12m/190-08 feet to advance to the finals.
The top nine competitors advanced to the finals with three additional throws. Sullivan improved on his final throw with a 58.49m/191-10 feet effort but was unable to move up in the standings.
Sullins opened the day throwing 54.89m/180-1 feet in his first attempt in the prelims. He improved with a throw of 57.03m/187-1 feet followed by 58.12m/190-08 feet.
Meet Information:  Start Lists | Live Results
Tickets for the Arkansas Spring Invitational are $5 for adults with free admission for fans 17 years and younger. Tickets are sold at the northwest entrance (corner of Razorback Rd and Meadow St) of John McDonnell Field. Saturday's field events start at 11:30 a.m. with running events beginning at 3 p.m.
Indoor All-Americans Kenzo Cotton, Obi Igbokwe, Gabe Moore, Kemar Mowatt and Jamarco Stephen are all scheduled to compete Saturday. During the indoor season, Cotton secured his first individual SEC crown by winning the program's first-ever title at 60 meters. Mowatt, the school-record holder in the 400-meter hurdles, will open his outdoor season with a run through the 110-meter hurdles.
This weekend's 15-team field will include conference mate Missouri and Big 12 foes No. 10 Kansas and Oklahoma State. The Arkansas Spring Invitational is the first of four outdoor home meets for the Razorbacks who are also set to host the John McDonnell Invitational (April 13-14), National Relay Championships (April 27-28) and Arkansas Twilight (May 4).
By way of its national performances during the cross country and indoor seasons, Arkansas is currently second in the John McDonnell Program of the Year standings. The Razorbacks are the reigning Program of the Year winners and are in the hunt for their third such title overall. The team also won the honor for their performance during the 2012-13 season.
For more information on Arkansas track and field including in-meet updates, follow @RazorbackTF on Twitter.