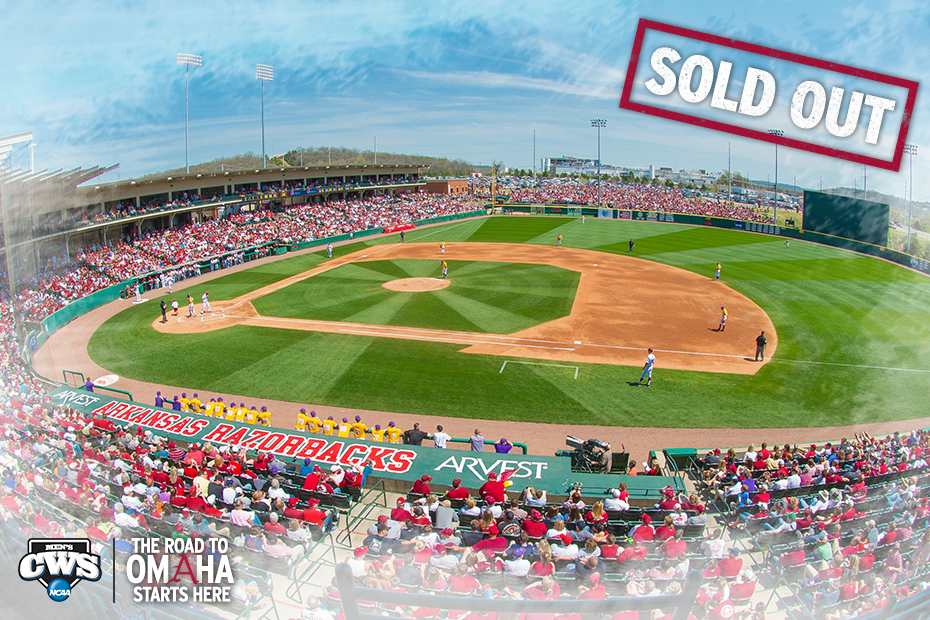 Super Regional Tickets SOLD OUT
FAYETTEVILLE, Ark. – With the anticipation of an NCAA Super Regional coming to Baum Stadium for just the second time in program history, tickets for this weekend's series between Arkansas and Missouri State are SOLD OUT.
Arkansas was officially awarded the Super Regional late Monday night by the NCAA with play commencing on Friday. The NCAA will announce game times and television networks Tuesday morning.
Less than 24 hours after advancing to NCAA Super Regionals for the sixth time in program history and fifth time under head coach Dave Van Horn, all-session tickets went on sale to season ticket holders and Razorback Foundation members.
Season ticket holders and foundation members are strongly encouraged to use their regular season parking passes for Baum Stadium this weekend. No additional  parking passes will be issued or available for purchase for the games this weekend.
An allotment of 250 general admission tickets in the Hog Pen have been reserved exclusively for University of Arkansas students and may be purchased for $15 on Wednesday at the Razorback Ticket Center starting at 8:30 a.m. Students are limited to one ticket per person and must purchase the ticket at the Razorback Ticket Center. Students must be present to purchase and show a valid and current UA student ID.
With capacity crowd anticipated for the Hog Pen area and in an effort to accommodate as many fans as possible, please note cooler entry may be limited and/or stopped as we approach capacity in order to accommodate all ticketed fans.
Per the NCAA, no alcoholic beverages shall be delivered, sold or dispensed for public consumption anywhere in the competition venue, nor shall any such beverages be brought to the site during the championship (i.e., during the period from the time access is available to spectators until all patrons have left the stadium). Coolers and any bags entering the Hog Pen will be searched to ensure compliance with the NCAA's policy. NCAA policy does allow for alcoholic beverages to be dispensed inside private suites, provided it is not delivered during the championship.
For more information on Arkansas baseball, follow @RazorbackBSB on Twitter.