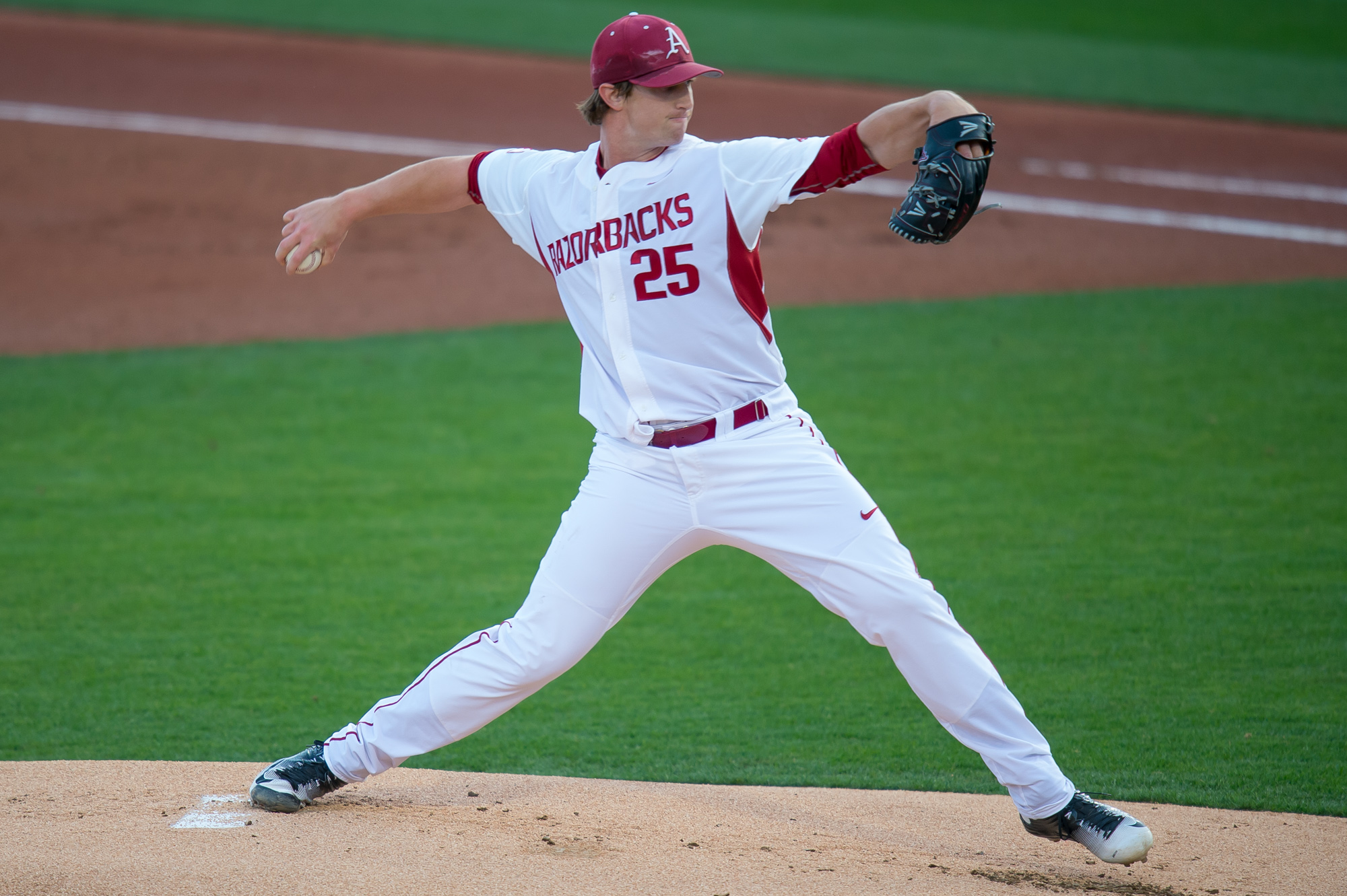 Taccolini Masterful Against No. 12 Kentucky
LEXINGTON, Ky. – Dominic Taccolini delivered the best performance of his career Friday night as Arkansas (23-15, 5-11) defeated the Wildcats (23-14, 9-7) 1-0 at Cliff Hagan Stadium, picking up its first SEC win in nine opportunities. Taccolini tossed a complete game 10-inning performance, striking out a career-high 10 batters and allowing no walks.
Taccolini had thrown a combined 11 innings during his last five appearances, but set career highs in innings pitched, strikeouts and walks allowed in the complete game performance. He's the first Razorback pitcher to throw a complete game shutout since Keaton McKinney completed the feat last year against Alabama (May 2, 2015).
It's also the longest outing by a Razorback starting pitcher since Clint Brannon threw 11 innings against Tennessee in the 2004 SEC Tournament (May 26). Brannon's outing was not a complete game, however, as the Razorbacks lost 8-6 in 13 innings.
Chad Spanberger hit the go-ahead home run in the 10th inning in Friday night's game, his sixth of the year, and second in as many games. His home run was one of seven hits on the night for the Razorbacks. Clark Eagan came away with a two-hit performance, his 16th multiple hit game of the year.
KEY MOMENTS
Taccolini and Kentucky starting pitcher Zack Brown matched each other pitch-for-pitch through the game's first nine innings. It wasn't until the top of the 10th that Brown gave up the game's only run, a lead-off home run from Spanberger.
Spanberger's home run came on a 1-0 pitch off Brown and it carried well over the right field wall to give the Razorbacks their first lead in an SEC contest in nine games.
Taccolini retired 15-straight batters during the 3rd through 7th innings, striking out five in the process.
RAZORBACK QUOTABLES
"Just a great job by Dominic Taccolini. He gave us 10 innings of shutout ball and we would've taken five innings of shutout ball. He kept his pitch count way down. Obviously, that 10th inning was going to be his last inning, but it was his game to win or lose. We felt like he was throwing good stuff. He had a lot of sink on his fastball and hung one breaking ball to lead off the 10th, but other than that, he was pretty good." – Dave Van Horn on Dominic Taccolini's performance
"He didn't overthrow tonight. It wasn't about him throwing hard, his velocity was down, but he was spotting it up. He just kept them guessing all night. He just pitched tonight. He didn't try to overthrow – Dave Van Horn on what went right for Taccolini
ARKANSAS NOTABLES
– With the 1-0 win, the Razorbacks are now 7-3 in one run games this season.
– The win snaps Arkansas' eight-game SEC losing streak coming into the series with Kentucky.
– Chad Spanberger hit his sixth home run of the season Friday night against Kentucky, breaking a scoreless tie in the top of the 10th inning. Spanberger has three home runs in his last four games.
– Taccolini's performance makes him the third pitcher in the nation to throw 10 innings this year and first to throw a 10-inning complete game.
UP NEXT
Arkansas and Kentucky will finish the series Saturday with two seven-inning games because of the rain out that occurred Thursday. The Hogs are set to start Zach Jackson for game 1 and Keaton McKinney for game 2.
First pitch of the doubleheader will be at 11 a.m. CDT. Both games will be broadcast on SEC Network+.
For more information on Razorback Baseball, follow @RazorbackBSB on Twitter.