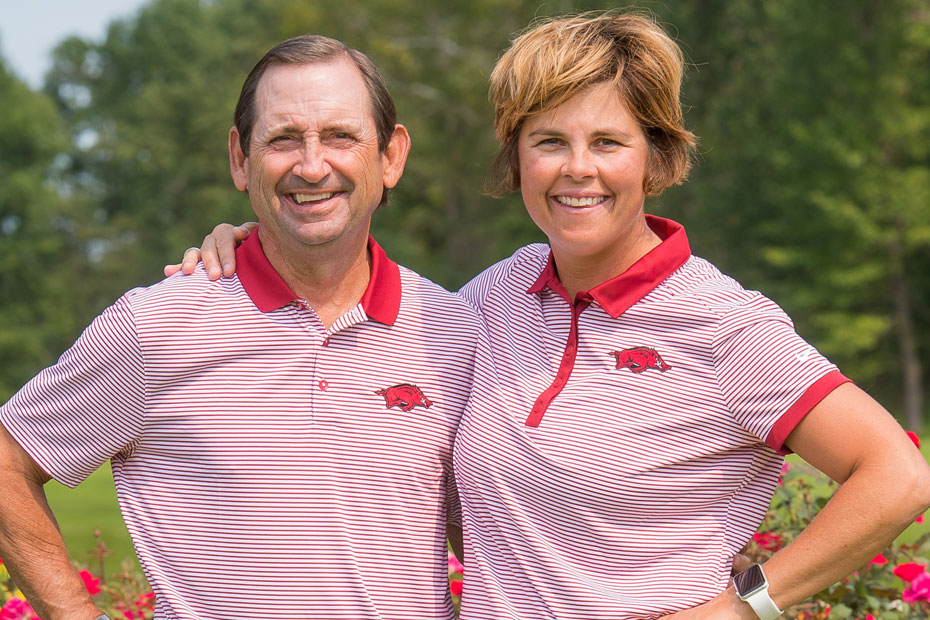 Taylor Adds Two National Team Members
FAYETTEVILLE, Ark. – The University of Arkansas women's golf team welcomed the addition of two national team members in Ximena Gonzalez and Grace St. Germain, both of whom signed National Letters of Intent on Wednesday.
Head coach Shauna Taylor has guided this year's team to a top-5 fall finish and the newcomers will only bolster that next season.
"The signing of Ximena and Grace add some tremendous depth to our team," said Taylor. "They both come from great families, they possess the traits that make a good teammate, and I know they will both grow in our Razorback family. Arkansas women's golf got better today with the signing of these two young women."
Gonzalez checks in from Queretaro, Mexico, where she is a member of the Mexican National Team. She has several years of international competition experience and some of her recent tournaments include medalist honors at the Florida Open at RedTail Golf Club, runner-up finishes at the Junior World Qualifier at HH Lakes, the Bridgestone Golf Tournament of Champions and the Orlando Open at Orange County National and a third-place showing at the LXVI Campeonato Nacional Infantil Juvenil.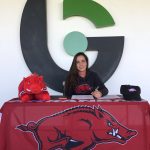 In action last summer, Gonzalez tied for the win at the Guatemala International and won the IMG Qualifier. She added runner-up finishes at the AJGA New Era Championship, the Junior Americas Cup and the US Girls Qualifier where she shot a 68.
Gonzales is the daughter of Alejandra Garcia and Luis Gonzalez. She has a brother, Alejandro Gonzalez.
"The signing of Ximena Gonzalez adds to our long rich history of getting the best players from Mexico," said Taylor. "Ximena came in on a visit with her family a while back and I knew immediately she was a perfect fit for our program. She has the goal of playing professional golf while valuing the opportunity to get a quality education. She has been at the Bishops Gate Academy at La Loma in Mexico and her instructor, Manuel, has done an outstanding job prepping Ximena for the next level. She has international experience and I know in our system she will thrive. She has great fundamentals and can definitely come in and compete for a spot in our lineup."
St. Germain is an Ottawa, Ontario, Canada, native and a member of the Canadian National Team. She attended John McCrae Secondary School and is currently a sophomore at Dayton State College. Her honors include being selected to the Golf Canada National Development team in 2015 and 2016 and the National Team in 2017 and 2018.
In St. Germain's first season with Daytona State, she posted six top-15 finishes including a T3 at the NJCAA Championship. She added a fifth-place finish at the B.C. Women's Amateur and placed 10th at the Canadian Amateur last year.
St. Germain is the daughter of Kathy and Chris St. Germain.
"We feel very lucky to have signed Grace," said Taylor. "She was an outstanding junior golfer and has developed and grown so much in her time at Daytona State. She is a seasoned competitor and I fully expect her to come in and impact our program right away. Grace's consistency and fight during competition are the attributes that caught my eye. She will have had two years of college and amateur golf under her belt and this experience will prepare her two years at Arkansas. Grace was highly-recruited and I know that hosting the 2018 NCAA Championship at Blessings was a big factor in her decision. She wants to play at the next level so she will be on a mission when she steps on campus." 
More Information
Keep up with all of the latest news and information and get behind the scenes looks into our program on our social media accounts. Follow us on Twitter at @RazorbackWGolf and check out our Facebook page "Razorback Women's Golf." Stats, news and player information can be found at ArkansasRazorbacks.com.