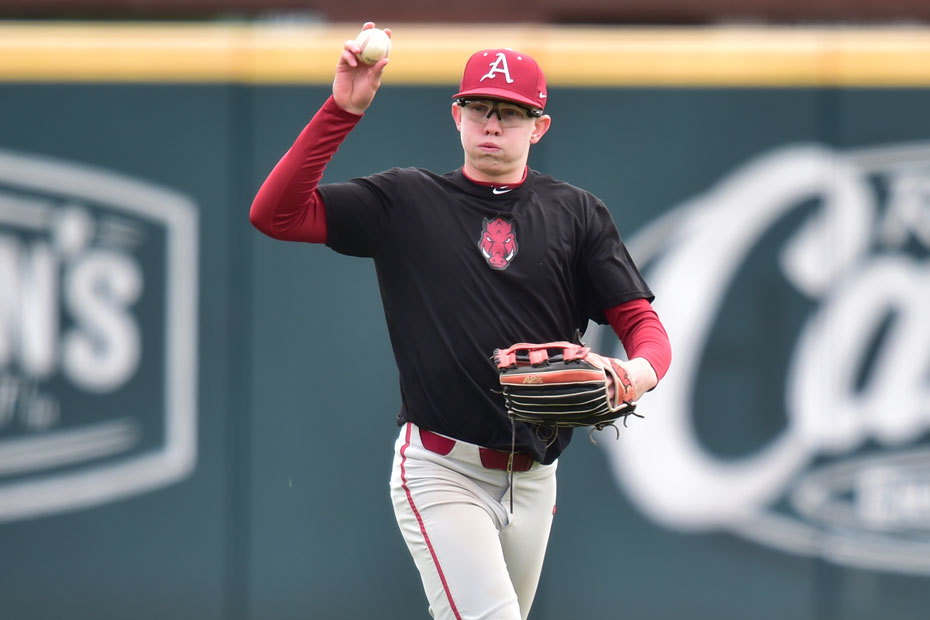 Team White Clinches Fall World Series Behind Kjerstad
FAYETTEVILLE, Ark. – Sophomore Heston Kjerstad was perfect at the plate Thursday night as he helped Team White clinch the Razorback Fall World Series, 12-4, over Team Cardinal, sweeping the best-of-three series at Baum Stadium.
Kjerstad finished the game 4-for-4 with six RBIs, including a home run. He fell just a triple shy of the cycle, but was one of three players on Team White to record a multi-hit game. Kjerstad's outburst one of many strong offensive performances from Team White throughout the week that helped it win both games of the series by a combined score of 21-5.
The Amarillo, Texas native seemed back to regular-season form this week as he went 5-for-9 (.556) at the plate with seven RBIs and three extra-base hits. This showing came just one week after the flu forced him to miss the Razorbacks fall exhibition at Little Rock last week.
Redshirt freshman Jacob Nesbit along with sophomore catcher Casey Opitz also had good days with the bat, combining to go 3-for-6 (.500) with two of the hits coming from Nesbit. The duo made up the No. 4 and No. 5 slots in the lineup and Opitz took advantage of RBI opportunities Matt Goodheart, Casey Martin, Kjerstad and Nesbit ahead of him. Opitz finished with two runs driven in, his second-straight game with two or more.
On the mound, Cody Scroggins got the start and gave up only one hit over five innings, striking out eight of the 17 batters he faced. Caden Monke, Jacob Burton and Landon Brown followed out of the bullpen. Team Cardinal was able to get four runs after the switch to the bullpen late, but Team White had already built an 11-0 lead before that first Cardinal run.
Arkansas will finish its fall practice in the coming week with a few more team practices before settling into individual workouts throughout November and December. Full team workouts will resume in January, roughly one month before Opening Day.
The Razorbacks will open the 2019 season on Friday, Feb. 15 against Eastern Illinois, the first of a three-game series at Baum Stadium.
2018 Fall World Series Schedule
Game 1 – White 9, Cardinal 1 (Team White leads series 1-0)
Game 2 – White 12, Cardinal 4 (Team White wins series 2-0)
For more information on Razorback Baseball, follow @RazorbackBSB on Twitter.