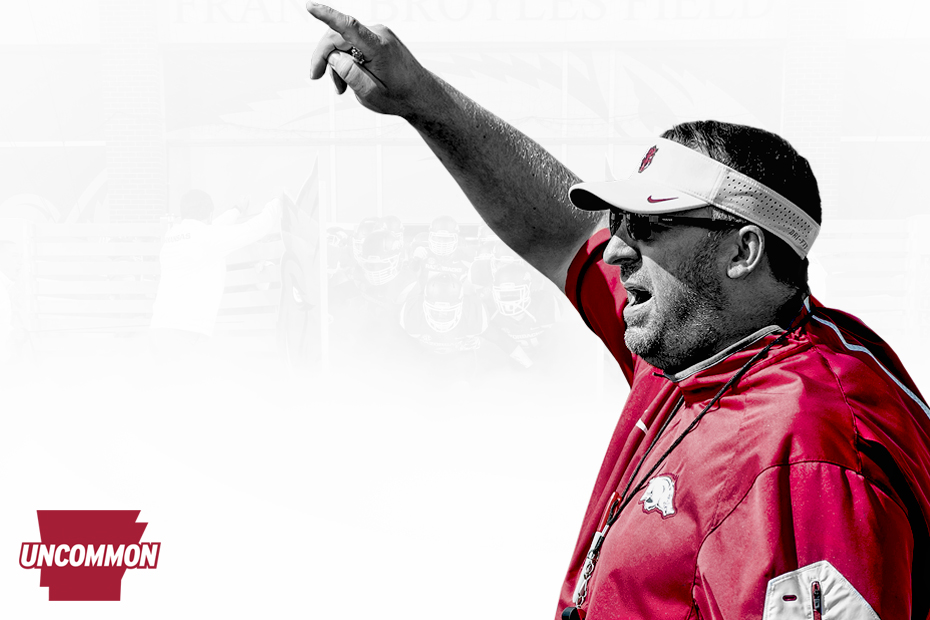 The Definition of Uncommon
The state of Arkansas is uncommon. Our wonderful state has mountains, forests and the Arkansas Delta. There is history, culture and natural beauty. We raised a future President and several Fortune 500 companies. And we are also home to the Razorbacks.
When Bret Bielema was hired as head coach at the University of Arkansas in December of 2012, he had a vision for the future of Razorback Football. That vision started with him as head coach and the 120 student-athletes that make up the football program.
"We will recruit uncommon men here," Bielema said in the opening statement of his introductory press conference. "We will recruit men that are held to higher standards. I don't want people to be normal. I want them to be uncommon."
Bielema is an uncommon man himself and was seemingly destined to coach the Razorbacks. He grew up in Prophetstown, Ill., a town of 2,000 people in western Illinois. His family ran a hog farm and had more than 2,500 hogs, greater than the human population in Prophetstown. Bielema grew up working on the farm, and had several hog calls of his own as a youth.
A year before he was hired at Arkansas, Bielema was enjoying a successful run as head coach at Wisconsin. It was there that he first read the book Uncommon written by famed NFL head coach Tony Dungy. The book takes a look at lessons Dungy has learned and focuses on what it means to be a man of significance in a culture that is offering young men few positive role models.
Bielema was moved by the literature and wanted to use many of these lessons to teach his players to become uncommon men. He came to Fayetteville shortly thereafter and used the opportunity as a clean slate to develop an uncommon culture at Arkansas.
Even before Bielema arrived, the Razorbacks shared unique traits that fit succinctly into that uncommon culture. The University of Arkansas is the only school in the Southeastern Conference that has an entire state behind it. The Natural State does not have any major professional sports teams. The strength of the state is the Razorbacks and the strength of the Razorbacks is the state.
There are so many things that make the Razorbacks and the state of Arkansas uncommon, but the bond that Arkansans have with the Razorbacks is at the top of the list. Alabama has Auburn. Mississippi has Mississippi State. Louisiana has the Tigers, Saints and Pelicans. Arkansas has the Razorbacks.
Drive through Little Rock and you see Razorbacks everywhere. Pine Bluff? All Razorback. Blytheville, Monticello and Fort Smith too.
It is part of what makes Saturdays in the fall so uncommon here. You may take a weekend vacation to Hot Springs but you won't have any trouble finding a place to watch the Razorback game. And you won't have difficulty finding some friendly faces wearing cardinal and white to cheer with.
Of course, the most uncommon experience of them all is taking in a game at Donald W. Reynolds Razorback Stadium or War Memorial Stadium. A Razorback game isn't just a three-hour football game. It's an entire weekend's worth of fun.
The drive to Fayetteville may vary in length for each fan, but we all get the same Friday night chills when we reach the top of the hill to descend into Fayetteville and see the sky glowing red.
On Saturday, are you going to be the first to fire up the grill in Victory Village so you can cook the best tailgate meal your friends have ever had? Or you could head over to the pep rally and prepare your vocal cords to help make Razorback Stadium the loudest venue in the SEC.
Just over two hours before kickoff, it's time for the Hog Walk. Fans line the side of the street as the team buses pull into Razorback Stadium. Coach Bielema and his team walk don suits as they walk through the throng of fans and enter the locker room. That's when you know kickoff is just around the corner.
Be sure to wrap up your pregame festivities early enough to enter the stadium at least 30 minutes prior to kickoff. Nobody wants to miss another uncommon experience – Tusk IV entering Razorback Stadium.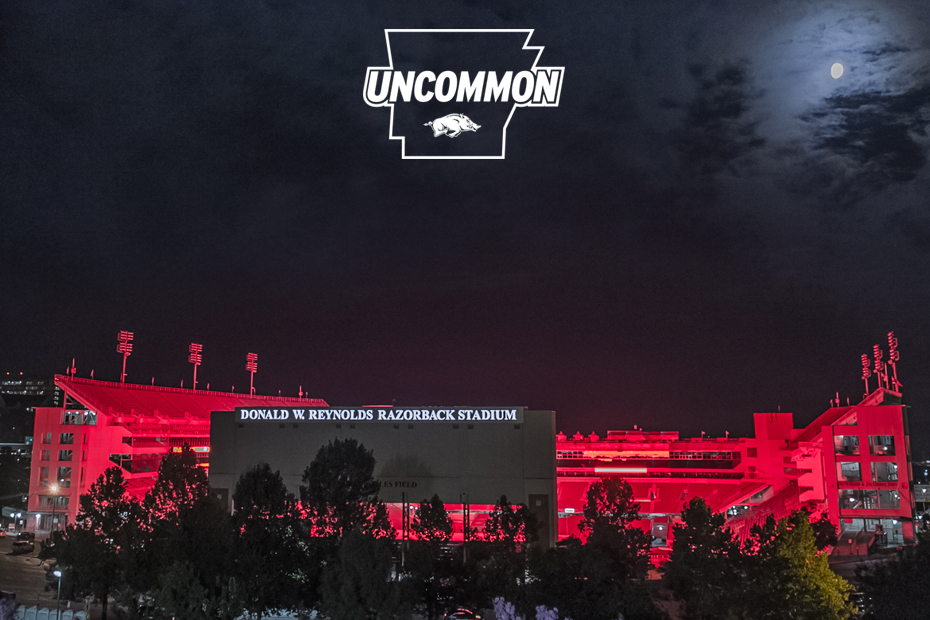 While Bielema recruits uncommon men to be Razorbacks, it's not the only aspect of the football program that is uncommon. We are in an age of football where spread, up-tempo offenses are in vogue.
Several SEC counterparts sprint to run 90 plays per game. Not huddling between plays is commonplace now for the majority of teams and offenses are built on the premise of racing so quickly that defenses are out of position. But while that may be the norm for most football programs nowadays, that isn't Bielema. He wants to execute better than the opposition.
"You don't change the core fundamentals of what you believe in. I'm not going to a no-huddle, hurry-up offense. We're going to stick to our principles and do it better," said Bielema.
Not only does Arkansas slow down the game, but they also keep the ball away from opponents. The Razorbacks ran just over seven plays per game more than their opponents did and ranked fourth nationally in time of possession last year.
By sticking to his principles, the Razorbacks' style of play is uncommon in today's football.
Arkansas' style is more than just slowing the game down too. Whereas most teams want to spread defenses out with four or five wide receivers and break every passing record, the Razorbacks are content doing what they do best – running a balanced, pro-style offense.
In fact, the coaching staff has stated several times this offseason that they think Arkansas' most effective formation in 2015 will be with 22 personnel. That means the Razorbacks will see a lot of sets with two running backs, two tight ends and just one wide receiver on the field. Most defenses are used to defending the spread attack, so playing Arkansas is definitely a changeup.
Last year, running backs Jonathan Williams and Alex Collins each rushed for more than 1,000 yards. They joined Darren McFadden and Felix Jones as the only pair of Razorbacks to ever accomplish the feat and were the only teammates in the FBS to top the century mark in 2014.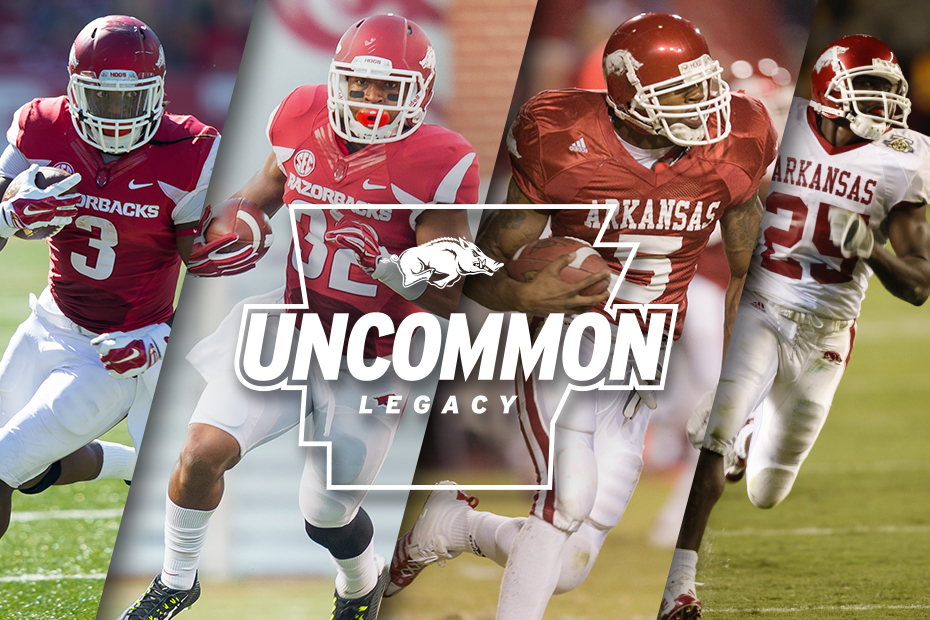 Although Bielema may have brought the term uncommon with him to Fayetteville, the University of Arkansas has always fit the uncommon mold.
Who can forget the 1964 national championship football team? That team is a perfect example of how a team of uncommon men can succeed both on and off the field. Their exploits on the field are well documented but think of how many players on that team reached uncommon heights off the field?
Jerry Jones became the most influential owner in all of professional sports. Jimmy Johnson became one of the best head coaches that football has ever seen and is the only person to ever win a national championship as both a player and coach and coach a team to a Super Bowl title. In fact, he won two Super Bowls for good measure.
Jim Lindsey played on the 1964 national championship team and went on to a great NFL career. Once he finished playing, however, he became one of the largest real estate moguls in this part of the country.
The list goes on and on but a conversation about the 1964 team must include Frank Broyles. The College Football Hall of Famer was an uncommon coach and later, athletic director. He was one of the finest coaches, athletic directors and broadcasters that collegiate athletics has ever seen.
The 2015 Razorbacks are as uncommon as they come. The media guide cover? It features the offensive line. The quarterback? Brandon Allen is the most experienced quarterback in the SEC with 25 starts under his belt. And his brother, Austin, the backup quarterback.
This year's team has plenty of uncommon stories too. The left tackle and left guard both grew up under the love and care of a single mother. Denver Kirkland is from Miami, Fla. Sebastian Tretola is from the other coast, San Bernardino, Calif.
In fact, the entire offensive line spans the country. Mitch Smothers is from right here in Springdale, Ark. Frank Ragnow is from Chanhassen, Minn. Dan Skipper hails from Arvada, Colo. and is tied for the tallest player in FBS at 6-foot-10. That's pretty uncommon too.
Brooks Ellis is one of the best players on the Razorback defense but there was a time when the junior didn't even think he was good enough to play at this level. Instead, Ellis wanted to become a doctor. A pre-med major, Ellis is still on track to become a doctor but that career may be delayed a little bit due to his football talents.
The Razorbacks have even gone international this year. Hjalte Froholdt is a true freshman defensive lineman and one of the most recruited players in Arkansas' signing class. Froholdt is from Svendborg, Denmark, and began playing American football during his sophomore year of high school as a foreign exchange student in Ohio. "The Great Dane," as some of his teammates and coaches call him, is expected to play a key role on the defensive line this season.
Arkansas is uncommon. After all, have you ever seen another team call itself the Razorbacks?