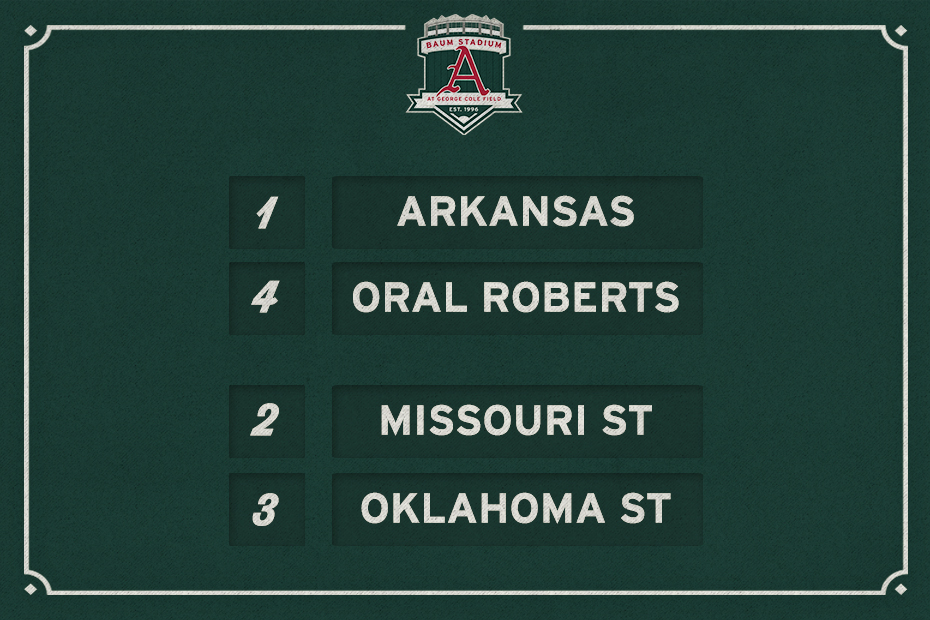 The Field Is Set For The NCAA Fayetteville Regional
FAYETTEVILLE, Ark. – The newly 11th-ranked Arkansas baseball team, fresh off its SEC Tournament final run, now has its opponents for the upcoming NCAA Fayetteville Regional in hopes of getting back to the College World Series for the second time in three seasons.
The 64-team field for the NCAA Tournament was announced live on ESPN2, as 16 host sites around the country are home to four-team regionals to make up the 2017 NCAA Tournament field. No. 1 seed Arkansas is scheduled to play its first game in the Fayetteville Regional on Friday, June 2 at 7 p.m. CT against No. 4 seed Oral Roberts, while No. 2 seed Missouri State will face No. 3 seed Oklahoma State at 2 p.m. CT at Baum Stadium.
The Hogs (42-17) are ranked as high as No. 11 in the nation in this week's Baseball America poll and have won seven of their last 10 games, including a run to the SEC Tournament final with wins over Auburn, Mississippi State, and Florida, which all made the NCAA Tournament as well.
Arkansas is back in the national tournament field after missing it last year for the first time since 2001. Now, the Razorbacks have made a 16-game turnaround and won 40 or more games for seventh time in the last 10 seasons.
The Razorbacks will be making their 28th appearance overall and 14th in the last 15 years, while it's the sixth time Fayetteville has been selected as a host and first since 2010.
Arkansas is 71-61 (.538) all-time in the NCAA Tournament, including a 51-39 (.567) record in NCAA Regionals. The Razorbacks have advanced to the College World Series eight times, most recently in 2015, and appeared in six Super Regionals. Head coach Dave Van Horn has led Arkansas to the NCAA Regional final in each of his last six tournament appearances
Tickets
All-session reserved tickets and all-session Hog Pen tickets are now on sale for the NCAA Regional coming to Baum Stadium this weekend. All-session tickets are $75. You can purchase your tickets online by clicking here.
Students
University of Arkansas students will have the opportunity to purchase $15 general admission Hog Pen tickets on a game-by-game basis. Tickets for Game 1 and Game 2 of the regional will go on sale to students at 8:30 a.m. on Wednesday, May 31. Tickets for Games 3 and Game 4 will be available on Saturday at 8:30 a.m.
The Razorbacks are 10-5 in NCAA Regional openers over the last 16 years. Entering the NCAA Tournament, the Razorbacks are No. 14 in the NCAA Rating Percentage Index (RPI) with 16 wins over top 50 RPI squads. Arkansas has 10 wins over ranked teams this season, including a 16-0 win in last week's SEC Tournament over national-seed Florida, the third-most lopsided game in SEC Tournament history.
The Hogs enter the NCAA Tournament with one of the best offenses in the country and at last week's conference tournament, they put the college baseball nation on notice. Over its five-game stretch in the tournament, Arkansas hit .309 as a team with 42 runs scored, 51 hits, and 10 home runs, which were the second-most in tournament history and most in the last 20 years.
Junior Chad Spanberger nearly broke the 40-year-old record for home runs in a single tournament as he took home Most Valuable Player honors. He finished the tournament as the leader in RBIs (10), doubles (3), home runs (5), and total bases (26). The home run total was one away from tying the record set by Mike Templeton in 1977, but his three home run and seven RBI game in the 12-0 win over Auburn set new single-game records for the SEC Tournament.
Spanberger now has 19 home runs on the year, good for a tie for sixth-most in school history, and puts him one away from becoming just the sixth player in program history to hit 20 or more home runs in a season.
2017 NCAA Fayetteville Regional Schedule 
Friday, June 2
Game 1 – No. 3 Oklahoma State vs. No. 2 Missouri State, 2 p.m. CT (ESPN3)
Game 2 – No. 1 Arkansas vs. No. 4 Oral Roberts, 7 p.m. CT (ESPN3) 
Saturday, June 3
Game 3 – Loser Game 1 vs. Loser Game 2, 2 p.m. (ESPN3)
Game 4 – Winner Game 1 vs. Winner Game 2, 7 p.m. (ESPN3) 
Sunday, June 4
Game 5 – Winner Game 3 vs. Loser Game 4, 3 p.m. (ESPN3)
Game 6 – Winner Game 5 vs. Winner Game 4, 8 p.m. (ESPN3) 
Monday, June 5
Game 7 – Winner Game 6 vs. Loser Game 6 (if necessary), 6 p.m. (ESPN3)
For more information on Razorback Baseball, follow @RazorbackBSB on Twitter.