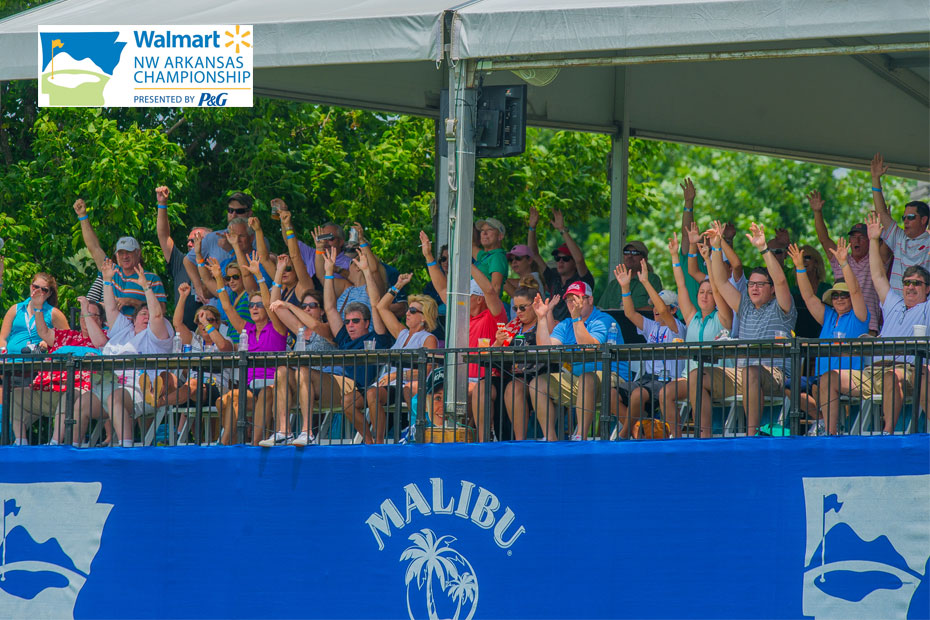 The Loudest Hole On The LPGA Tour
FAYETTEVILLE, Ark. – People may think of golf as a quiet sport but the 17th hole at Pinnacle Hills Country Club is anything but quiet when the LPGA comes to town.
As players make their way up the par three 17th hole, they often throw items into the crowd to fire up the fans on the course.  The Gatorade Loudest Hold on Tour has quickly become part of the tradition at the Walmart NW Championship presented by P&G.
The hole is especially loud and Hog Calls can be heard when Razorback favorites like Stacy Lewis and Gabriela Lopez head up the fairway.  But the fans in Northwest Arkansas also welcome the other Tour members cheering on recent winners or popular players.
Fans can buy tickets to The Club Deck on No. 17, an upgraded hospitality experience for general spectators overlooking the hole with unlimited food and drinks.
For more information on Arkansas women's golf, follow @RazorbackWGolf on Twitter. For more information about the Walmart NW Arkansas Championship presented by P&G log on to www.NWAChampionship.com.