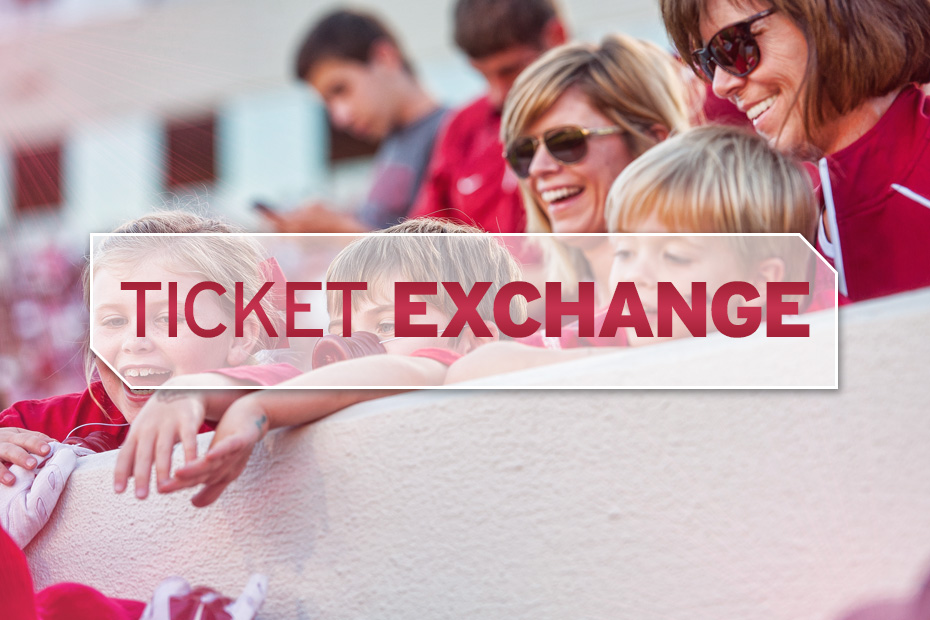 The Razorback Ticket Exchange Is Here
Enter The Razorback Ticket Exchange
FAYETTEVILLE, Ark. – The University of Arkansas Department of Athletics will launch a one-of-a-kind ticket exchange platform on September 6, called the Razorback Ticket Exchange powered by Lyte. The Exchange will benefit both long time season ticket holders and single game ticket buyers.
Arkansas season ticket holders unable to attend home SEC games this season can instantly sell them back to the University and receive cash back, up-to the face value price.  Any additional revenue generated by the sale of the tickets will directly support Razorback Athletics. The Razorback Ticket Exchange powered by Lyte will then offer those tickets back to the general public at a lower price than unsanctioned resale websites.
"This program is designed to help our loyal season ticket holders by providing them an easy and secure way to get a return on their investment when they are not able to use their tickets," Vice Chancellor and Director of Athletics Jeff Long said. "By working through the Razorback Ticket Exchange, tickets that may have gone unused previously, will get into the hands of other fans who want to attend our games at prices more affordable than the traditional secondary markets. It is an added benefit for all of our fans and will help us in our efforts to provide a full stadium on game day."
The Razorback Ticket Exchange powered by Lyte offers a reservation system for single game ticket buyers with pricing based on real-time data gathered from across the web. Arkansas is committed to offering a price that is noticeably below unsanctioned resale websites, and the Lyte platform ensures that is the case. All tickets are backed with a 100 percent guarantee by the University of Arkansas. There is no risk of fraud for fans.
"We have not signed a partnership with secondary markets to date because we were not comfortable with the high prices being charged primarily to maximize profits for a third party," Long said. "We believe our fans will use the Razorback Ticket Exchange platform not only because of the affordability of the tickets, but also with the idea that when they decide to sell their tickets they are further benefitting Razorback Athletics."
"The University of Arkansas joins a list of high-profile and diverse entertainment properties using Lyte's technology to take control of their end-to-end ticketing experience, including Mumford and Sons and BottleRock Music Festival," CEO of Lyte Antony Taylor said. "We are proud to partner with University of Arkansas and apply our technology in the service of loyal Razorbacks fans and season ticket holders."
The system will be activated on Sept. 6. Fans still looking for tickets to the sold-out Alabama game will be able to visit the Exchange and place a reservation. On September 22, season ticket holders will begin returning unused tickets through the Exchange and single game buyers will get their reservations filled on a first come first served basis. During the first season, the Exchange will only be utilized for seating areas that are sold out during the SEC portion of the schedule.
The Razorback Ticket Exchange platform allows the University to deliver an automatic offer up-to face value. Once an offer is accepted, the system will credit the season ticket holder using Pay Pal for the agreed upon price for the ticket(s) purchased. It is a safe and seamless way for Razorback season ticket holders to get their tickets into the hands of fellow Razorback fans without the hassle of a processing fee or other logistics involved in transferring the tickets on the secondary market.
Those seeking tickets may visit the Razorback Ticket Exchange via a link at ArkansasRazorbacks.com and enter a reservation for tickets if and when they become available. Prices will be determined based on real time market data and priced dynamically. Tickets are allocated on a first come, first serve basis.