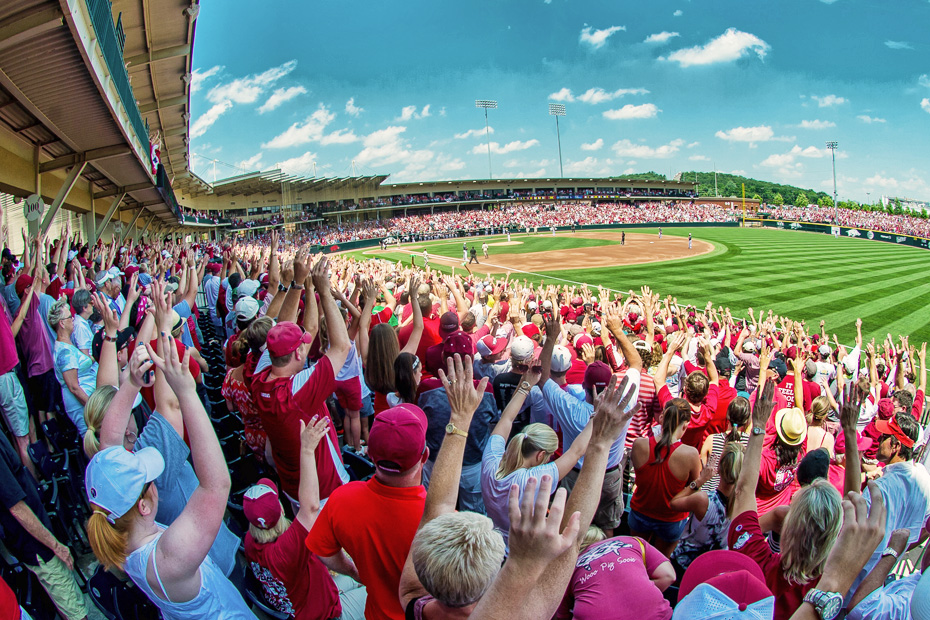 This Is Baseball, Part Three: Growth of the Sport
FAYETTEVILLE, Ark. – Razorback Baseball as it exists today wouldn't be possible without Baum Stadium. More so than any other sport, the venue plays a big part in the baseball experience. It's a place where traditions are born and maintained, legends created and remembered, and a second home for diehard fans.
With Opening Day coming this Friday, we explore the origins of Baum Stadium and the role it continues to play in the Natural State and the growth of college baseball as a sport in part three of our four-part 'This Is Baseball' series.
THE BAUM STADIUM EFFECT
About 30 to 40 years ago, Razorback baseball players were hitting home runs and foul balls out of George Cole Field and into the HPER building as well as Razorback Road. Plans to renovate the facility were in the works for years, but a fortuitous Swatter's Club meeting would change that vision and foster the growth of baseball in the Natural State.
Kevin Trainor, associate athletic director of public relations and baseball sport administrator: "There were drawings of a renovated George Cole Field and Coach DeBriyn would recruit to that every year. Minor updates to that plan would come up each year, but the dream was to make GCF into something fans could enjoy. During one Swatter's Club meeting, Coach Broyles shared the vision for a new facility situated in an undeveloped part of East Fayetteville. Two of our donors, Willard Walker and his son, Johnny Mike, both asked what it would take to start over with a new baseball stadium. Well, Coach Broyles told them what it would take, and the next thing you know, both father and son came up with a gift that really changed Razorback Baseball because instead of a renovated GCF, a new vision began with Baum Stadium."
Norm DeBriyn, Razorback Baseball head coach, 1970-2002: "I remember one of my players, David Walling, who was drafted in the first round by the New York Yankees. He was from San Diego and I remember his dad telling me after a game when we had an attendance of only 4,000 fans that day, 'My gosh, you never see anything like this in California. Over there, you're lucky if you get 1,500-2,000 people!' And that game happened before the first Baum Stadium expansion and it really impressed him."
BASEBALL IN THE NATURAL STATE
What is it about college baseball that makes it special to Razorback fans? Is it the laidback nature of the sport? Could it be the proximity of fans to the field and being able to interact with players? What about the amount of games on the schedule, or is it a combination of these factors? Since Baum Stadium opened in 1996, college baseball has steadily grown in popularity in Arkansas and across the nation. The success of the sport in the state can be attributed to the quality of the DeBriyn and Van Horn teams throughout the years as well as having a world-class facility in Fayetteville.
Dave Van Horn, Razorback Baseball head coach, 2003-present: "If you would've told me 20 years ago that Division I college baseball would grow into what it is today, I wouldn't believe you. No way. Not at all. I've thought about it on my own and talked about it with other people and coaches many times. There's no way we could've ever projected this. The crowds, the stadiums, the competition, just everything … all the way down to the number of assistants and coaches' pay."
Kevin Trainor:
"That's always exciting because we start playing baseball at a time of year when it's not conducive to be playing the sport. It also gives you more opportunities to attend games with your family. With the number of weekday and weekend games, you can take a Little League team out to the ballpark at a good price and have all kinds of different experiences. I think that really caught the attention of the community and led to the growth of the sport in the state."
Norm DeBriyn: "I think Division I baseball as a whole is at its peak popularity. More emphasis is being placed on the sport across the country: Universities are investing into their programs by hiring outstanding coaches, putting more money into facilities, how teams travel and I think you can go on and on. We now also have a lot of media coverage that allows younger kids to watch the game and as a result, they grow up wanting to play baseball. It's always been popular in the South, but I think it's made a jump from the Midwest up."