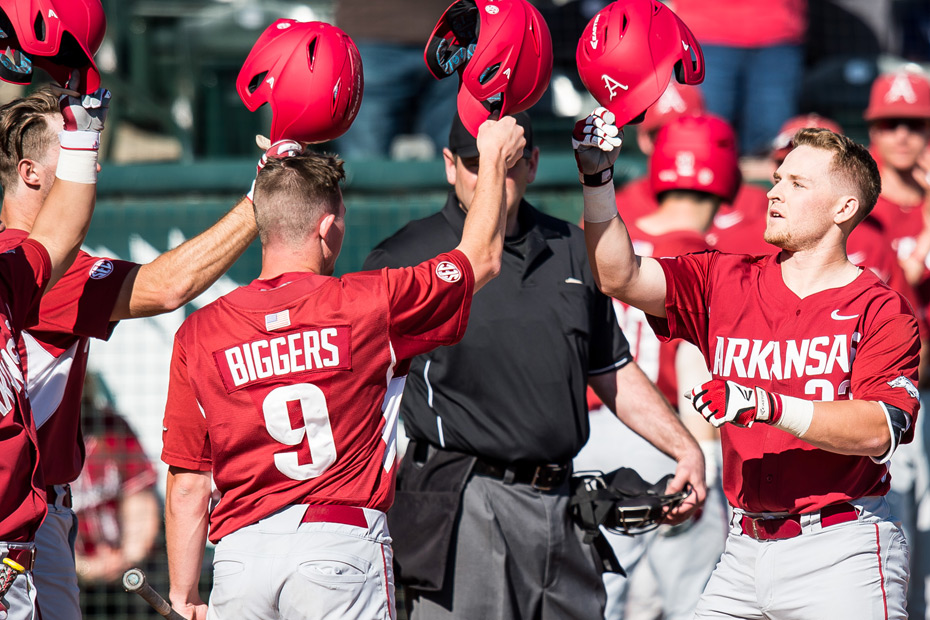 Three Homers Propel Arkansas To Series Sweep
Box Score (PDF) | Photo Gallery
FAYETTEVILLE, Ark. – Arkansas utilized three home runs and another strong pitching performance to defeat Miami of Ohio, 11-1, Sunday afternoon at Baum Stadium. The win gave the Hogs the three-game series sweep and capped a record-setting weekend in attendance.
29,354 fans were in attendance over the three-game set, setting a new opening series record at Baum Stadium. In just Sunday's game, alone, 9,020 fans watched the Hogs' 10-run victory, marking the third straight day with more than 9,000 in attendance.
On the field, Arkansas was able to tally 13 hits and score 11 runs, while only leaving nine on the base paths. The 13 hits was its highest during the series and finished off a strong offensive weekend that saw a combined 23 runs scored.
Catcher Grant Koch finished the day with a team-high three hits and three RBIs. His three-run home run in the fifth inning broke the game open as Arkansas was only leading 3-1 at the time. For Koch, it was his first home run of the season and one of three hit by Razorbacks in the game.
Redshirt freshman pitcher Kevin Kopps made his first career start and earned his first career win, going 3.1 innings and only allowing two hits and one earned run. Like his counterparts the previous two days, Kopps also struck out five batters giving the starting pitchers 15 strikeouts combined throughout the opening weekend.
Moments That Mattered
Along with Koch's long ball, Chad Spanberger, and Eric Cole all chipped in home runs during the game. Cole got his first career home run, the non-traditional way, in the third inning when he roped a line drive off the left field wall, just out of reach of the left fielder's glove, and made it all the way around for an inside-the-park home run. It was the first inside-the-park home run by a Razorback since Andrew Benintendi achieved the feat on April 8, 2015 against Mississippi Valley State.
As for Kopps, he looked solid on the mound through his first three innings of work, but ran into trouble in the fourth when he gave up a leadoff walk, a one-out single, and then walked the next batter to load the bases with only a two-run lead. Head coach Dave Van Horn decided to go to the bullpen and bring in redshirt senior Josh Alberius. After the switch, Cal Elvers singled to bring home a run for Miami, but then Alberius induced the nice 6-4-3 double play to get out of the jam and hold the 2-1 lead.
Alberius went on to pitch three more shutout innings, giving up just one hit and striking out five, while walking only one. After his outing, he was one of four Razorback pitchers to have five strikeouts this weekend.
Razorback Quotables
"There's a lot of competition amongst the pitching staff to get on the mound. They push each other, they pull for each other and they have to compete against each other to get some time. It's making for a good situation as far as some depth." – Head coach Dave Van Horn on the whole performance of his pitching staff during the first weekend
"It was a fastball, I think we did a good job as a team, creating that situation. I was just the one put in that situation and got a good pitch to hit. I thought we did a good job of getting runners on and I thought Eric (Cole) made a good play being safe at home. That changes the whole inning. That gave me that opportunity." – Grant Koch on his home run in the fifth inning
"It was really great. That is a big credit to our fans and our fan base. It was incredible. That was probably the best opening weekend I've had as a Razorback here. It was great coming all three games and seeing all those people in the stands for us." – Luke Bonfield on the large attendance from fans throughout the series
Game Notes
-29,354 fans were in attendance for the series against Miami of Ohio, setting a new record for opening weekend.
-Arkansas has swept its opening series opponents in Fayetteville nine times under head coach Dave Van Horn, including the last four years.
-With the win, Arkansas starts the season 3-0 for the 31st time since 1960.
-Arkansas improves to 6-0 all-time against Miami (Ohio).
-Arkansas' pitching staff threw 25 scoreless innings combined with 35 strikeouts over all three games against Miami (Ohio).
-Eric Cole's third inning inside-the-park home run was the first by a Razorback since Andrew Benintendi on April 8, 2015 against Mississippi Valley State.
-Arkansas hit three home runs in the same game for the first time since March 26, 2016 against Auburn.
-Today's sweep of Miami (Ohio) was Arkansas' first weekend sweep since March 25-27, 2016 against Auburn.
-The 23 runs scored over the three-game series were the most since April 18-19, 2015 when the Razorbacks scored 23 against Texas A&M over three games.
Up Next
Arkansas will be back on the field next weekend when it hosts Bryant University for a three-game series at Baum Stadium starting on Friday. First pitch for game one is set for 3 p.m. Saturday's game two will be at 2 p.m., followed by the finale on Sunday at 1 p.m. All games will be streamed on SEC Network+.
Season tickets, mini-plans and single-game tickets are available at ArkansasRazorbacks.com or by calling the Razorback Ticket Office at 1-800-982-HOGS.
For more information on Razorback Baseball, follow @RazorbackBSB on Twitter.