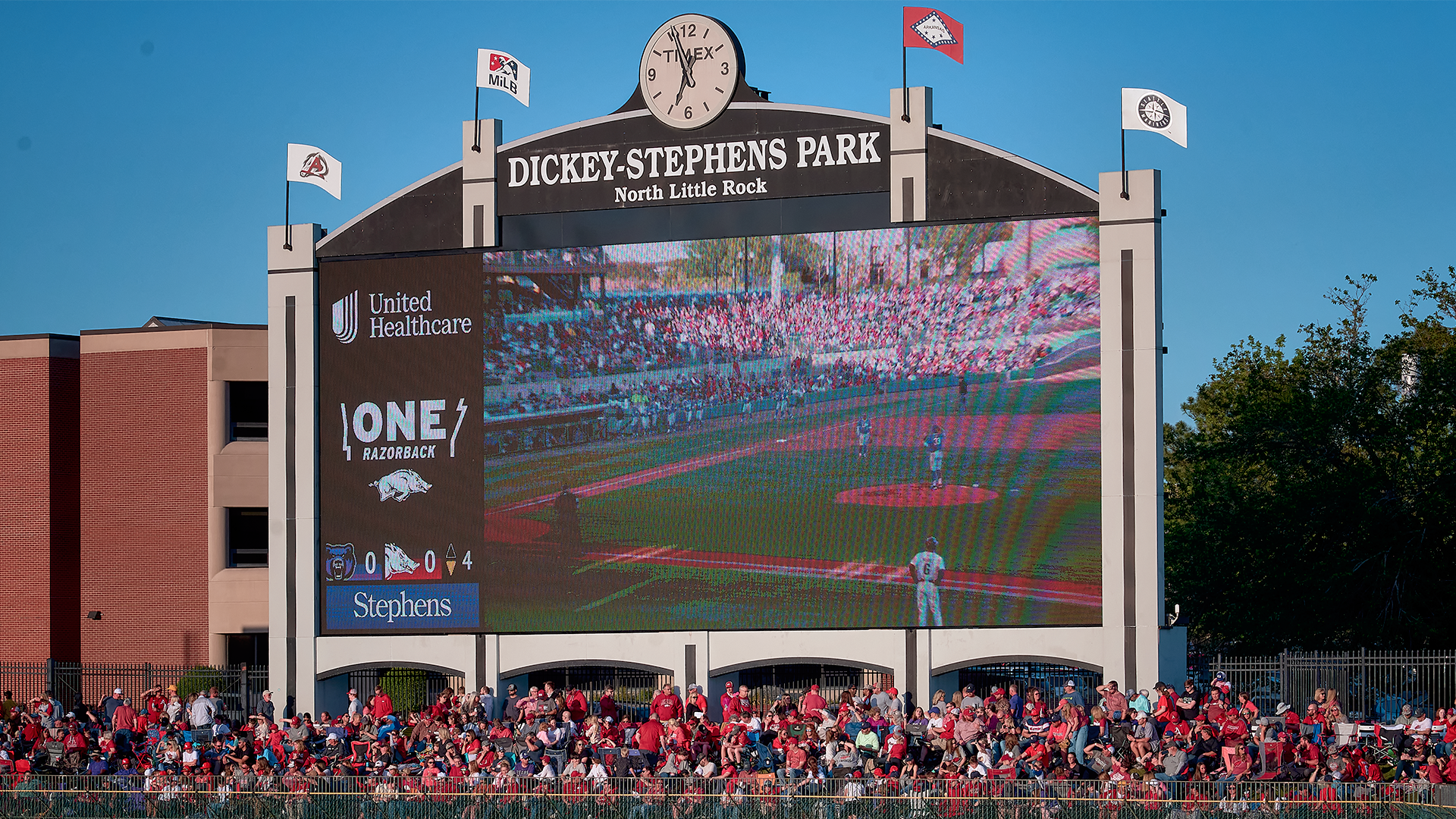 Ticket Info for Hogs in The Rock
FAYETTEVILLE, Ark. – Ticket information for the Razorbacks' game at Dickey-Stephens Park, home of the Seattle Mariners' Double-A affiliate Arkansas Travelers, has been finalized.
Arkansas returns to North Little Rock to square off against Lipscomb at 6 p.m. Tuesday, May 2. Excluding the pandemic-affected 2020 and 2021 seasons, the Hogs have played a game at Dickey-Stephens Park every year since 2010.
Individual tickets will go on sale at 10 a.m. Tuesday, Feb. 28. Pricing for tickets will be $15 for general admission (berm and beer garden), $20 for field reserved, $21 for home plate reserved, $22 for field box and $23 for home plate box. Dickey-Stephens Park will be a cashless facility beginning in 2023 and continue to have a clear bag policy for all events.
All Travs season ticket holders will have first right of refusal to purchase tickets for the Razorback game before they go on sale to the general public. Fans interested in purchasing Travelers season tickets, ensuring their place at the front of the line for Razorback tickets, can call the Travs ticket office at 501-664-7559 or visit Travs.com/seasontickets. The deadline to purchase Travelers season tickets before the holidays is 5 p.m. Monday, Dec. 19.
Arkansas Razorback baseball season ticket holders should note that the game at Dickey-Stephens Park is a single-game ticket and is not included in the Baum-Walker Stadium season ticket package.
For complete coverage of Arkansas baseball, follow the Hogs on Twitter (@RazorbackBSB), Instagram (@RazorbackBSB) and Facebook (Arkansas Razorback Baseball).