Tough Start At SEC Championship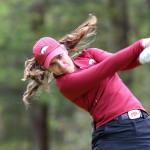 Round One Results | Round Two Pairings
BIRMINGHAM, Ala. – Senior Regina Plasencia fired an even-par 34-38 — 72 leading the No. 8 University of Arkansas women's golf team to a first-round 300 at the Southeastern Conference Women's Golf Championship on the Legacy Course in Birmingham, Alabama, Friday.
The Guadalajara, Mexico, native is tied for 10th place overall and the Razorbacks are eighth with two rounds remaining. Plasencia was solid on the front nine turning two-under with three birdies and a bogey. The wind kicked up for the second half of the round and Plasencia posted three bogeys and a birdie on the back nine. She finished strong with a birdie on No. 15 and three consecutive par holes to close her round.
Freshman Maria Fassi finished her first round ever in the postseason with a three-over 37-38 — 75 and is tied for 25th overall. Fassi, who has been the Razorbacks tournament leader in every event since joining the team in January, was one of four Razorbacks to bogey both the 12th and 14th holes as the wind played havoc in second half of the round.
Freshman Cara Gorlei posted a first-round 37-39 — 76 in her first-ever SEC Championship appearance and is tied for 32nd overall. Junior Summar Roachell counted a five-over 38-39 — 77 and is tied for 39th while sophomore Alana Uriell is tied for 52nd shooting 42-37 — 79 in the first round.
Arkansas put together a good practice round on the course Thursday and had a good game plan heading into the event as one of the top-seeded teams. They battled overcast and windy conditions and a strong field that took advantage of the Razorbacks' slow start.
Top-ranked Alabama leads the tournament and was the only team under par Friday. The Crimson Tide shot 286 and are followed by No. 7 Florida with 292, No. 31 Missouri with 295, No. 5 Georgia with 296 and No. 26 Tennessee at 297 rounding out the top-five team places.
From Head Coach Shauna Estes-Taylor
We just didn't do a lot of the little things right and when you are playing a strong field it is tough to catch up. We made some simple mistakes, but we have two more days to control our attitudes and our commitment. We have a great game plan in place, we just have to trust ourselves. If they do that, their best is good enough. A couple times today we were right off the edges and made a bogey. If you do that a couple of times, that's four or five shots and that's a difference-maker. I know their toolbox is full and it's more about them trusting their ability.
We saw a lot of progress from Regina (Plasencia) today. I know her practice round wasn't quite where she wanted it to be yesterday and we worked hard on a couple things afterward. We came up with a plan where she has to work on shaping shots and when she does that she is really in tune with her targets. It was a nice job today.
@RazorbackWGolf Lineup
| | | |
| --- | --- | --- |
| 8 | Arkansas | 300 |
| T10 | Regina Plasencia (2) | 34-38 — 72 |
| T25 | Maria Fassi (1) | 37-38 — 75 |
| T32 | Cara Gorlei (5) | 37-39 — 76 |
| T39 | Summar Roachell (4) | 38-39 — 77 |
| T52 | Alana Uriell (3) | 42-38 — 79 |
Team Results
| | | | |
| --- | --- | --- | --- |
| 1 | No. 1 Alabama | 286 | -2 |
| 2 | No. 7 Florida | 292 | +4 |
| 3 | No. 31 Missouri | 295 | +7 |
| 4 | No. 5 Georgia | 296 | +8 |
| 5 | No. 26 Tennessee | 297 | +9 |
| 6 | No. 23 South Carolina | 298 | +10 |
| 7 | No. 25 Texas A&M | 299 | +11 |
| 8 | No. 8 ARKANSAS | 300 | +12 |
| 9 | Ole Miss | 301 | +13 |
| 10 | Auburn | 304 | +16 |
| T11 | No. 48 LSU | 305 | +17 |
| T11 | Mississippi State | 305 | +17 |
| 13 | No. 35 Vanderbilt | 309 | +21 |
| 14 | Kentucky | 312 | +24 |