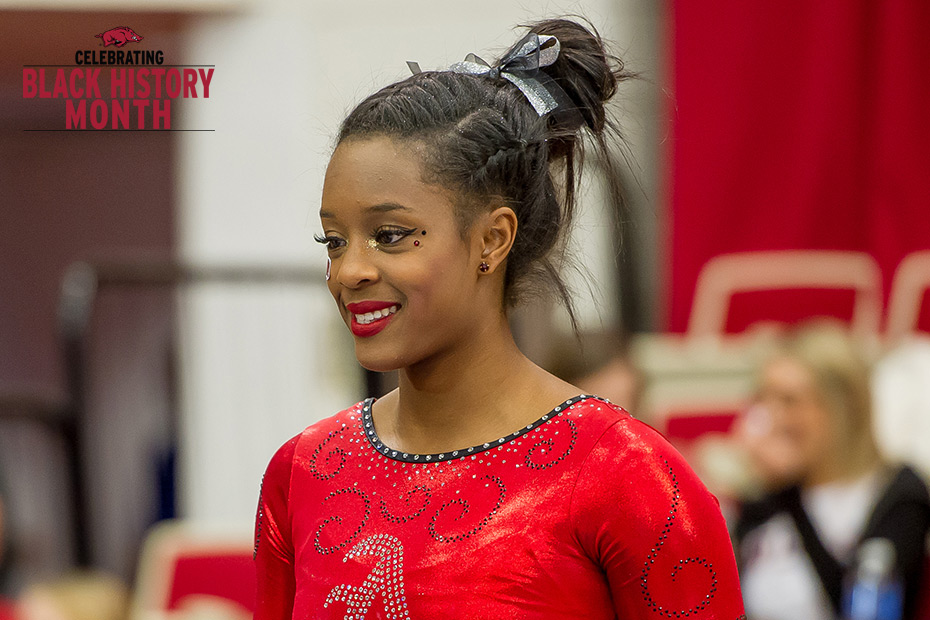 Trailblazers: Keara Glover
FAYETTEVILLE, Ark. — Keara Glover wants to be remembered for doing the impossible.
As the first African-American student-athlete for a program that celebrated its inaugural season in 2003, Glover's impact on the Razorbacks gymnastics squad has been profound as a trailblazer.
"When I first found out that I was the first African-American to be on this team, I thought it was a really cool thing," Glover said. "I feel really proud that I could start the legacy for all future recruits we bring to Fayetteville."
Her toughness and fortitude of spirit showed during the summer of 2013 when she underwent open heart surgery to work on two heart aneurysms discovered after a mandatory electrocardiogram (ECG) test on all Arkansas student-athletes.
Glover said it was a scary process, but she felt "blessed" it was caught before disaster could strike. After months of rehabilitation and training to get back on the bars, Glover returned to the Razorbacks' uneven bars lineup at Georgia and produced a career-high 9.85 result.
Glover said she looks back at older generations of her family and their struggles with race relations and appreciates how far society has come in order for her to live a less stressful life.
"I think about my mom, who was born when race relations weren't that good," Glover said. "It was getting a little bit better, but I think about how strong my mom had to be at such a young age. I don't want to say it's easy for me, but because they went through all of that, their daughters and granddaughters could live better lives."
Glover learned a lot about her ethnicity in an African-American history class she took in high school. There she started to think about the people who paved the way for her and other young African-American women to pursue opportunities they might not have had in the past.
Taking advantage of her opportunities, Glover made an immediate impact during her first season in Fayetteville. She competed in all 13 bars and balance beam rotations, leading Arkansas to an NCAA Session II appearance and earned a spot on the SEC All-Freshman Team in the process.
Through the trials of her heart surgery, Glover wants to be remembered as "the girl who kept pushing" and hopes to serve as an inspiration for other student-athletes who look to come back from injuries.
Set to graduate in the spring with a degree in apparel merchandising and product development, Glover undoubtedly leaves her legacy with the Razorback gymnastics team. She will be remembered as a fighter and a trailblazer.