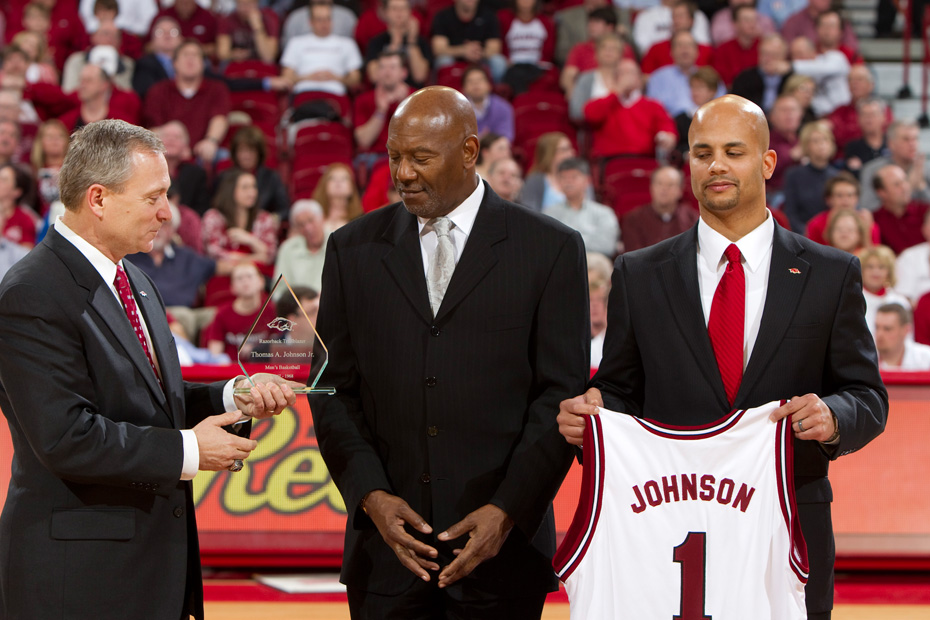 Trailblazers: Thomas A. Johnson
The Razorbacks' first African American basketball player Thomas Alonzo Johnson is at home in Oakland, Calif. He spends his time watching his daughter compete on the Cal track team and following all Bay-area sport teams. It had been more than 40 years since the Menifee native came back to the University of Arkansas, even though he was a stand-out on the 1967 basketball team. That was going to change when Associate Athletic Director Eric Wood called Johnson about honoring him as a Trailblazer.
Johnson was so overwhelmed with emotions that it took him a week to get back to Mr. Wood about receiving the honor. Today, as he reflects on being a Trailblazer and getting that first phone call, it takes him back to his freshman year. The 6-2 forward was a star at Eastside High School. He averaged 30.4 points per game and was a three-time all-district performer, two-time team captain and winner of the MVP award in his area. He was named to nine all-tournament teams at Eastside as a senior. Indeed, Johnson was a talent that the Razorbacks could not pass up.
Recruiting a black athlete at the time was something relatively new for a school in a state that was plagued by Jim Crow since 1866. Johnson felt a lot of the racism at the time. Sure, there were the scouts attending his games, boxes full of letters from schools, and numerous phone calls. That was to be expected for a highly-touted recruit. But coaches had to do more for African-American players at the time. Johnson was subject to background checks by recruiters because he was black. They called his coaches, teachers and pastor to make sure he was a good kid.
As a freshman at the U of A, he knew it was a tumultuous time in the U.S., especially for young college students. "It was on all of our minds," Johnson said, "there was the black revolution, the sexual revolution, women's rights. It was a lot for students."
Social life for African American students at the time revolved around the Civil Rights movement. Even through the Civil Rights Act was passed in 1964, many communities were still getting used to it. College students like Johnson were one of the leading facets of change. "It makes you grow up fast," Johnson said. Instead of going out to parties on weekends, Johnson and his friends would get together at coffee shops and read. They read topics on social issues, different types of government, or Malcolm X articles then discussed their relevance. "An education," Johnson said, "was not complete with reading and discussing the issues."
Despite the racial tension, Johnson made positive headlines in the Arkansas Democrat-Gazette for his play. The 18 year-old did after ranking third on the team in scoring at 15.5 points per game and 63 percent from the free throw line (35-55) while grabbing 74 rebounds. Beyond basketball, Johnson loved living in Northwest Arkansas. Johnson found beauty in the Ozarks, and went to the lakes often with friends during their downtime from basketball. It was a special time, and Johnson was honored to be a part of Razorback history.
Johnson's visit back to campus last March meant a lot to the former Razorback. He got to meet the players and coaches during one of their practices. "The team is loaded with talent" he described, and sees great things in the future. Additionally, he was impressed with Coach Mike Anderson and the progress he has made.
The night of the Trailblazer recognition was the highlight of Johnson's return to Fayetteville. He was honored on the court in front of all the fans at halftime, and was also the guest of honor in Athletic Director Jeff Long's suite. Some of Johnson's former teammates were even in attendance and they got to re-connect for the first time in years. How did Johnson top off his first visit back to the U of A? A stop for some Arkansas catfish of course, one of Johnson's favorite Arkansas delicacies. "I've met people in California who won't eat catfish unless it's from Arkansas."
In honor of Black History Month, Razorback Athletics is honoring "Trailblazer" stories celebrating the success and accomplishments of some of the first African-American student-athletes in University of Arkansas history.