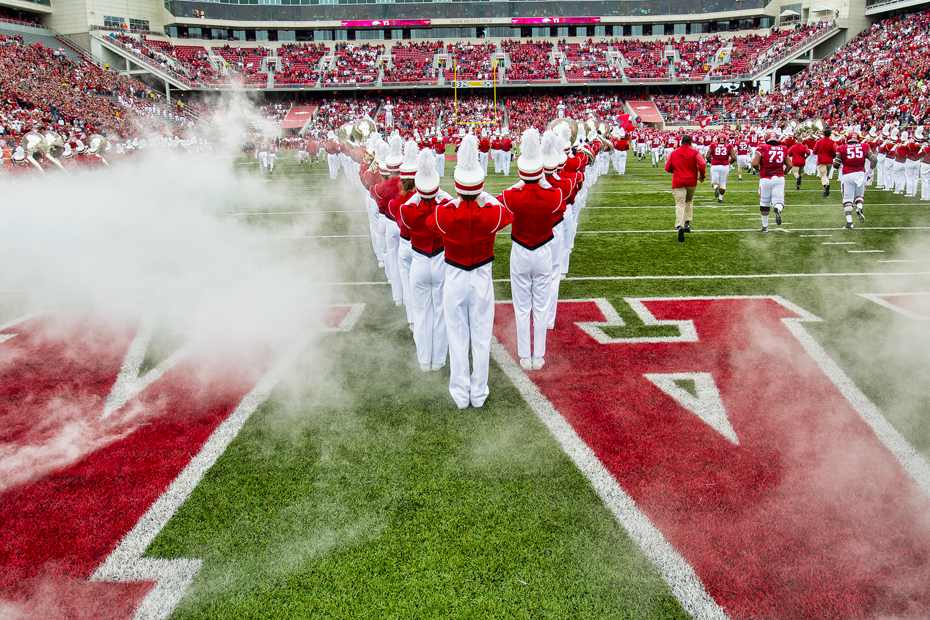 Trammel to Participate in "A" Walk of Honor
FAYETTEVILLE, Ark. – Former University of Arkansas cheerleader, lifetime Razorback supporter and community icon Dick Trammel will participate in the "A" Walk of Honor on Saturday prior to Arkansas' football game against UT-Martin at Donald W. Reynolds Razorback Stadium.
A graduate of the University of Arkansas, Trammel is well known throughout Northwest Arkansas for his love of the Razorbacks and his unwavering commitment to his community and state.
"Dick is a tremendous goodwill ambassador for the University of Arkansas, the Razorbacks and our entire state," Vice Chancellor and Director of Athletics Jeff Long said. "He has never lost that indomitable Razorback spirit and his love for this campus. Dick also has a deep passion for giving back to others around him through various professional and volunteer roles. He has been an active part of this university and state for more than six decades and we are grateful for his extraordinary service and his commitment to the Razorbacks."
A native of Pocahontas, Ark., Trammel graduated from the University of Arkansas in 1960 with a Bachelor of Science Degree in Business Administration. During his years at the U of A, he was selected to Who's Who of American Colleges and Universities, was a Razorback Cheerleader and a member of the Sigma Chi Fraternity, he received his Omega Omega Chapter of Sigma Chi, Fulbright Award in May 2006. He was the recipient of the University of Arkansas Alumni Association's Outstanding Community Service Award in 2001.
After college, Trammel returned to his hometown and was active in the cotton gin and grain elevator business until 1970. After several years, he became vice president and a founding director of Planters and Stockmen Bank. In 1973, Trammel relocated to Rogers to become a vice president of First National Bank & Trust Company, which later became Arvest Bank, Rogers. He currently serves as executive vice president, member of the board of directors and board secretary of Arvest Bank, Rogers.
Trammel is very active civically, serving as volunteer for a number of organizations including serving as past president and a current board member of the Rotary Club of Rogers and as past president of Rotary International District 6110, a founding director of the Single Parent Scholarship Fund of Benton County, a founding director and past chairman of the Northwest Arkansas Radiation Therapy Institute (NARTI), a member of the UAMS Foundation Fund board, and a charter member of the Board of Trustees of Northwest Arkansas Community College. Trammel was appointed by Governor Huckabee to the Arkansas Higher Education Coordinating Board and he served in that capacity until 2008. In January 2009, Governor Beebe appointed Dick to the Arkansas Highway Commission to serve until January 2019.
Dick is married to Nancy Trammel and together they have four children, eleven grandchildren, two great grandsons and two great granddaughters.
"Running through the A" is one of the Razorbacks' most storied football traditions. While "Running through the A" is a tradition reserved only for members of the Razorback football team, Razorback Athletics created a program in 2010 to honor those individuals or groups who have played a significant role in the support of Razorback Athletics.
Honorees are invited to participate in this unique pre-game experience and are recognized on the video board and over the public address system as they walk through the "A" formed by the Razorback Marching Band. After completing the walk, honorees help complete the "A" before welcoming the Arkansas Razorback football team on the field just prior to kickoff.
Previous honorees have included members of the Donald W. Reynolds Foundation, former Arkansas coach and athletic director Frank Broyles, the Willard and Pat Walker family, Bob and Marilyn Bogle, Tommy May, Boyce Billingsley and Rick Massey.
Tickets for Saturday's game at Donald W. Reynolds Razorback Stadium are still available online at ArkansasRazorbacks.com or by contacting the Razorback Ticket Office at 1-800-982-HOGS (4647). Tickets begin at $45. Kickoff for the game is set for 3 p.m.