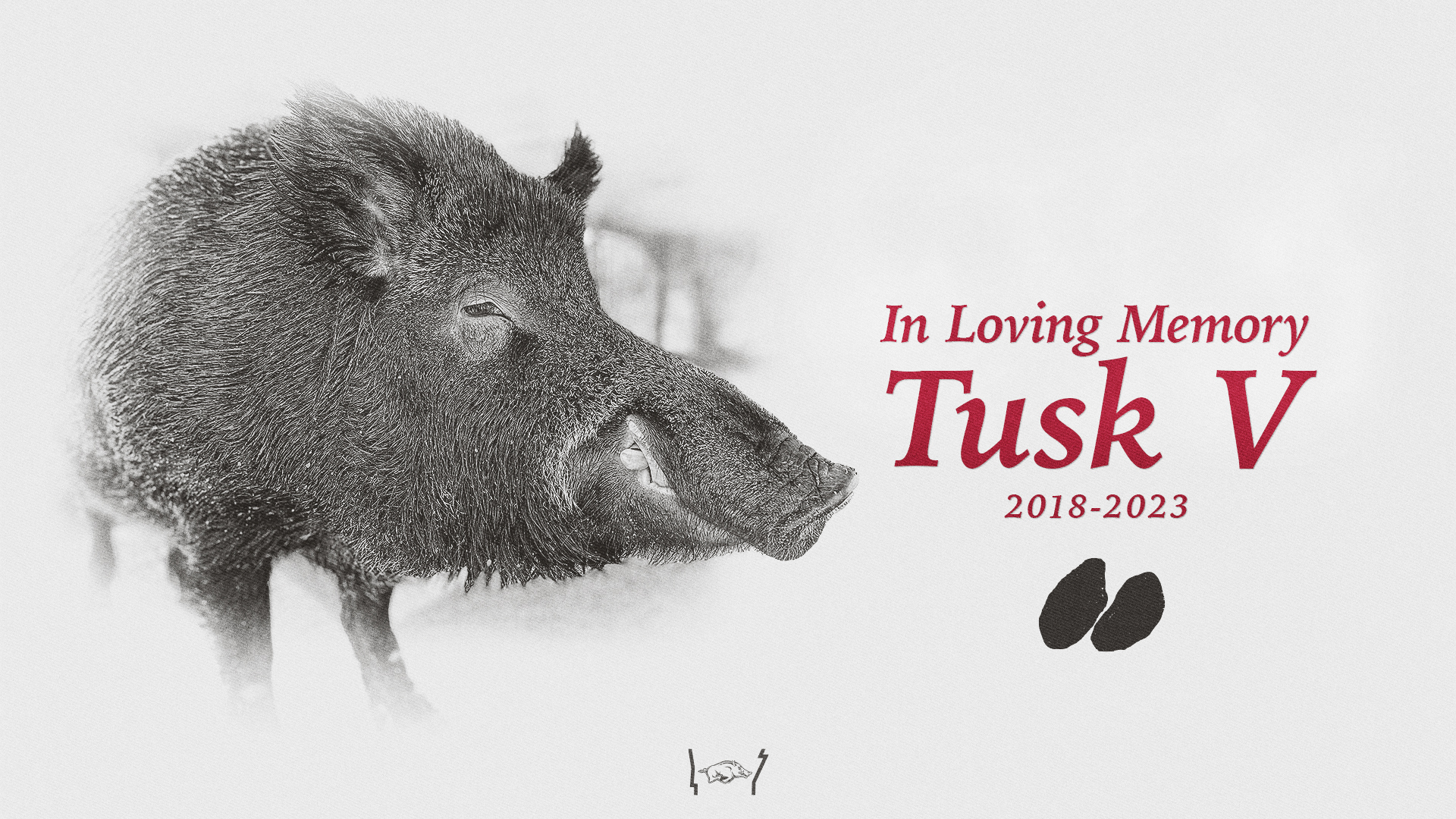 Tusk V, Arkansas' Live Mascot Passes Away
FAYETTEVILLE, Ark. – Tusk V, the live mascot of the University of Arkansas Razorbacks, passed away on Sunday afternoon, January 15, 2023, at his home outside of Dardanelle, Ark. Tusk V died of natural causes and was laid to rest on the Stokes Family farm.
Born April 19, 2018, Tusk V served as the official live mascot of the Razorbacks from 2019-22. Within that span, Arkansas turned in the two most successful years in the history of the program, including a pair of top-10 finishes in the Learfield Directors' Cup and 18 combined SEC Championships, more than double the championships of the next closest SEC program (7).
The Razorbacks earned three bowl bids and won two bowl games during Tusk V's tenure. His final appearance as Arkansas' live mascot came in the Razorbacks' 55-53 3 OT win over Kansas in the AutoZone Liberty Bowl. The Hogs also won in Tusk V's last regular season appearance, a 42-27 win over No. 14 Ole Miss in the home finale at Donald W. Reynolds Razorback Stadium.
In addition to leading the Hog Walk and appearing on the sidelines at home football games, Tusk V made numerous annual appearances at a variety of Razorback sporting events and other functions throughout the state. During his reign, Tusk V also participated in two One Razorback Roadshows across the state of Arkansas, connecting and interacting with fans of all ages, including eating grapes from the hands of his adoring fans.
Tusk V took over for his father Tusk IV who retired in 2019. He will be succeeded by his brother Tusk VI in the continuation of the live mascot program at the University of Arkansas. Keith and Julie Stokes and their family serve as the caretakers for the University of Arkansas' live mascots.
Razorback fans wishing to leave a message for the Stokes family or share a favorite memory from Tusk V may leave a message on Facebook at Arkansas Tusk.
For those that would like to contribute to the live mascot program in Tusk V's memory, you can donate here or send a donation to Tusk Fund, c/o The Razorback Foundation, 1295 Razorback Road, Suite A, Fayetteville, AR 72701.