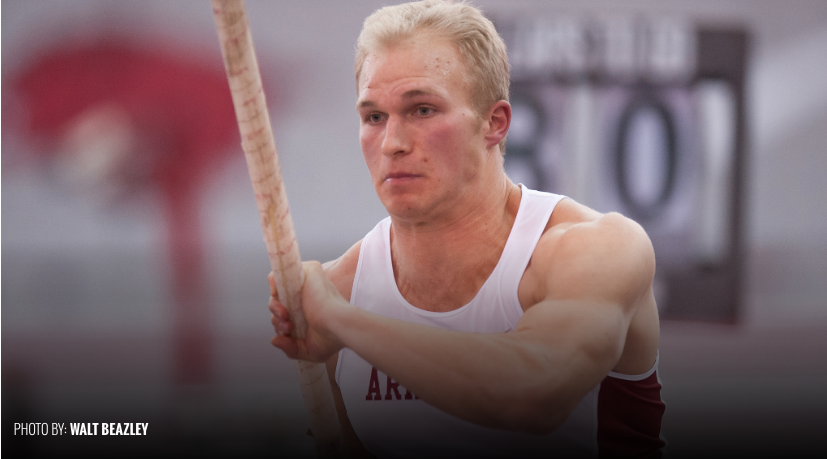 U OF A Student Nathanael Franks Named Rhodes Scholarship Finalist
FAYETTEVILLE, Ark. – University of Arkansas honors student Nathanael Franks has been selected as a finalist for the Rhodes Scholarship – the oldest and one of most prestigious international scholarships offered to American students. Rhodes Scholars are awarded two years of study at the University of Oxford with the possibility of renewal for a third year. Franks will interview in Seattle, Washington, on Saturday.
Franks is a Portland, Oregon native, and his parents are Lawrence and Ulrike Franks. He is a nationally competitive decathlete on the Arkansas Razorback track and field team who has earned a Bachelor of Science degree in chemistry and physics with a minor in history, graduating magna cum laude, and received an Honors College research grant to complete an honors thesis in chemistry. He also earned a Master of Business Administration and is currently completing a Master of Accountancy.
If selected as a Rhodes Scholar, Franks will pursue a Master of Science in global health science at Oxford University.
"Being selected as a Rhodes finalist is an incredible honor," said Chancellor G. David Gearhart. "And I can think of none more worthy than Nathanael Franks. He is as accomplished, capable, and energetic as any student I have encountered. He is tireless not only in his commitment to academic and athletic excellence, but also in his dedication to serving others.  We are extremely proud of his accomplishments and wish him well with the interview."
More than 1,500 top students apply for the 32 Rhodes Scholarships each year.
"Being selected to interview for the Rhodes Scholarship is both an amazing opportunity and an incredible honor," said Franks. "I appreciate the tremendous support from the faculty, staff, and students in academics and athletics at the University of Arkansas. They have shaped me and my future career. I am looking forward to the interview process and am excited about meeting interesting people from all over the country. Go Hogs!"
Franks has received numerous awards while at the U of A, including the Chancellor's Scholarship, the Dale Krueger Scholarship for outstanding business students, and the Russell E. Westmeyer Fellowship in the M.B.A. program. Because of his stellar performances as an athlete, academic and civic leader, he was selected as the national recipient of the prestigious Coach John Wooden Citizenship Cup. Franks was the 2010 USA Track and Field Junior Olympic Decathlon National Champion while in high school, and was part of the Razorback's 2013 NCAA Indoor National Championship Team. He currently holds the second fastest time in the world in the heptathlon 1000-meter race.
"Nathanael has not only distinguished himself among his peers at the University of Arkansas and throughout the nation, he has achieved excellence by nearly every standard established for college students and student-athletes," Vice Chancellor and Director of Athletics Jeff Long says. "His intellectual excellence, athletic vigor, and unquestioned character represent the very best the University of Arkansas has to offer. However, in my estimation, Nathanael's most distinguishing trait is his strength of character. His never yielding pursuit of personal growth is mirrored by his passion to use his extraordinary intellect and talents to fulfill his devotion to duty and the wellbeing of fellow human beings."
Franks received a Congress-Bundestag Youth Exchange Scholarship funded by the U.S. State Department to study in German for a year and has also studied abroad in Greece, Turkey and Lebanon.
"Nathanael Franks has an intellectual breadth that is remarkable," said Sharon Gaber, University of Arkansas provost and vice chancellor for academic affairs. "He loves learning and is widely curious. He has taken upper-division level courses in chemistry, physics, history, geology, forensics, humanities, classical studies, and business. He is very comfortable discussing a wide variety of topics, and this will serve him well in this intense competition and in his future career."
The Rhodes Scholarship program was created after the death of Cecil Rhodes in 1902 and is intended to bring outstanding students from many countries around the world to the University of Oxford. The first American scholars were elected in 1904, and Neil Carothers of the University of Arkansas was among that first cohort.
The University of Arkansas has had 10 Rhodes Scholars, the most recent being Anna Terry in 2001. The Office of Nationally Competitive Awards assists university students and recent alumni who are competing for national fellowships and scholarships. For more information, visit awards.uark.edu.