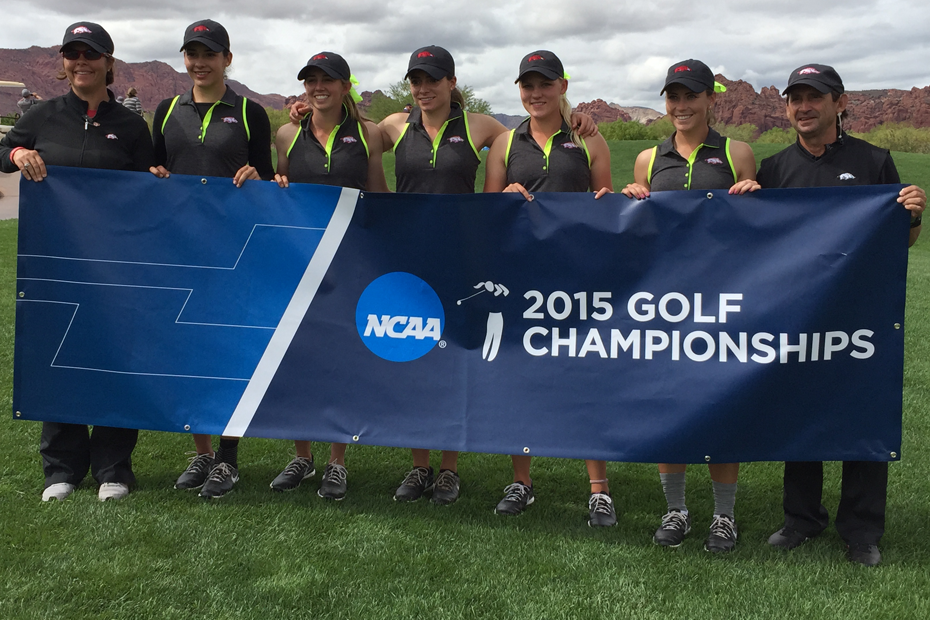 Uriell, Lopez Lead W. Golf To NCAAs
ST. GEORGE, Utah – Freshman Alana Uriell and junior Gabriela Lopez tied for second place overall leading the eighth-ranked University of Arkansas women's golf team to a third-place finish and a trip to the NCAA Championship.
Uriell fired a collegiate career best 69 in the final round shooting 75-72-69=216, also her best total for a college round.  Lopez shot 73-72-71=216 and the duo's second-place finishes are the best in Razorback program history.
Uriell's final round opened with seven consecutive par holes before she birdied eight and nine to turn two-under.  The freshman added a birdie on the 11th hole and finished strong with four par holes on the toughest part of the course.
Lopez had a more colorful scorecard with two birdies and two bogeys on the front side.  She added a bogey on 10 but got the stroke back moving to even par with a two on the par-three 12th hole.  Lopez was even par for her final six holes.
With the top six finish, the Razorbacks move on to the NCAA Championship in Bradenton, Fla., May 22-27.  It is the seventh NCAA Championship appearance for the Razorbacks, all with head coach Shauna Estes-Taylor on staff.
The challenging and always changing conditions made for some interesting golf but Arkansas rallied as the tournament wore on getting better with each round, 306-296-290=892
Junior Regina Plasencia and sophomore Samantha Marks tied for 50th overall.  Plasencia shot 82-75-74=231 while Marks carded 76-79-76=231.  Sophomore Summar Roachell rounded out the Arkansas scores shooting 82-77-77=236 to tie for 72nd overall.
FROM SHAUNA ESTES-TAYLOR
Obviously hard work pays off and when the pressure is on, this team did a great job of performing.  I think probably one of the most stressful weeks of the year in any sport is NCAA Golf Regionals.  I can't say enough about Alana (Uriell).  To tie for second as a freshman at an NCAA Regional in unbelievable.  She played fearless and I think everyone can learn something from the way she played this week.  Gaby (Lopez) had another amazing performance.  She is just a rock and is a great leader who does things the right way and pulls everyone along.  We had glimpses of good things out of everyone this week.
FROM GABRIELA LOPEZ
It's been pretty solid for the last month and my ball hitting was really good.  It was getting some putts to fall in and that is the key to win a national championship. I feel like everything is just going to fall into place at the national championship.  I'm so proud of Alana this week.  Pushing her to be the best version of herself is one of my goals and I couldn't be more happy for her.
FROM ALANA URIELL
I learned to be comfortable with what I have and going into the course with.  I learned to think things through and see how the course sets up. I'm so excited to be going to the NCAA Championship.
@RAZORBACKWGOLF LINEUP
| | | | | | |
| --- | --- | --- | --- | --- | --- |
| 3 | Arkansas | 306 | 296 | 290 | 892 |
| T2 | Gaby Lopez (1) | 73 | 72 | 71 | 216 |
| T2 | Alana Uriell (5) | 75 | 72 | 69 | 216 |
| T50 | Regina Plasencia (2) | 82 | 75 | 74 | 231 |
| T50 | Samantha Marks (3) | 76 | 79 | 76 | 231 |
| T72 | Summar Roachell (4) | 82 | 77 | 77 | 236 |
ABOUT REGIONALS
Best Finish: 3rd, 2015; T3, 2013
Best Individual Finish: T2, Gabriela Lopez and Alana Uriell (2015)
About: Arkansas has made 14 total, 13 consecutive, NCAA Regional appearances
Note: First time in program history two players have finished in the top five
ABOUT NCAA CHAMPIONSHIP
Dates: May 22-27, 2015
Site:  Bradenton, Fla.
Course: Concessions Golf and Country Club
Format: 24 teams; four rounds of stroke play with a cut after three rounds to determine the individual winner.
Top eight teams move on to match play to determine the team champion.
About Arkansas: Arkansas has made six NCAA Championship appearances, most recently in 2013
Best Finish: T5 in 2011
Best Individual Finish: First, Stacy Lewis, 2007