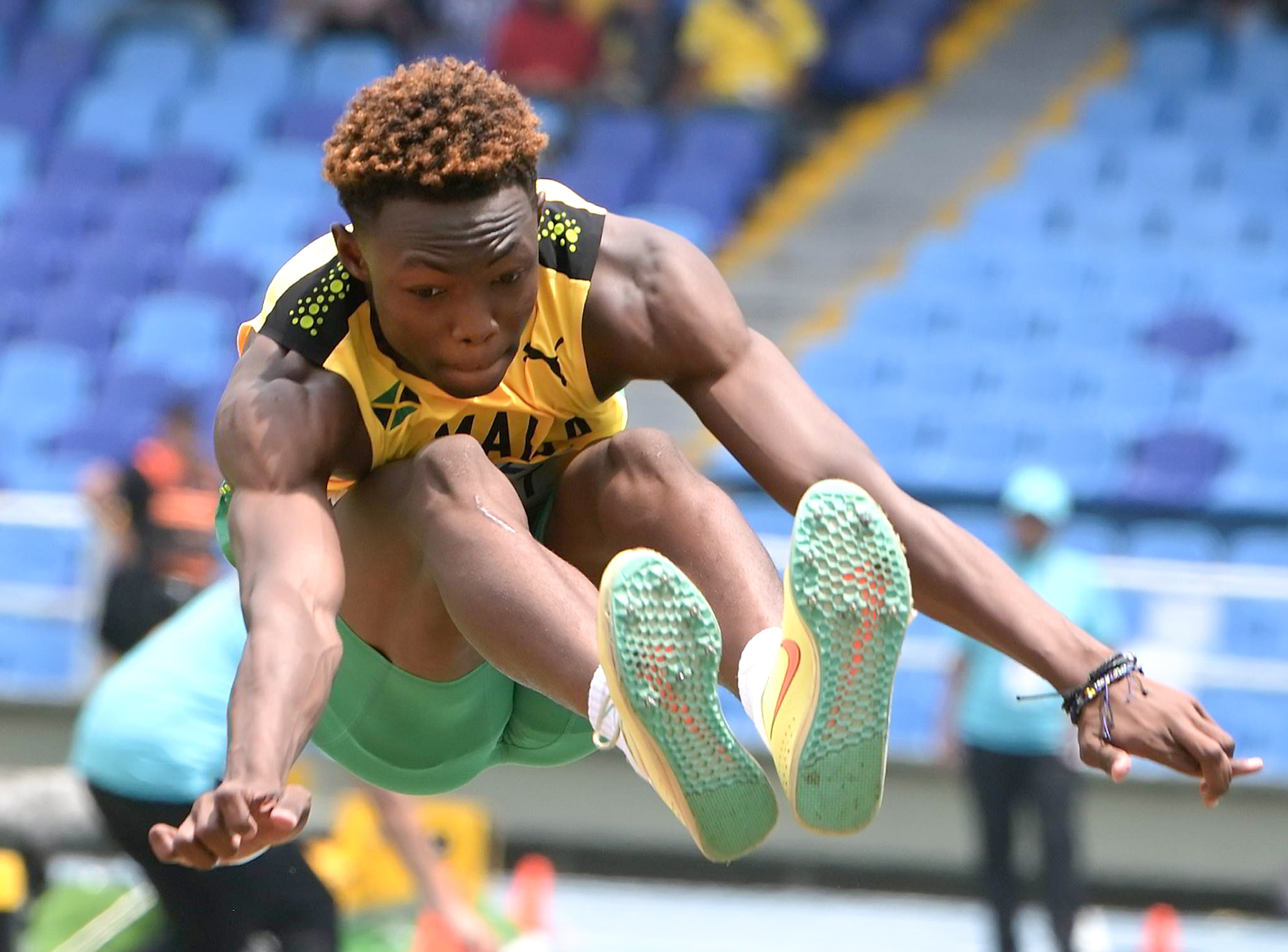 Victorious Jaydon Hibbert breaks World U20 Championship triple jump record
CALI, Colombia – Incoming Razorback freshman Jaydon Hibbert of Jamaica broke the World U20 Championship triple jump record on his first attempt leap of 56 feet, 8 inches (17.27) in the final and captured the gold medal with a two-foot improvement to his previous career best.
The silver medalist at this meet in 2021 as a 16-year-old, Hibbert upgraded to gold with an amazing distance as the second jumper in the field after a rain delay moved the start time of the event from 4:55 to 6 p.m.
Hibbert, of Kings College High School in Kingston, Jamaica, surpassed the previous Championship record of 56-3.25 (17.15) set in 2018 by 17-year-old Jordan Diaz Fortun of Cuba in 2018. Hibbert entered the competition as the U20 world leader for 2022 with his previous career best of 54-8 (16.66).
Following his record leap, Hibbert improved his Jamaican U18 record and moved to No. 2 on the all-time world list, trailing a 57-1.5 (17.41) U18 world best by Fortun from 2018.
On the U20 all-time world list, Hibbert ranks as equal No. 8 with Cuba's Cristian Napoles from 2017. Hibbert just missed the Jamaican U20 national record of 56-8.75 (17.29) set by James Beckford in 1994.
Beckford holds the senior Jamaican national record with a mark of 58-9.5 (17.92) from 1995. Hibbert now ranks as the No. 2 performer on the all-time Jamaica list with the No. 4 performance.
Hibbert also bettered his previous PR in the second round with a mark of 55-2.25 (16.82), and then passed his remaining attempts.
India's Selva Thirumaran finished as silver medalist with a mark of 53-0 (16.15) while bronze went to Estonia's Viktor Morozov at 52-11 (16.13).
Earlier in the day another incoming Razorback freshman, Grant Williams, ran the third leg on Team USA's 4 x 400 relay. Williams received the baton in second place among a lead group of four counties that Canada led.
On the backstretch of his carry Williams passed Canada and then put some distance on the field to extend the lead for the United States.
Team USA won the opening prelim heat in 3:07.82 over Canada (3:08.35) and Italy (3:08.55). They ranked fifth best overall in the qualifying round behind Japan (3:07.25), Jamaica (3:07.32), Czech Republic (3:07.48), and Spain (3:07.58).
The 4 x 400 final will be held on Saturday at 5:43 p.m. (CT) to conclude the meet.
Racing in the prelims of the Commonwealth Games 100m hurdles on her birthday, Cindy Sember posted a wind-aided time of 12.67 (+2.5) to win the first of three heats.
Sember ranked third overall of the crew heading to the final on Sunday behind a 12.40w for Nigeria's Tobi Amusan and Australia's Michelle Jenneke (12.63w).
Also scheduled to compete on Sunday, the final day of competition at Alexander Stadium in Birmingham, England, are Jah-Nhai Perinchief (Bermuda) in the men's triple jump as well as Dominique Scott (South Africa) in the women's 5,000m.
World U20 Championships | Cali, Colombia | Schedule (CT)
Saturday | August 6
| | | |
| --- | --- | --- |
| 4:25 pm | 5,000m FINAL | Heidi Nielson |
| 5:43 pm | 4 x 400 Relay FINAL | (Grant Williams) |
Commonwealth Games | Birmingham, England | Schedule (CT)
Sunday | August 7
| | | |
| --- | --- | --- |
| 4:15 am | Triple Jump FINAL | Jah-Nhai Perinchief |
| 4:25 am | 100m Hurdles FINAL | Cindy Sember |
| 1:45 pm | 5,000m FINAL | Dominique Scott |