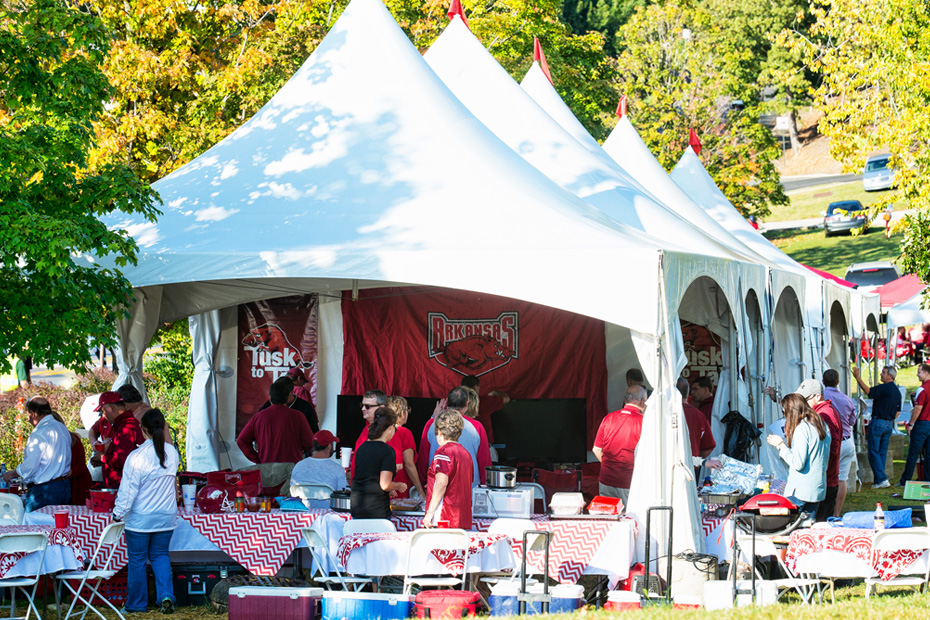 Victory Village Expanding Into The Gardens
FAYETTEVILLE, Ark. – Based on its continued popularity and in response to fan requests for more reserved tailgating spots, Victory Village is being expanded again for the 2016 University of Arkansas football season. Razorback Athletics is also introducing a new free tailgating area conveniently located adjacent to The Gardens and near Lot 56.
In addition to the previously available reserved tailgating spots in Victory Village North (located above Lot 44 by the John W. Tyson Poultry Science building), Victory Village East (located across Stadium Drive from Lot 44 on the Administration Hill) and Victory Village South (established last season near the Basketball Performance Center), new reserved tailgating spaces will be created for the 2016 season within The Gardens.
The Gardens has long been the home to Razorback game day tailgating and now fans can reserve their full service tailgating experience in advance. With the expansion, fans should note that only those who purchase and reserve through the Victory Village program will be permitted to host tailgates in The Gardens. A limited number of spots are available in The Gardens location so fans are encouraged to act quickly.
For those fans wishing to continue to take advantage of free tailgating locations on game day, Razorback Athletics has designated a new tailgating area just north of The Gardens along the creek near the Basketball Performance Center. Tailgating positions within that area may be utilized on a first come, first served basis at no cost to fans.
Victory Village offers many great options for tailgating. Fans can reserve a tented space in Victory Village and can have your spot set up and ready when you arrive. Victory Village comes with catering packages, clean and attractive marquee-style tents and much more. Each area will have tented plots available that are 10 feet by 10 feet, 10 feet by 20 feet and 20 feet by 20 feet. Fans can also reserve a space that is 10 feet by 10 feet for personal tents.
Spots in Victory Village can be reserved on a single-game or season-long basis. Tailgating in Victory Village will only be permitted with a reservation.
For larger group tailgating opportunities, the Gazebos in The Gardens offers family style tables that are perfect for corporate outings, alumni gatherings, social parties, fraternity or sorority socials, birthday parties or anniversaries celebrations. The five covered gazebos available are less than a 10 minute walk from the stadium and include 50 tickets to the game and five parking passes.
For more information on all Victory Village tailgating options and the Gazebos in The Gardens, visit RazorbackTailgating.com. To reserve your tailgating spot, contact Intents Party Rentals at 479-251-8368 or click here.